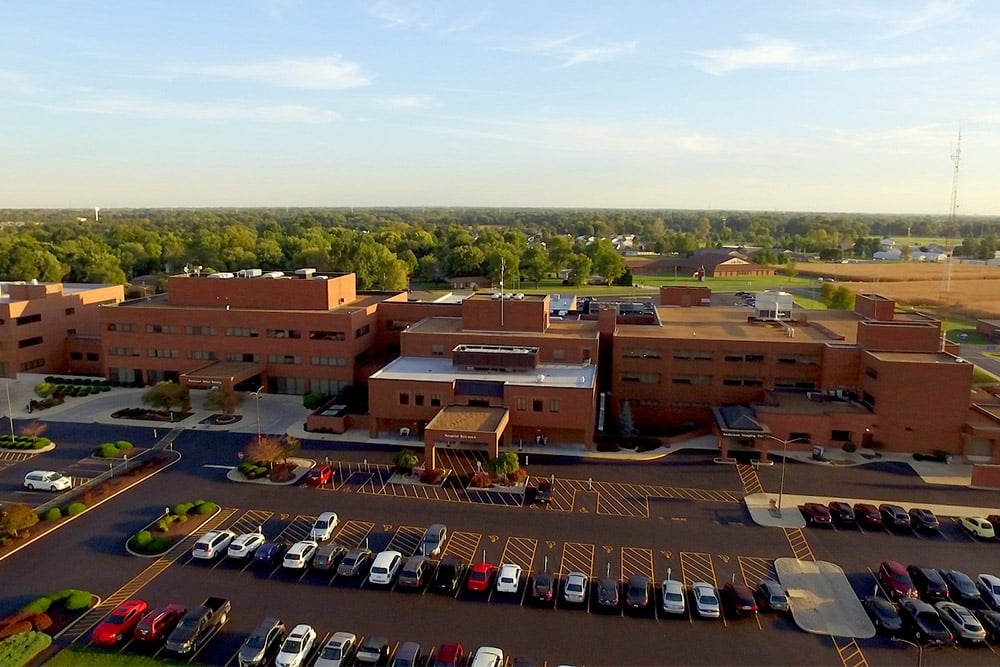 When Anderson Hospital (Maryville, IL) was first established over 40 years ago, it was with a singular focus of providing all residents of Madison County with the best care possible. Since our inception, our leadership has been unwavering in their commitment to the community and we continue to foster that long-standing relationship with the people we serve.
Today, we remain the only independent hospital in the area. Maintaining this independence has been the backbone of our success in reaching our community; our independence provides us with the autonomy we need to do more with and for our area residents.
Charting our own course means that we control our costs and the allocation of our funding to meet our core objectives. We make investments in three key areas that contribute to our success as an independent organization: expansion, community engagement, and the best tools for staff and patients to ensure positive outcomes.
When we talk about expansion we are talking about investment in physical expansion and adding service lines that align with the needs of our patient population. Expansion allows us to stay competitive by keeping patients in house with our own services. Each new service line we add is in direct response to community needs. For example, some of our expansion efforts include a cancer center; a four-room surgery center; a premiere 70-provider medical group; and a 25-bed critical access hospital 25 miles away. Just prior to the pandemic we also purchased 15 acres of land to support additional expansion efforts, including a 34-bed rehab hospital that was opened in the midst of the pandemic to address the needs of patients requiring intensive, interdisciplinary rehab services after injury or illness, such as COVID-19.
Today, expansion plans are moving forward at our Goshen Campus to include a 50,000 square foot Medical Office Building with an imaging center, outpatient rehab, lab and urgent care opening in summer 2022.
All of our facilities share one instance of MEDITECH Expanse, giving all of our providers one patient record. Implementing one solution across the organization as opposed to disparate systems was a key strategic move to control costs. And, one patient record makes transitions between our facilities seamless, and ensures consistent patient care regardless of which facility a patient visits. Improving care and at a lower cost is a win-win for our organization. We apply this same principle to all of our investments, by selecting the tools that are right for our organization from both a cost and personalization perspective. Controlling costs and investing in solutions with the best ROI is a large part of the puzzle when it comes to being both independent and competitive.
We had been given the option to join a much larger organization and make the costly investment in their electronic health record (EHR) but doing so would not allow us to implement procedures and workflows that are tailored to the needs of our organization. The larger organizations sell their systems as solutions that tie all of the area hospitals together with one EHR. However, we have found that we can reach that same goal through Expanse's interoperability solutions, tying us into the MidWest Health Information Exchange (HIE) at a lower expenditure. Our independence allows us to work with all of these surrounding organizations and even employ their specialists in many of our departments. We are not beholden to just one, which is a big win for our patients.
Furthermore, maintaining our own EHR has been especially attractive to our physicians who want intuitive, personalized tools that are built around their needs as opposed to having to standardize with much larger organizations. Anecdotally, several physicians who work for multiple organizations have said they find Anderson's Expanse solution easier to use, and feedback regarding provider customization has been very positive.
Last, but certainly not least, a key ingredient to our continued success as an independent organization is our commitment to our community, with a patient engagement strategy highly focused on meeting the needs of our population. Anderson Hospital is committed to building a strong and healthy community, and the savings we gain from investing in our own EHR versus buying into a larger organization's more expensive one has given us the added funds to support community efforts. Through our Community Wellness Events and Education, we provide a wide variety of health-related programs, screenings and support groups at the hospital and in the community. Our staff work with community-based organizations, schools, parishes, and other agencies to bring health education and resources to our community. Most recently we brought Anderson EMS services to the housebound to provide COVID-19 vaccinations.
We also provide an easy-to-use patient portal that maintains a single patient record across the care continuum. Adoption of the patient portal has grown significantly since the start of the pandemic, largely due to patients wanting to access their COVID-19 test results. We can now capitalize on the increased use of the portal to provide our patients with the self-service convenience and communication with their care teams from the comfort of home.

Our strategy to remain independent and competitive has been effective, and our dedication to the care of our patients has earned us a 5 star rating from CMS. We remain optimistic that our investments in sustainable solutions, expansion in our area, and commitment to our patients will ensure our continued presence in the community for generations to come.
---
Read our Innovators Booklet to see how our customers are improving outcomes with real results.