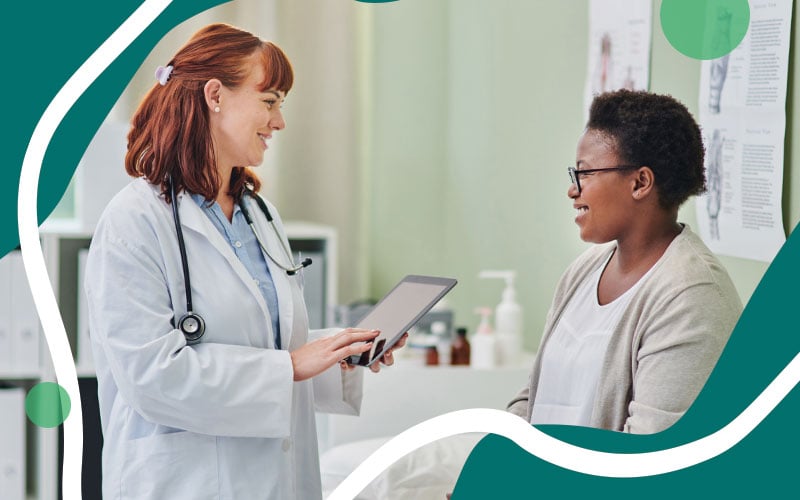 When considering how AI can be used in healthcare, it's not simply a matter of identifying processes that computers can do faster than humans. The highly specialized and specific tasks performed within the field of medicine demand a thoughtful approach.
At MEDITECH, our view of AI is driven by an understanding that its use within the EHR should safely enhance the experience for patients, care teams, and health systems. We also believe that AI should support — not replace — the complex work being done every day by healthcare workers.
What's more, our philosophy isn't just talk — we've been driving the practical application of AI within our EHR platform for years with solutions like Virtual Assistant and Google Search and Summarization, and we have a bold vision for the next generation of AI innovations.
MEDITECH's innovative approach
Our corporate approach to AI is similar to how we've integrated concepts like mobility, interoperability, and surveillance directly into the EHR: We identify the needs that need to be addressed, we gather input and feedback from the people who use our systems, and then we build solutions to meet (and exceed) their expectations.
Based on our experience with implementing AI, we've identified six key objectives that guide how we design, develop, and deploy new solutions:
Safe: Our AI solutions preserve the fidelity of data, meaning it's true, up-to-date, and maintained in a secure cloud environment
Efficient: We aim to reduce the cognitive burden on providers by decreasing the time they spend manually navigating the chart
Impactful: By using AI to cut the time and effort needed to find and share relevant information, clinicians and patients can discuss care plans more quickly and effectively
Accessible: Our solutions can be used by healthcare organizations and health systems of any size or profile
Effective: We compare AI-enabled systems with other forms of technology that do not incorporate AI to identify the most appropriate solution
Accountable: MEDITECH will continuously improve our EHR infrastructure and prioritize the responsible use of patient data, while ensuring that our incorporation of AI doesn't detract from those goals.
How we're using AI today
So, what does that philosophy look like in action?
We've incorporated Virtual Assistant and Google Search and Summarization into the Expanse EHR to support communication among patients, care teams, and health systems.
Virtual Assistant uses Nuance speech recognition to respond to verbal commands to place orders and retrieve the information clinicians need and present it at the point of care on a mobile device.
By using simple voice commands, providers save time in entering orders, finding latest lab results, and reviewing medications, allowing them more opportunity for direct conversations with their patients.
Providers can easily and quickly review patient history during shift changes, transitions to new care settings, rounding, and appointment prep.
And with Google Search and Summarization, they can find and retrieve even more information about the patient to help them make the right care decision together.
Google Search and Summarization uses natural language processing to present a longitudinal view of the patient, leveraging structured and unstructured data from Expanse, legacy MEDITECH systems, and scanned documents.
Instead of trying to read through documents that include hundreds of pages, providers use a familiar search function that intelligently organizes and presents condition-related information so that they quickly find answers to their initial search, and can access a longitudinal display of all health data — like labs, vital signs, medications, and notes — to track the progress of each condition.
Google Search and Summarization also lowers the cognitive burden on providers by eliminating the need to manually search through past records and make data more actionable.
This quick access to relevant information helps care teams reduce duplication of orders, identify and address gaps in care, and recognize trends or patterns in the patient's history that may have otherwise been missed.
Register for MEDITECH LIVE to learn more
Given the potential for AI to enhance how healthcare is delivered, we're excited to share our vision for the future at MEDITECH LIVE 23, our annual conference dedicated to open communication and collaboration of our customers across healthcare disciplines.
On Thursday, Sept. 21, we'll welcome Dr. Patricia Florissi, Technical Director, Office of the CTO at Google Cloud, and Dr. Peter Clardy, Senior Clinical Specialist at Google Health, who will discuss the impact of GenAI and Large Language Model (LLM) technologies in healthcare.
Other sessions at MEDITECH LIVE will highlight real benefits that providers are finding with AI-powered solutions in Expanse and explore how AI can help combat cybercriminals.
Join us September 20-22 to learn what we're doing with AI now, look back at how we got here, and hear what comes next.
---
Learn how clinicians can ask more of their EHRs with MEDITECH's Virtual Assistant.