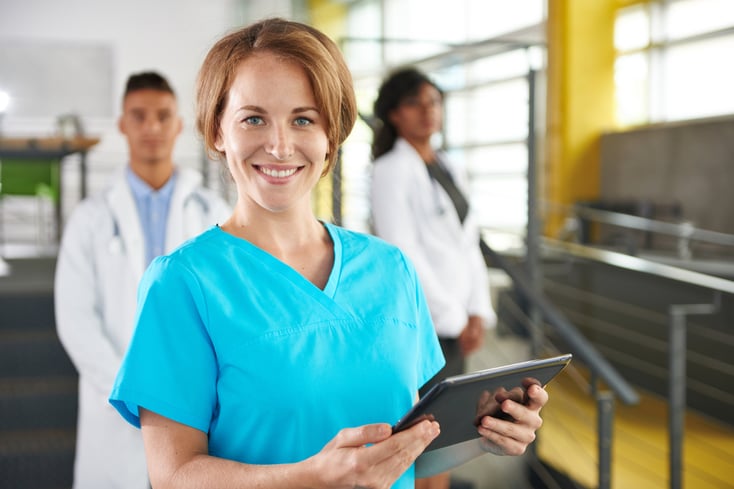 In order to build healthier communities and improve population health management, providers need information about a patients' health that goes beyond clinical factors.
How can we achieve this?
Care providers are naturals at building close relationships with patients, which are needed to earn their trust. And whom do patients trust more than nurses? Nurses care for patients during their most vulnerable moments, and are in a unique position to identify outside factors that might prevent a patient from staying healthy.
As healthcare organizations place greater emphasis on population health management, nurses are on the frontlines, spearheading new community initiatives and taking steps to better understand patients, not just their illnesses.
The focus of this year's National Health IT Week is "Supporting Healthy Communities". In honor of NHIT Week, let's take a closer look at how the nursing role is expanding into the population health realm.
Detecting underlying Social Determinants of Health
Studies have shown that up to 90 percent of a patient's health is influenced by factors other than clinical care. These socioeconomic factors, known as social determinants of health (SDoH), can include access to safe housing, education, nutritious food options, and transportation.
Of all the care patients receive during a hospital stay or office visit, nurses are typically the ones spending the most time with patients. This also makes them the most likely to be able to detect and address SDoH issues. Nurses facilitate conversations with patients and their families about issues ranging from not having a refrigerator to store their medications, to matters as serious as human trafficking.
Healthcare organizations across the United States are finding innovative ways to help patients overcome these barriers. Take, for example, Arrowhead Regional Medical Center. Due to the surging homeless population in recent years, the hospital took additional steps to screen patients and provide them with resources and support that keep them healthy and encourage proper use of the ED.
Nurses at Palo Pinto General Hospital are taking the idea of "meeting patients where they are" quite literally. They recently developed a fully-equipped mobile clinic to bring care to rural areas in which populations have been underserved in the past.
At the 2019 MEDITECH Nurse and Home Care Forum, we heard from Jeri Moomaw from the Innovations of Human Trafficking Collaborative. She shared success stories from nurses who have altered their patient approach. Instead of asking "Why are you here today?" these nurses now ask "Are you happy with your life?". Nurses are being asked to go beyond standard assessments and focus on a patient's underlying issues. I'm pleased to see them rising to the challenge.
Nurses in health IT
Nurses are leveraging their knowledge of the EHR to improve patient care. In the ambulatory setting, registries and reporting tools help evaluate and manage population health. Sites can build their own registries which help them to identify where to conduct outreach and which patients need an extra level of support between visits.
The growth of the nursing informatics field shows how agile nurses can be assuming multiple roles. Nursing informaticists continue to practice, but also help build EHR infrastructures that support optimal care delivery and fiscal health for their organizations. Having an individual with both patient care and informatics experience helps optimize workflows and implement meaningful technological change in healthcare.
The value of self-reporting
As nurses, we provide a safe haven for patients to share the issues they might be confronting. Yet studies have shown that self-reporting (via questionnaires in patient portals or kiosks) tend to result in more accurate information.
As more questions are added to address SDoH and mental health, patients might feel more comfortable answering honestly when doing so online, as opposed to face-to-face with a care provider. Organizations that expand their offerings of patient portals and kiosks not only experience more accurate patient reporting, but also increase patient engagement and satisfaction.
Forging ahead
When it comes to population health management and using health IT to support healthy communities, nurses carry a heavy burden. Nurses, let's forge ahead, push the boundaries of traditional care delivery, and use our close relationships with patients to better treat them both inside and outside of the hospital's walls.
---
To learn about the innovative ways in which Southwestern Vermont Medical Center is addressing the social determinants of health, watch our on-demand webinar.