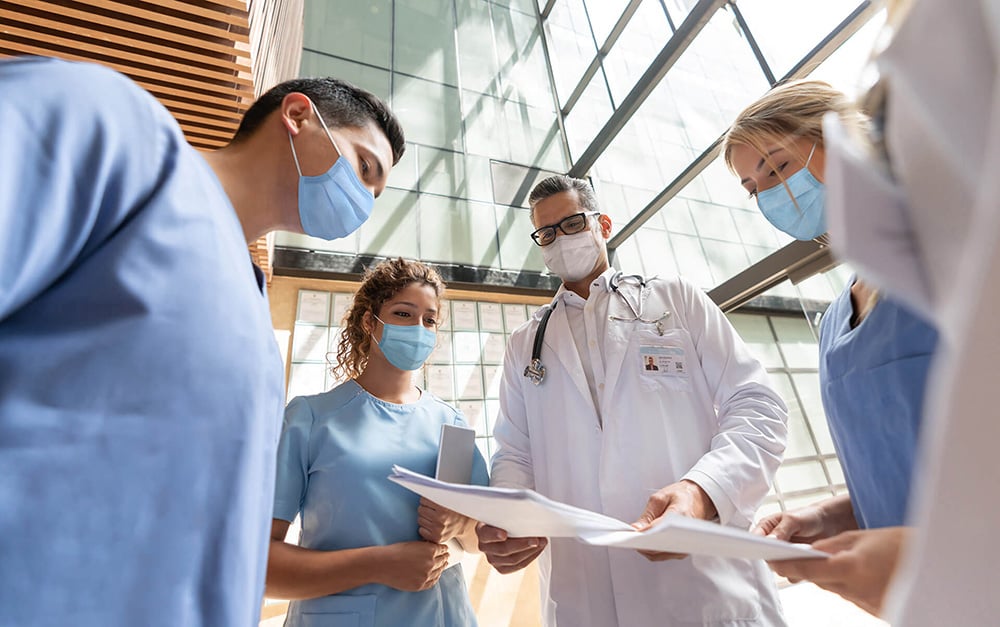 The COVID-19 pandemic has been a call to arms for many. In and around Toronto, and in other cities throughout Canada, the recent third wave as reported last month by CNN continues to wear on all of us, and hearing of the disastrous situation in India is beyond heartbreaking.
From the beginning, this fight has been very personal to me. At the first mention of a mystery virus springing up in Wuhan, it was as if I had been transported back to my first year of residency. At that time, an unknown respiratory illness suddenly appeared and started to take hold in several continents, including North America. That virus is what we now know as SARS. The very real fear of the unknown is one of most difficult feelings anyone can experience, let alone live with for an extended period.
Hearing the news reports in late 2019 brought forward my deep-seated feelings of fear and anxiety once again. I knew I had to help prepare my family as well as our hospital staff for what was to come.
Using a non-traditional 'all hands on deck' approach
My gut told me we had to mobilize quickly and find ways to support our staff both logistically and emotionally in so many new ways. Not only would we need to gather all the PPE we could, but we also had to reexamine hospital protocols, including how to screen patients. And we had to prepare staff mentally, because combating this pandemic was — and still is — like nothing any of us have ever experienced.
In January of 2020, I was filling the role of Interim Chief of Staff, but before long I would be doing so in more of a non-traditional capacity, as the pandemic doesn't follow everyday roles. Along with helping to prepare our physical environment, I also wanted to help staff understand that this would be a fight like no other, and that it was up to all of us to do whatever we could and on any given day.
Once PPE started to become scarce for us, as for so many hospitals, we had to stretch our supply. PPE became my life. I recall doing things like running to the local dollar stores to purchase as many paper bags as I could so that staff could safely store their masks. I also hunted around for things like pop-up hampers to help staff with gear that need to be changed out constantly.
Early out of the gate, we sought the help from our community. With help from the hospital foundation, we began a community initiative to make fabric masks for our patients, to ease the demand for surgical-grade masks (#maskchallenge). One community member made a video 'mask challenge' that went viral and before we knew it, a group called the Cambridge Mask Makers were off and running. They provided fabric masks for people coming into the hospital who didn't have one.
As of this writing, thanks to their amazing creativity and support, they have provided us with over 50,000 masks. We couldn't be more grateful.
Prioritizing the human element
As the pandemic continued to unfold, I knew it was vital to keep our staff morale up. Within our regular email communication to staff that included resources and information, I felt it was important to share some of my own personal feelings, as a way to help normalize and humanize what was an extraordinary situation.
I wanted staff to know that they would be supported day in and day out, and that no one would struggle through this alone. Together, we would build resiliency. In doing so, we lifted up one another, especially through the darkest moments. That overlay of emotion became a main driver that helped to cement our teams' grit and determination, even as they would be pushed to the limit during times when patients overwhelmed the ICU.
The trauma of dealing with the pandemic caused a number of staff to confront their own mortality. That level and rollercoaster of emotion is distressing to watch. Everyone is living with a certain level of anxiety they can't get rid of, and there are times when we all feel we're teetering on the edge.
I live in a dual physician household, so there is no real time to decompress. My husband's and my roles at home have often flip-flopped throughout the pandemic. Thankfully, we have some wonderfully understanding children who help take care of us and do things like take charge of the cooking. They've understood that when mom and dad are home they sometimes have to be on teleconferences around the clock. They've also understood when we've had to isolate from one another in order to keep them safe. This is what so many of our colleagues have done and continue to go through.
Preparedness and agility are key
Responding to the pandemic has been a call to action for many. As we work through this third wave and, until the vaccine becomes more prevalent in Canada, we all have to remember that it's all about helping each other. It pulls on your energy, but it's also that same energy that drives you to go beyond what you normally think you can do.
In a recent industry article, a survey of nurses indicated that their mental well-being throughout the pandemic was better managed when they were fully supported by their organizations, as well as by each other.
We all hope there won't be another pandemic in our lifetime, but no matter the type of public health crisis, preparedness and agility are key. Here's what we've learned:
Learn from the past to help prepare for the future.
Support your staff in every way possible and don't let your guard down. Fatigue can override safety measures. It's about keeping people afloat and it's hard.
Recognize and acknowledge with your staff that the rollercoaster of emotion is difficult — and that it's difficult to watch one another struggle with it.
Realize that you have to take on non-traditional roles within your profession, no matter what your title. And, frontline or not, you have a way to contribute, no matter your skill set. I may be a radiologist, but I have had to reinvent myself throughout this pandemic.
Pull from everyone's creativity and remember that small things can make a huge difference.
Give your community the chance to help. We were so blessed to have such generous contributions from our community. By asking for help, we also built a stronger relationship with our community.
Be prepared to switch gears at a moment's notice. Plan for as many scenarios as you and your staff can think of and create backup plans — include a plan E to line up behind plans A, B,C, and D. Be at the ready with each one.
Remember that things may never be perfect. But if you focus on supporting one another through the hard times, you can make it through any crisis that comes your way.
---
See how MEDITECH is guiding customers through the COVID-19 pandemic.