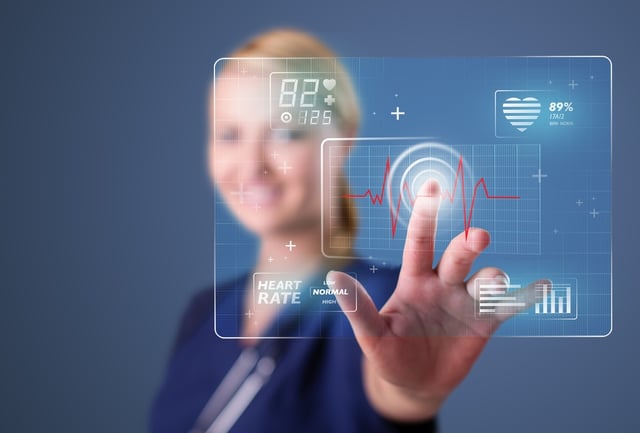 We all know that things can change in an instant, especially when it comes to patient care. Add to that having a bunch of patients to care for at a time, and prioritizing care and managing patient populations can become rather difficult.
This is where surveillance comes in.

A surveillance tool works in the background of your EHR, and gives you real-time, meaningful information to evaluate and interpret whether your shortness of breath patient may meet the criteria for sepsis, chronic heart failure, pneumonia, or any other condition. And the great part is, this information is pushed to you as an early warning system, allowing you to quickly identify patients that may be trending toward a bad outcome. Being able to have crucial information sent to you versus you looking for it, you're able to save time and intervene earlier in your patient's care.
Surveillance has really turned the corner in making data work for nurses, by taking all the data that's been collected, and offering it back to them, without the need to do anything extra. Prior to having these tools, not only did the data have to be entered into the system, but data in the EHR had to be analyzed in order to recognize trends, as well as ensure that the data was acted upon. With surveillance, live, actionable, real-time data is collected on your patient every hour of every day, and is pushed to the nursing staff, enabling them to focus on the patients that need the most attention.
Surveillance is a great tool that delivers meaningful, and potentially life-saving information to you in order to prevent hospital-acquired conditions and meet core measures. It's useful for new nurses that might not know right off the top of their head certain parameters they should be looking for, and also helps more experienced nurses incorporate high-level technology and change the way they address potential patient risks.
As many of us know well, nurses comprise the largest single component of hospital staff, and are the primary providers of hospital patient care. Having a strong surveillance tool allows us to take advantage of the data we've collected as part of our normal workflow of delivering and documenting patient care, saving a step. Steps are a good thing if you're talking about how many steps you've racked up on your pedometer, but not when it comes to the steps needed to complete a task!
Save some steps by investing in comprehensive surveillance software. Here's what you should look for:
Tracking Boards
Real-time tracking boards give you the tools to prioritize care and manage patient populations. Software with evidence-based rules can search the clinical and demographic data in your EHR 24/7. Any patients who meet profile criteria will automatically populate boards that indicate when quality measures are due or if the patient is showing signs of a potential hospital-acquired infection, saving critical time in care delivery.
These boards also give staff the power to manage their patients by the status board. They can see everything that they need to do for the patient, can sort tasks by time, and can also highlight the normals and abnormals. The board also lets you know which of your patients have met a certain criteria, and more importantly, why they met that criteria.
An efficient tracking board won't force you to spend extra time looking for or analyzing data. It will clearly spell out the items that you need to take immediate action on. A big bonus is that these boards are also actionable, giving you the ability to order, document, or message the rest of the care team, right on the spot.
Surveillance Boards
Surveillance boards not only enable you to look at an individual patient, they also enable you to look at the whole house. Tasks such as recording patient observations and capturing acuity can populate a watch list and trigger your surveillance board. This gives quality managers, for example, a grand view of the landscape to see what's really going on in their environment.
Paired Devices
Using a system that broadcasts alerts to status boards while also sending them to individual devices such as tablets and smartphones will ultimately help you increase patient compliance, reduce communication delays, expedite interventions, and enable better overall care.
Standard Content and Best Practices
I know what you're thinking. It's going to take an enormous amount of time and work to set this kind of system up. But comprehensive standard content available with surveillance boards will already have outcome-based components and rules/algorithms incorporated to analyze data, easing your burden of having to create the content in the first place. Find a solution that will have a library of standard surveillance boards, which include the embedded rules needed to comply with clinical quality measures and protocols.
In addition, you will want to find content that provides active and predictive surveillance for early detection of sepsis, VTE, CAUTI, stroke, pneumonia, and other potentially life threatening conditions or diseases. The board should also monitor patient populations that may be costly or high-risk, such as patients who are readmissions risks, have specific therapy consults, or carry restraint orders. This can help improve clinical outcomes and reduce lengths of stay.
Watchlists
A solution with watchlists can give you real-time, accurate information to identify your most vulnerable patients by itemizing every profile your patients meet and their qualifying criteria. Chuck the paper - the second a report is printed out, it's already outdated. Look for a solution that will compile your information (fall risk, restraints, CAUTI, sepsis, etc.) and deliver it to you electronically in real-time.
We've all been there. One more thing to do. One more thing to process. The great thing about surveillance is that it adds value by fitting into your workflow and making the data work for you, not the other way around. It's essentially a byproduct of what you already do.
Surveillance is not only an asset to nurses. It's also helpful to the clinician who needs clinical decision support to help render a diagnosis, the quality manager taking care of all the inpatient areas, the care manager who can take a granular view and focus on one area of risk, and the VP looking to identify areas of improvement for all the potential points of service across single or multiple facilities.
---