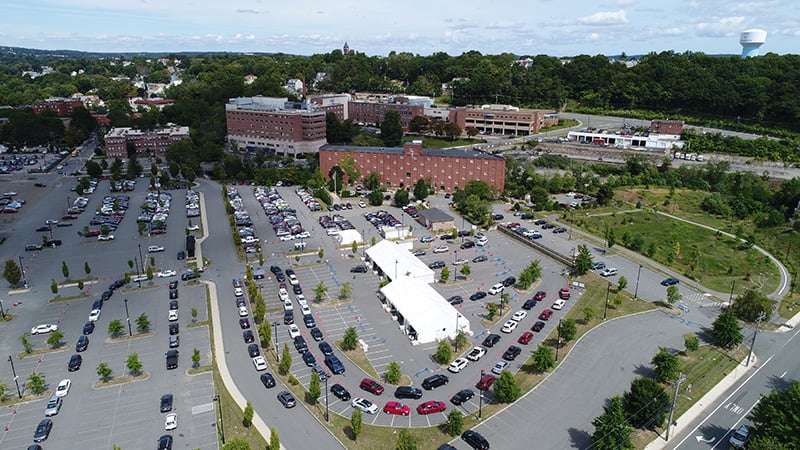 With the COVID-19 pandemic surging, healthcare organizations are tasked with the ongoing challenge of providing sufficient testing for their communities. Lawrence General Hospital (Lawrence, MA) is located in one of the hardest hit cities in Massachusetts with over 8,400 positive cases. As a leading healthcare provider in the region, their staff put together a plan to implement drive-thru testing that now tests over 1,400 patients per day and provides a model for other organizations to follow.
COVID-19 inpatient impact
Lawrence General's inpatient setting was significantly impacted at the onset of COVID-19 as a provider in one of the most infectious cities in the state. In March, they had one of the highest percentages of allocated licensed beds that were filled with COVID-19 positive patients. Staff reallocation and the opening of a second ICU were immediate actions that increased capacity to care for sick patients. But when state officials predicted a virus surge within the month, hospital leaders made it a priority to create an on-site, drive-thru testing center to help protect their at-risk community.
Tracking the spread
Within weeks, staff set up a COVID-19 2-lane testing operation, running power lines to workstation areas and a drive-thru lane across from the emergency center. But as COVID-19 cases, hospitalizations and deaths continued to rise, they knew increasing testing availability would be crucial to community health.
While putting together a plan to expand the COVID-19 testing location, Lawrence General developed strong partnerships with Mayor Dan Rivera and Governor Charlie Baker, who delivered a COVID-19 update live from the hospital. Massachusetts identified them as a high volume testing site in their Stop the Spread initiative— a testing program that offers free, easily accessible testing to state residents.
"Collaborating with the state enhanced public awareness and gave us the opportunity to help showcase the importance of COVID-19 prevention efforts such as testing and mask wearing," said Jessica O'Neil, MS and Executive Director of Physician & Ambulatory Services at Lawrence General.
Finding the right technology
Working closely with state officials also afforded Lawrence General access to different testing platforms. After measuring the internal capabilities of their lab and conducting external research, they were fortunate to partner with the Broad Institute of MIT and Harvard. Traditionally a research center, the Broad Institute had the foresight to understand what Lawrence General's needs would be to test in mass quantity, create a program with a quick turnaround time, and support the volume they were managing.
"Through a third-party vendor, we were able to interface Broad with our MEDITECH EHR and reduce manual ordering and result reporting," said Alison Scarry, Senior Director Laboratory and Imaging Services at Lawrence General. "Having order and result interfaces was a game changer for the laboratory, resulting in a remarkable digital transformation that made our COVID-19 testing goals a reality."
Success of drive-thru testing
Through strategic collaborations and the multi-departmental effort of their care teams, Lawrence General expanded one testing alley into a large drive-thru site with eight lanes that now tests over 1,400 patients per day. Labs leverage reports to retrieve quality data and analyze trends, while also enabling patients to access their information through a portal.
The support of local lawmakers remains instrumental in protecting Lawrence General's hard-hit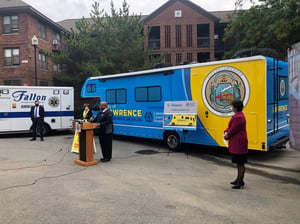 community. Mayor Rivera recently provided the hospital with an EHR-equipped mobile unit that they've used to travel directly to Lawrence citizens, parking in at-risk communities to administer COVID-19 tests and flu shots. This allows Lawrence General to reach more people than traditional testing sites, helps keep costs down, and is one more way to help limit the spread of the virus.
Moving forward
While employing enough staff to keep up with the volume at the drive-thru site hasn't been easy, Lawrence General continues to incentivize and find frontline healthcare workers who rise to the historic challenge. As we approach the winter months, drive-thru testing is becoming more essential to those who want to avoid being inside and risk unnecessary COVID-19 exposure. Lawrence General also offers a walk-up lane for those who don't have a vehicle.
"At Lawrence General, we're no strangers to meeting a challenge and managing a crisis," said O'Neil. "While we are inching closer to a vaccine, the battle against the COVID-19 pandemic is far from over. At Lawrence General, we continue to champion each other's wins and make COVID-19 testing efficient and convenient for our community."
---