Before I came to MEDITECH, I was a clinical pharmacist at Sauk Prairie Hospital in Prairie du Sac, Wisconsin.
The Badger State is incredibly tight-knit, even more so in areas like ours, with a sense of community that extends well beyond county lines. It was no different at the hospital, where I loved working. What I appreciated the most about care teams like ours was our acute understanding about the importance of appropriate levels of care. Our goal was always to provide the best patient care, closest to home, whenever possible.
The opioid epidemic brought many unique challenges to south central Wisconsin. We recognized very quickly that access to care could not be limited to cities, and I witnessed remarkable and selfless work by healthcare providers who saw the impact of the ongoing crisis on their patients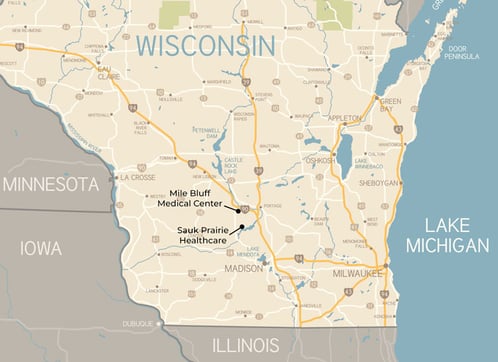 and acted with courage and compassion. One of them was Dr. Angela Gatzke-Plamman, Chief Medical Officer at Mile Bluff Medical Center, just an hour north of Sauk Prairie in Juneau County. I had previously heard about Dr. Gatzke's work while listening to the radio on one of my commutes up and down Highway 12, a remarkable story featured nationally on National Public Radio's Morning Edition show.
Earlier this year, a team from MEDITECH visited Mile Bluff and recorded several interviews with physicians and executives about their use of Expanse [see the video above]. I had a "full circle" moment during a debrief session when I saw Dr. Gatzke on video. After reviewing the recordings, I had a few questions and I was fortunate enough to schedule a follow-up call with her.
During our conversation, she walked me through their impressive pharmacy processes, from documenting treatment agreements that follow CDC Best Practice Guidelines, to their use of MEDITECH and DrFirst's Prescription Drug Monitoring Program (PDMP) functionality, which helps them review opioid prescriptions on a regular basis. I am extremely thankful for Dr. Gatzke's time and generosity in sharing the best practices they've implemented at Mile Bluff to address medication stewardship and opioid use disorder (OUD).
Mile Bluff's pharmacist in the clinic already utilizes Expanse Ambulatory to identify patients on high risk medications, reviewing for polypharmacy and morphine milligram equivalents (MMEs). The ambulatory pharmacist also uses Expanse to structure their workday around providing counseling and education, as well as dedicating time for motivational interviewing and interventions — all before patients are seen by their provider.
After hearing about what they were doing I was able to offer a few suggestions that could help streamline their workflows while also capturing better data. We discussed optimizing the patient referral process, as well as opportunities to take advantage of the wealth of operational information accessible in the following MEDITECH tools:
Patient lists in Registries
Prescribing trends in Data Repository
Powerful dashboards in BCA
Mile Bluff is in the process of implementing MEDITECH's Opioid Stewardship Toolkit, which aligns with all 12 CDC recommendations in their clinical practice guideline for opioid prescribing. The toolkit will also include embedded guidance on tapering plans, and helpful reminders for providers to co-prescribe naloxone on opioid prescriptions.
I think what was most rewarding about the conversation I had with Dr. Gatzke was how it highlighted a core value we have at MEDITECH: Understanding our users. As a practicing pharmacist, I was able to see how closely we work with clinicians and other users of our software.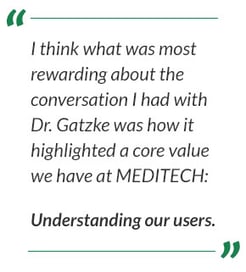 As a product manager, I can join in and participate throughout the development process to ensure our solutions support their workflows and are as intuitive and usable as possible. And as a member of our Strategy division, I work alongside our Development, Service, and Implementation teams to determine the roadmap for our Pharmacy product.
It takes engagement with end users like Dr. Gatzke and her team to understand how we can prioritize the improvements that will yield the biggest benefits for them. A big thanks to Dr. Gatzke and her colleagues at Mile Bluff for their feedback, engagement and collaboration. It's absolutely vital to developing products that support and enhance their workflows!

If your organization has users of our pharmacy software who are interested in joining a user panel to provide feedback on the product and input on future development plans, please contact me directly at msoehl@meditech.com.
---
Learn more about what our customers are up to and how MEDITECH'S EHR is elevating the care that they bring to their community.