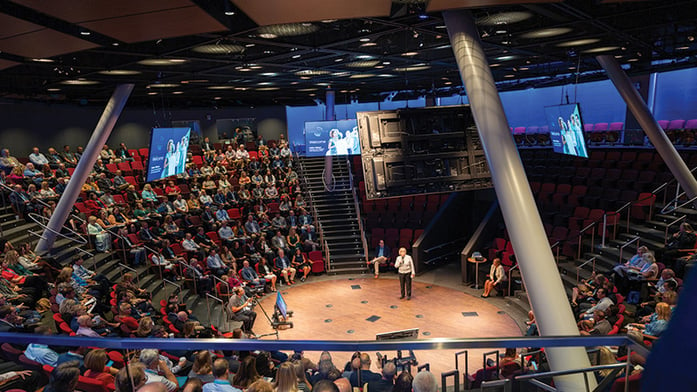 Innovation excels through collaboration and soars when you're in a room with some of the brightest minds in healthcare. MEDITECH proudly welcomed customers, industry thought leaders, vendor partners, and prominent organizations to our Foxborough conference center last week for MEDITECH LIVE, our annual customer leadership event.
The packed three-day agenda featured a wide array of topics and valuable takeaways, honing in on rapidly advancing developments including the intelligent application of data and AI and innovative care delivery models, along with tools for tackling more immediate challenges, like clinician burnout and health equity. A multitude of panels and breakout sessions led by thought leaders inside and outside of MEDITECH encouraged the large and diverse audience to bring their own unique insights and experiences to the conversation.
The event also presented an opportunity to showcase several leading-edge initiatives underway at MEDITECH.
As newer technology like artificial intelligence and cloud solutions add fuel to healthcare's ongoing digital transformation, MEDITECH remains in the forefront. Recognizing early the revolutionary potential for AI, MEDITECH forged a partnership with Google in 2021 to explore opportunities for collaboration on new types of intelligent applications. One of the fruits of our burgeoning relationship is Search and Summarization, which leverages Google Health's intelligent search and second-level insights capabilities to extract information from different parts of the patient record, including current and legacy data, scanned documents, and other sources to produce a curated summary of a patient's health conditions directly inside the Expanse EHR. Attendees witnessed a real-time demonstration of this first-of-its-kind solution by Randy Brandt, PA-C, from Mile Bluff Medical Center, an early adopter.
Additionally, Drs. Patricia Florissi and Peter Clardy (from Google Cloud and Google Health respectively) discussed the responsible and strategic integration of generative AI in healthcare. MEDITECH Marketing Director Rachel Wilkes continued the momentum, presenting a collaborative roadmap Google and MEDITECH have developed, which includes the creation of tools for automatically generating clinical documentation.
The event's first panel, "Impactful Strategies for Burden Reduction," welcomed Russ Branzell, President & CEO of CHIME; Elisabeth Moore, MD, FACEP, WMC Emergency Department Medical Director of North Country Hospital; and Kenn Harper, Vice President of DAX Product Management and Transformation at Microsoft/Nuance Healthcare. The session included a balanced discussion about current and future strategies for burden reduction, ending with a hopeful scenario in which leaders, clinicians, and developers come together to define strategic success. By preparing clinicians for the future, they're equipped to better handle the fast pace of digital transformation.
Additional panels discussed how to remain competitive through innovative care models, improved patient engagement, benefits from virtual nursing, and the intelligent application of data. An overarching theme emerged regarding how effective deployment of technology requires a human-centric approach to truly yield positive impacts on patient care and clinicians. Offering valuable insights, featured speakers came from an impressive range of industry-leading organizations, including CHIME, the US Department of Health and Human Services, the Gravity Project, and HCA Healthcare.
MEDITECH always strives to create opportunities for attendees to network with other leaders in the industry, in addition to investing in their education and empowerment. Those ideals were underscored by the event's two keynote speakers.
Dr. Paul Keckley, managing editor of The Keckley Report and advisor to healthcare organizations on long-term growth and sustainability, set the stage on Wednesday by assessing the current landscape of the US health system. His address dove into the complexities of healthcare trends and how they are influencing the industry's direction. Attendees took away valuable insights for setting their own strategies to develop long-term forecasts and key investment plans.
Award-winning professor and author Dr. Amer Kaissi turned the focus to the individual — the "humble leader" — in his keynote address the next day, explaining how organizations survive through strategies but thrive through leadership. He believes that leaders who combine empathy with strength are able to connect with their teams more deeply, understand their needs, and create cultures that inspire greater productivity.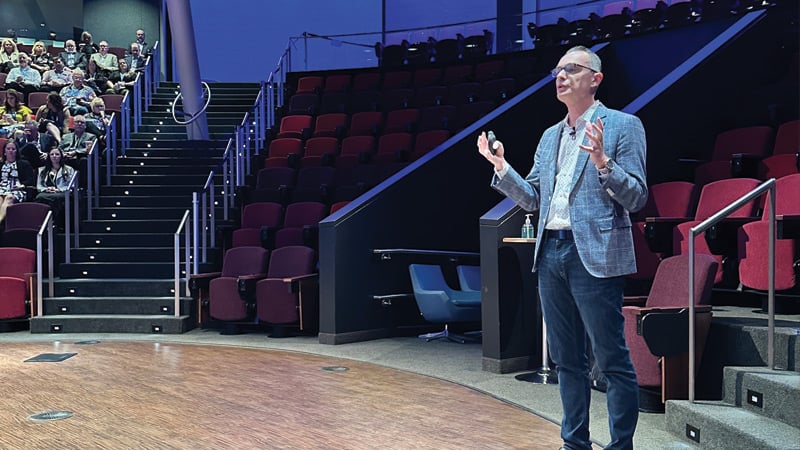 Thanks to the remarkable assemblage of changemakers, innovation seemed to spring from all corners. In one, the founding members of MEDITECH's Interoperability and Data Collaborative huddled for their inaugural meeting, providing an opportunity to engage a select group of customers around their needs in areas like consent management for data sharing, closing care gaps, and SDOH, among many others. We were thrilled with the robust discussion, which will help us pioneer new ways to use and share data more intelligently.
When guests weren't attending sessions, the conference floor featured space for our third-party partners, so customers could learn more about the technology we use to support certain features of Expanse. View them in the carousel of photos below.
Thank you to all of our presenters, customers, and vendors for joining us. We certainly hope these three days proved as insightful for you as they did for us. All of us at MEDITECH appreciate opportunities to listen and learn from our customers and we can't wait to hear what you've achieved at next year's event.
Photography by Milhaus Productions
Learn more about the sessions and organizations featured at our event by searching for #MEDITECHLIVE on LinkedIn, X (Twitter), Instagram, and Facebook.
---
Explore other ways MEDITECH is driving AI innovations in health IT.