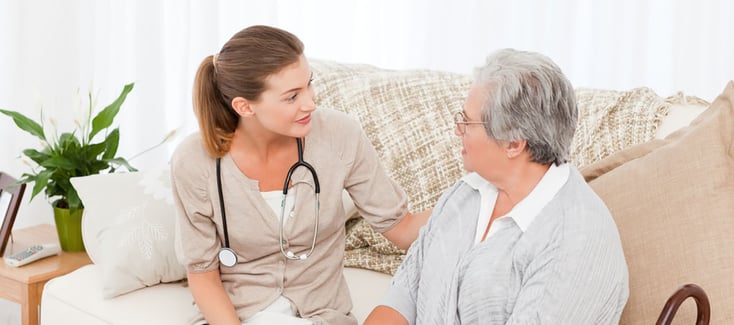 The first of the 78 million baby boomers turned 70 last year, and the rest will do so in the next two decades. This aging population and an increase in chronic disease leads to rising readmission rates. And an industry emphasis on population health and patient engagement makes the need for reducing readmissions all the more important. Striving to reduce readmissions and keep patients healthy outside the hospital walls will further drive the shift from hospitals and nursing homes to care in the home, and from treatment to proactive care and monitoring.
As a nurse, I know that having a robust EHR, coupled with preemptive actions by medical staff, will support these goals. Below are some of my best tips for utilizing resources to reduce readmissions.
Patient Generated Health Data
Set parameters to track patients who are at risk for readmissions. Through the use of patient generated health data gathered with wearables and telehealth devices, information such as a patient's weight, blood pressure, and blood glucose are uploaded and pushed out to clinicians. For example, if you have a congestive heart failure (CHF) patient, you can set up a parameter to track their weight. If you notice the patient has a steady increase in weight over the weekend, this may reveal that they need to be evaluated and treated. The use of case management tools and registries makes it easy to track these trends and support early outreach, helping to prevent readmissions and complications.
Patient Portal/Telehealth
A patient portal is a great way to keep in touch with patients and allows them to become more engaged in their own health and progress. It's also an easy way for them to refer back to their discharge instructions should they have any questions. Through secure messaging, patients are able to directly connect with their physician.
Patient Education
Whether it's a wellness visit, an annual physical, or a visit to the ED, it's important to provide patient education, and even more important to ensure that patients have a thorough understanding of how to manage their illness. Patient education can include more than a verbal conversation. Reading materials and informational videos on the patient's condition can help them fully understand what's happening with their health, and what they need to do to stay healthy and manage their condition at home. Any interaction, from discharge to home care to e-Visits can be elevated through the patient portal and further education.
Understanding Socioeconomic Conditions
A patient's social aspects can be a contributing factor to possible readmission. For example, they may have challenges filling a prescription if they don't have transportation to get to the pharmacy. That's a potential problem that could be avoided by simply asking questions before a patient is discharged. In addition to making sure you have a complete medical history, it's vital to make sure you understand the patient's entire situation (mental state, support system, etc.) to avoid any readmission pitfalls. At every post discharge interaction, the patient's socioeconomic situation can be reassessed, to see if anything has changed. This reassessment can identify if it may be time to involve social workers, home care agencies, or other support.
Event Based Registries
Stay on top of patients that may be at risk for readmissions by utilizing event based and health conditions registries. You'll have access to real-time information about patients who were recently discharged, visited the ED or were admitted, and information about chronic conditions. With the ability to personalize and filter content, these registries allow you to more easily coordinate care, be alerted to changes in conditions, and manage patient populations.
Home Care
Home care assists with transitions of care and supports a multidisciplinary care team approach. Having a nurse visit the patient at home can ensure that the patient and his family or caregivers receive education about his disease process and strategies to reach his optimal health goals, such as if he is taking his medications correctly. Nurses can communicate with the patient's physician should he have a reaction to a medication. They can also make sure that follow up appointments are kept and address any barriers (transportation, mobility issues, etc).
If an active patient should be admitted to the ED, a notification from the Home Care solution can indicate that the patient has been registered at the ED and why. This allows staff to call the ED and alert them that a nurse can meet the patient at home upon discharge to help avoid a potential readmission.
Having the proper tools in place can help avoid any pitfalls that could cause readmission. And in a world focused on value-based care, these tools will also help to decrease financial penalties and increase patient satisfaction. With a fully integrated system that shares a patient's medical history, medications list, allergies, and more, patients will be receiving the best possible care, whether they are at home, in long term care, admitted to the hospital, or visiting their physician's office.
---
Want to learn more about population health strategies? Read our white paper to learn how ambulatory patient registries and patient lists are forming the basis for sound population health management strategy.