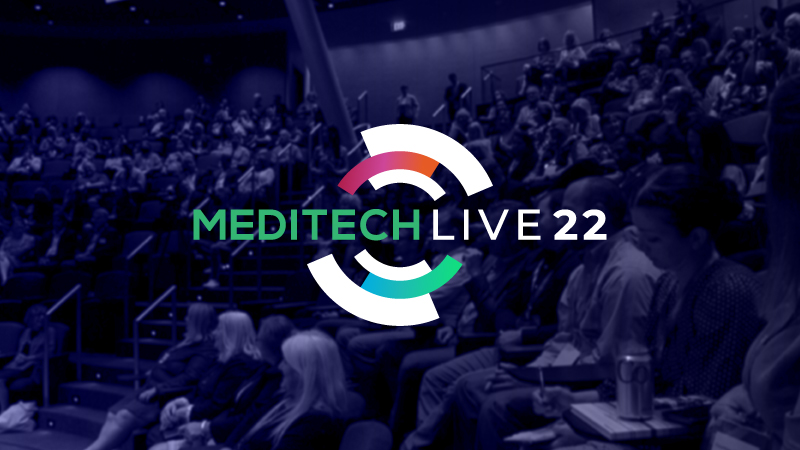 Recently, we hosted customers at our Foxborough, MA office, for our new premier event, MEDITECH LIVE. At this event, we welcomed leaders and changemakers from across disciplines, ready to gather in person and exchange ideas about the newest developments in healthcare. We designed this event to work for a variety of roles, because we know that healthcare decisions are made by multidisciplinary care teams, passionate leaders, and those committed to the power and potential of digital innovation.
Healthcare has changed substantially over the past two years, in large part due to the pandemic and the resultant impact of labor shortages, increased clinical burnout and mounting cost pressure. We witnessed the rapid advancement of digital health tools such as genomics, sophisticated surveillance and remote monitoring and a deeper utilization of data analytics. When I polled our audience on the one word they would use to describe the last 2 years, there was a huge range of responses:
There were words you might expect. Challenging. Exhausting. Dysfunction.
But also, we heard another kind of answer. Virtual. Innovative. Acceleration.
And those words describe the technology we can use to answer up to those challenges. At MEDITECH, we are focused on accelerating innovation and advancing the elevation of our customers. We are generating new ideas through these strong partnerships. It is time to take healthcare to the next level.
For instance–interoperability. While interoperability has been talked about for a long time, it hasn't been visualized to its full potential. But even as the industry is lagging behind on this, MEDITECH has been enabling healthcare organizations to interoperate for years.
Achieving true interoperability means that data is accessible and actionable within healthcare organizations as well as outside entities. MEDITECH Expanse is a secure, integrated, interoperable, and cloud-based platform. And we know that what is best for patients is for their health story to follow them wherever they go, at any organization, regardless of vendor.
We can see that leaders in healthcare have recognized the challenges they are facing, and are addressing them with new and exciting strategies.
Featured speaker, Dr. Michael Cuffe, EVP and COO of HCA Healthcare, covered a variety of timely healthcare topics. But the main one he identified was labor. With an aging population and workforce shortages, healthcare organizations are facing unprecedented levels of burnout and staffing issues. Dr. Cuffe explained that sites need to embrace innovation to disrupt current workflows and make things more efficient for clinicians.
As healthcare begins to transition into a post-COVID world, organizations are facing unprecedented cost pressures that threaten their sustainability. Organizations are still trying to embrace value-based payment systems, while also dealing with the pressures of price transparency, revenue lost to canceled procedures, and ongoing burnout. Innovation is the key to addressing these challenges while also enhancing the patient experience.
MEDITECH's MaaS option is a secure, cloud-based operating cost model, and sustainable EHR solution for organizations of any size or specialty. MaaS offers a foundation for long term sustainability and prevents the catastrophic effects of cyberattacks. We know that cybersecurity is a major concern for organizations, who fear that their patient data, financial information, and access to outside data sources could be vulnerable. Our EHR and the solutions we offer are designed with this in mind, providing high levels of physical and network security.
The combination of data and AI is another topic that we heard a lot about at MEDITECH LIVE. In the session from industry leader John Halamka, MD, MS and President of the Mayo Clinic Platform, he discussed the innovative work he and his team are doing with health data. By aggregating deidentified data, they are able to leverage massive amounts of information and use AI and machine learning algorithms to further explore the power and potential of digital innovation. Dr. Halamka explained how by accessing large amounts of both structured and unstructured data, algorithms can be developed to supplement decision making, reduce burden, and see more patients across a larger geography, effectively democratizing healthcare.
Dr. Halamka also explained how innovating beyond the hospital walls can be beneficial for both organizations and patients. Through remote patient monitoring, patients can receive complex care in their own homes. With in-home staff and supply chain links to patient's homes, organizations can provide high levels of complex care, at a lower cost, and with higher patient satisfaction.
Necessity is the mother of invention. The pandemic accelerated the usage of remote care. As one presenter described it, "Portal usage went through the roof." Consumer health engagement remains a critical initiative for the industry having grown significantly during the pandemic. We now have patients and families with a higher degree of awareness and health literacy that will only continue to grow.
Patients expect an easy and intuitive experience when they interact with their healthcare providers. Secure messaging, easy billing, transparency with their clinicians–healthcare is now held to the same standards consumers expect anytime they tap their phone. On the clinician side, virtual care helped organizations maintain their revenue stream when in-person visits were limited.
A number of sessions and speakers echoed issues of workforce shortages, burnout, and employee retention. Organizations know they need to streamline things for their employees and provide more efficient processes. Other speakers shared how they are getting creative with staffing: utilizing virtual workers in roles where they can or nurturing from within. Sites described how they are helping their staff grow into the roles they need filled, such as helping medical assistants progress their careers to nursing roles.
Through innovations such as our virtual assistant solution and MEDITECH's embrace of precision medicine, we strive to help organizations reduce the friction that makes processes more difficult and relieve the burden currently weighing on clinicians. These solutions can help organizations improve their staff's workflow, reduce turnover, and ultimately make life better for their patients.
Featured speaker Vivian S. Lee, M.D., Ph.D., M.B.A., and author of "The Long Fix: Solving America's Health Care Crisis with Strategies that Work for Everyone," shared her perspective on what it means to advance precision health and achieve interoperability. As the president of Verily Health Platforms, Lee has a focus on how technology is leading to a future of personalized precision medicine, distributed in an equitable way. To do this, Lee explained that we need to give clinicians user-centric tools to support their decisions, not make their decisions. While sometimes people can feel unsure about the best ways to use patient data, there is still a need to generate and activate data from a wide swath of sources. Technology can be used to align incentives among all players to deliver better outcomes, improve experiences, and lower costs.
When we came together with our customers and industry thought leaders in person, it might be tempting to say it felt like old times, where we regularly saw each other face to face. But I beg to differ–I think this is actually the new times, where we are coming together to lead the charge to a new era of healthcare.
Whether you joined us this year or you wish you'd been able to attend, mark your calendar for MEDITECH LIVE 2023, September 20-22. You can also connect with us at ViVE23, booth #1120, or HIMSS 2023, booth #2848. We're ready to partner with you and help transform your organization.
---
Download our case study booklet to see how our customers are improving outcomes with real results.