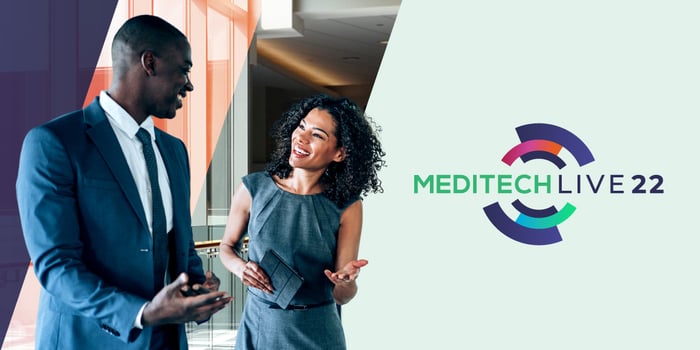 We all know that the healthcare industry is at a critical juncture, where three major trends — digital transformation, value-based care, and consumer engagement — are converging.
This juncture comes at a time when organizations are already feeling strained. Rising costs, lower patient volumes, and the need to recruit and retain quality staff in the midst of a global workforce shortage have left many wondering how long they can endure.
No one can go it alone. Navigating these challenges requires that we, as healthcare leaders, bring our collective knowledge and expertise together to shape our industry. That we connect and collaborate as peers, across disciplines, to share new and creative strategies for success.
Collectively, we are poised to embrace change, leverage technology as a strategic asset, and capitalize on new opportunities. That's why we're excited to host MEDITECH LIVE, a new, interactive event designed to ignite this change by amplifying your voice and your experience, along with those of your peers.
MEDITECH LIVE will gather thought leaders from across the industry for a rare opportunity of focused idea generation and creative problem solving. We invite you to join us from September 20th to 22nd at our Foxborough Conference Center to listen, learn, and collaborate on fresh strategies for addressing common industry challenges, like accelerating the adoption of new technologies; improving the patient experience through personalized care; and reducing staff turnover and clinician burnout.
I'm excited to share that Michael Cuffe, MD, executive vice president and chief clinical officer for HCA Healthcare, will be among our featured speakers for this event.
HCA is one of our longtime strategic partners, having recently won the distinguished CHIME Collaboration Award for our collaborative partnership. As the nation's leading healthcare provider, they staff more than 13,000 employed and affiliated physicians. Dr. Cuffe leads HCA's clinical and physician agenda, including quality, nursing, clinical informatics, care transformation, urgent care operations, graduate medical education, and laboratory services.
Dr. Cuffe will speak on the topic of leadership through change and disruption — a concept that we at MEDITECH have embraced as we chart a way forward to make a positive difference in the lives of patients and providers.
We are also honored to welcome as featured speakers several renowned healthcare visionaries, including:
John Halamka, MD, MS, President, Mayo Clinic Platform
Micky Tripathi, PhD, MPP, National Coordinator for Health IT
Vivian Lee, MD, PhD, MBA, President, Verily Health
The lessons taken from these past several years are so important to our growth and knowledge. MEDITECH LIVE is all about inviting healthcare leaders to share those lessons and collaborate in a new, cross-disciplinary, immersive learning experience. Then, inspired by camaraderie and equipped with new ideas that we can bring back to our own organizations, we can set a plan in motion to renew and recommit to our vision for the future.
I hope you'll join us and other industry leaders at MEDITECH LIVE. By coming together to share our perspectives, passion, and commitment, I'm confident that we'll have the strategies we need to drive healthcare forward.
---
Want to make sure you don't miss anything from industry thought leaders? Click below to subscribe to the MEDITECH Podcast.