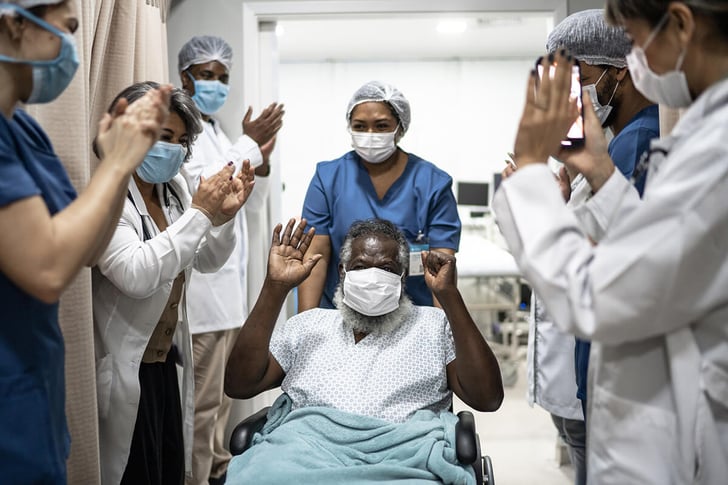 Those who know me well know that I am driven by a sense of optimism — looking to the future with a sense of all that will be possible, even during unpredictable times. I am filled with a tremendous sense of pride to see how our industry has responded to recent challenges none of us would have anticipated. We have done so with a sense of fluidity and the specific intention of making a positive difference.
Without a doubt, the pandemic accelerated our progress in embracing healthcare innovations. Who would have guessed that so many healthcare organizations could adopt virtual care so quickly, or that their patients would accept telehealth so readily? Unexpected events have compelled us to look at ways we can adapt technology and improve it to address new realities faster than ever before. The momentum we've gained just these last few years is what energizes me the most about 2022 — knowing we have proven our ability to move forward and fully embrace innovation as an essential tool for problem-solving.
There are many things that give me confidence about the months and years ahead, and I can assure everyone that as a company, MEDITECH will continue to focus steadfastly on the following key principles:
Our customer community will always remain our top priority
Our customers are and have always been one of our biggest strengths. Their dedication to caring for patients, as well as their ability to carry out solutions during times of tremendous hardship, has never been more impressive. We've seen the extraordinary quality efforts of longtime customers like HCA Healthcare, which was recently honored with CHIME's Collaboration Award alongside MEDITECH. We've also seen rural organizations like Kingman Regional Medical Center, and international customers like Alder Hey Children's Hospital, garnering accolades for their improved outcomes, costs, and services.
In addition, it has been such an honor to witness the tenacity and compassion of customers like Malcolm Baldrige Award winner Citizens Memorial Healthcare, as well as so many HIMSS Stage 7 community hospitals, as their clinicians lean on one another to get through COVID-19 surges. I'm looking forward to seeing some of these MEDITECH customers this fall, for a brand new networking and education event (details coming soon). They are a constant source of inspiration to MEDITECH and a strong reminder about why we are here.
With Expanse, no organization has to sacrifice their independence to get a contemporary, sophisticated EHR
Our customers are staunchly independent and want to remain in control of their own destiny. While they are often approached by larger organizations who seek to onboard them onto their own EHR platform, they know it comes at a cost — both literally and figuratively. Our MEDITECH as a Service (MaaS) subscription model makes the full Expanse EHR available to healthcare organizations of all sizes and budgets. Organizations gain a 2022 Best in KLAS solution, without the high upfront expenditures, heavy IT burden, or stress of protecting their infrastructure from cyberattacks. No other EHR in the market offers the convenience of a full web and mobile solution across care settings, as well as the option to personalize workflows at both the organization and clinician level. And MEDITECH's latest Genomics solution extends well beyond what any other vendor has to offer by leveraging discrete genetic data to inform decisions through precision medicine. Expanse customers, large and small, have the ability to shape their own IT strategy so they can focus on the unique needs of their community.
Innovation remains the strength of our foundation and sustainability
For MEDITECH, it's not just about meeting this particular moment in our history; it's about keeping up the momentum. It is about embracing the future, and the next generation of digital healthcare as a strong influencing factor. The pandemic has taught us that transformational change in healthcare is not only possible but necessary to meet the demands ahead. Patients that have experienced the convenience and ease of virtual care don't want to go back to the way things used to be. Clinicians want more automated communication tools like Expanse Patient Connect, to build on their efficiency and encourage consumer loyalty.
Personalized medicine will be vital to establishing targeted treatment plans and wellness for individuals, while population health will continue to grow in importance, as we focus more on social determinants and improving health equity. Addressing the whole patient and their needs both in and out of medical settings will also require both fluid exchange of data, using solutions like Traverse, as well as the latest technologies like Health Records on iPhone and other health apps. Innovation is the key to improving the way we work as well as the technologies we use as we go.
There's no roadmap to tell us exactly where 2022 will take us, but I'm certain that together, our community can and will create a better future for clinicians, for patients, and for health in general.
---
Download our case study booklet to see how our customers are improving outcomes with real results.