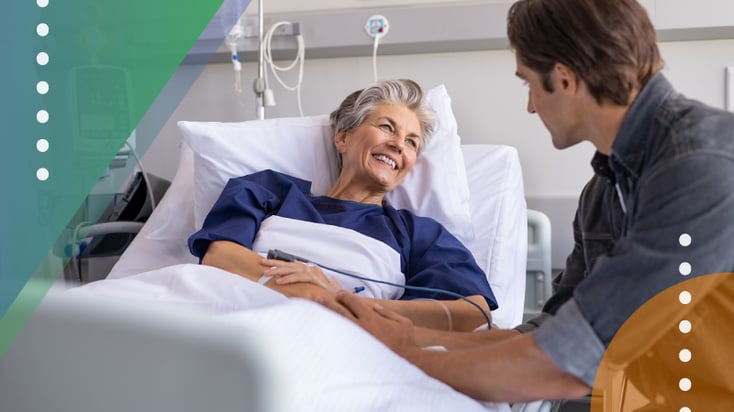 All patients deserve to feel empowered when making their healthcare decisions. By offering tools and programs that promote patient engagement, organizations can lay the foundation for long-lasting partnerships and a healthier patient population.
At Carteret Health Care, we aim to deliver a personalized healthcare experience for our patients, no matter where their care journey takes them. Our Transitional Care and Care Partner programs help support patients and provide us with a clearer picture of our community's health needs.
Focusing on transitional care to reduce readmissions
We've always had a Transitional Care program in place for high risk individuals to prevent health complications and avoid rehospitalizations, but expanding the program across our entire patient population has helped ensure a continuum of care.
Our Transitional Care team covers discharge information in detail with all patients so they can confidently handle issues at home, such as communicating with their pharmacy. Before discharge, staff go to the bedside with tablets that show educational videos, which can then be watched at home and are especially helpful for high risk patients.
By expanding our Transitional Care program, we have seen a decrease in readmissions and a continued focus on health equity to ensure that positive outcomes will be sustainable and attainable for all.
Giving patients a care partner
It's no question that patients without a strong support system at home face more challenges. Working with EQIC (Eastern US Quality Improvement Collaborative), Carteret Healthcare became the first hospital in North Carolina to implement a Care Partner program.
The Care Partner program allows patients to select a 'partner' in care. Whether it's a family member or friend, this person can be present for all patient education sessions and communicate treatment on behalf of the patient.
This streamlined coordination has made life easier for clinicians and over 90% of patients are identifying a care partner, showcasing high levels of engagement with the program. Our strong adoption rate can be attributed to the program being organizationally-driven and involving all disciplines. We are now helping other hospitals in the state implement similar programs and we continue to optimize services in order to support the needs of our patients.
Using data and collaboration to reach your community
Leveraging data is the best way of knowing how our care programs are impacting patients. With ACO data integrated with our State HIE, we can easily identify if patients are showing up to their appointments via dashboards and measure how readmission rates are trending.
While our internal data and survey results are helpful, collaborating on community outreach efforts with the local health department has provided insights we previously could not access.
For example, we partnered with the health department on the COVID-19 vaccine rollout and analyzed patient data which showed what parts of the county (which is rural and has a large non-English speaking population) we weren't reaching. These metrics are informing future opportunities, such as a mobile health truck rollout which will provide preventive services for people who can't easily come to the hospital for care.
Before the implementation of our care programs, we made it a priority to earn executive support by having advocates across our organization. This ensured complete transparency when measuring program progress (via quantifiable benchmarks) as all disciplines were aware of our initial goals. From there, it has been valuable to communicate with other hospitals and health systems who can share what processes they've had success with.
At Carteret Health Care, we've been fortunate that focusing on transitional care, identifying care 'partners' for patients, and working with the health department has helped us address health equity and community-specific needs. With a commitment to quality and clear communication with patients, we will continue to achieve more by working together.
---
Be sure to subscribe to our award-winning blog to read content from healthcare IT's most influential thought leaders in 2023.