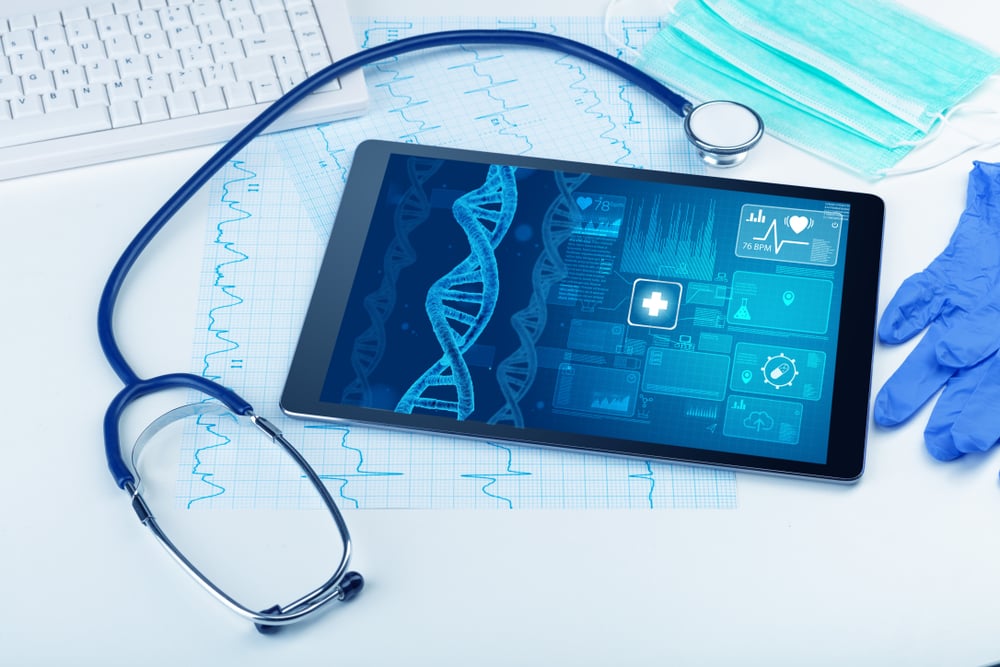 Life seems so easy for industries outside of healthcare when it comes to incorporating tablets into their business. Generally, all they have to do is pick a tablet, and pick a rugged tablet case. Boom, done!
If you're a hospital trying to modernize and introduce tablets, it's a different situation, as you have so many things to take into account.
Picture two IT analysts working at a hospital that just initiated a tablet-based patient eSignature project as part of their mobile strategy.
You can see them facing a seemingly endless set of questions:
Which tablet will our clinicians like?
For patient eSignature, which tablet will patients like?
What case will protect the device?
Will the hospital's infrastructure support all of the devices that clinicians need?
Can the device serve multiple purposes and workflows?
How will charging work? Individual plugs? A charging dock?
How will they address infection control?
How will they track tablets and secure them?
What applications are needed on each device?
Before long, you can imagine those analysts getting headaches and needing a strong cup of coffee.
At Access eForms, we've provided patient electronic signature solutions to MEDITECH hospitals for more than 15 years, and recent trends show organizations using tablets to capture patient electronic signatures at the bedside. Many hospitals entering into the tablet space for the first time asked us for guidance on the best tablets to use, the best cases to buy, which charging stations worked best, and so on.
While we knew quite a bit about tablets, admittedly, we knew little about the cases, keeping devices secure or the other details involving the hardware.
Fortunately, we had some very knowledgeable MEDITECH customers at Halifax Health System (Daytona Beach, FL), and Parkview Medical Center (Pueblo, CO) that blazed this trail. These hospitals achieved success with their tablet initiatives, and shared with us their stories of what worked, what didn't work, and what they wish they'd known from the start.
As a way to share the lessons they learned, they generously agreed to co-author a helpful playbook with Access eForms.
The idea was to create a roadmap to tablet success that other hospitals could follow, and thus the "Tablet & Peripherals Playbook for Healthcare" was born.
There's a tremendous amount of information and wisdom contained in the playbook, but there are several critical areas that every hospital approaching a tablet initiative should consider.
Prior to deciding which tablets are best for your organization, you should ensure that your hospital's wireless network can fully support these additional devices. There shouldn't be dead spots where the devices won't work. No one will use a tablet that can't connect to the electronic health record.
Once your infrastructure is ready, addressing these seven items will put you well on your way toward a successful tablet initiative.
1. Infection Control
In the 2015 CDC Healthcare Associated Infection Hospital Prevalence Survey, it was estimated that 687,000 patients obtained a healthcare associated infection (HAI) during their stay at a U.S. hospital. Sadly, of these patients, an estimated 72,000 died.
Passing tablets from one patient to another, or one clinician to another, can contribute to this very serious problem. Infection control should be a top priority for your tablet project, and the most important item to consider is the tablet case.
2. Tablet Cases
Tablet cases for healthcare not only need to be rugged; they need to be antimicrobial. If you Google "healthcare tablet case," you'll see a lot of search results, but once you start clicking on those results, you'll quickly realize that not many antimicrobial tablet cases are built for the specific needs of healthcare.
Parkview and Halifax each found cases to meet the needs of their dynamic environments; chapter 6 of our playbook lists a number of models that may help your organization.
One last tip: Stay away from any soft materials such as elastic or Velcro that often make up the hand strap on the back of a case. Go with a plastic option instead because fabric is difficult to sterilize.
3. Charging Stations
When it comes to charging stations, it's all about location, location, location. Charging stations are bulky, and if you've looked at a nursing workstation recently, you've probably noticed there's not a lot of spare space.
Most charging stations need to be put on a flat surface, but Parkview incorporated a wall-mounted model to eliminate this issue. You can learn more about location considerations for charging stations in chapter 10 of our playbook.
4. Securing Devices
The great thing about tablets is they're mobile. The problem with tablets? Well, they're mobile.
Have a strategy for securing your devices so they don't walk out the door. Some tablet cases have a lock slot, while others don't. Consider that before buying hundreds of cases only to have an executive ask, "So, how will we secure these devices?" Have a strategy for security before you implement tablets.
5. Bright Colors are Easier to See
Nursing workstations are busy places, and it's easy for a tablet to be moved. Go with cases that are bright colors so devices are easy to spot.
6. Clinician Buy-In
Buy a few tablets and cases for your clinicians to try. Then, listen to their feedback. By involving users in the decision early on, you'll increase the chance of getting their buy-in once you start the roll-out.
7. Start Small
Every hospital department has different needs and different workflows. Avoid the urge to implement tablets enterprise-wide. Start small. Establish success in one department, learn your lessons and gain your advocates. Then continue rolling out the devices in other departments with all that momentum behind you.
BONUS: Stylus Considerations
I know I said I'd give you seven key items to consider, but we're on a roll so let's make it eight! If you're using tablets to capture signatures from patients on electronic consent forms, you may offer patients a stylus. If you opt for a stylus, there are a few things to consider. Access eForms has already done an in-depth analysis for you on this, too.
MEDITECH customers: Contact your MEDITECH implementation team for guidance on selecting the right devices for your organization.
---
Learn how MEDITECH's Expanse EHR helped Halifax Health providers and patients, both in the acute setting and the ED.