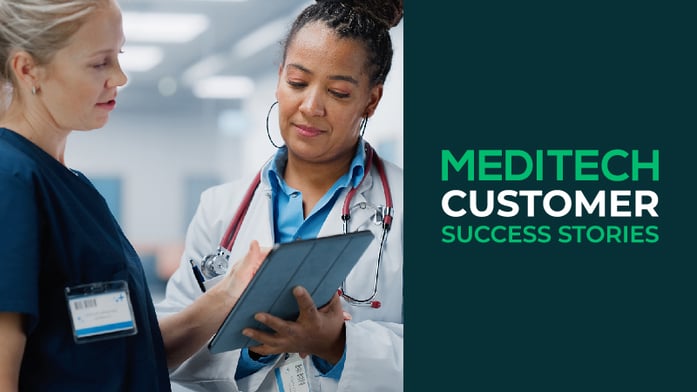 At MEDITECH, we know that organizations need the right tools to address today's healthcare challenges, such as workforce shortages, evolving care needs, and financial pressures. Our solutions are designed to enhance physician and nurse efficiency and connect clinicians across a dynamic healthcare ecosystem in support of person-centered care.
While each healthcare organization has its own definition of success, they all must navigate the needs of today, while preparing for the future of care delivery.
Here are six stories of MEDITECH customers who have overcome their challenges by leveraging innovative EHR solutions.
Efficiencies
DCH Regional Medical Center Automates Collection Processes With MEDITECH's Mobile Phlebotomy
Manual collection processes at DCH Regional Medical Center hampered phlebotomists' workflows, adding steps as well as extra blood draws for patients. In addition, DCH was challenged by disruptions and care delays when patients who were transferred from other facilities continued to wear the older wristbands. By implementing MEDITECH's Mobile Phlebotomy solution, part of the Expanse Laboratory Information System, they were able to automate the collection process which increased efficiency while improving the patient experience.
"The web solution has streamlined our phlebotomists' workflow, enabling us to create greater efficiencies that have also proven to be a patient satisfier. We can't imagine turning back to manual processes."
Pamela Mayton
Health System Laboratory Manager
DCH Regional Medical Center
Person-centered care
Ozarks Healthcare Expands Behavioral Health Services With MEDITECH Expanse
Before implementing Expanse, Ozarks Healthcare's Behavioral Health Center lacked a uniform medical record across care settings. Inpatient services used a legacy system and the outpatient unit used paper processes.
The integration and flexibility of MEDITECH Expanse has provided clinicians with a single EHR across all facilities, including their Behavioral Health Center, which has improved efficiency and reduced redundancies. It has also allowed them to personalize their workflows around their patients' behavioral health needs. As a result of these improvements, Ozarks Healthcare became a Certified Community Behavioral Health Clinic, a federal designation emphasizing comprehensive mental healthcare.
"With Expanse we have exceeded our goals. The efficiency and quality of care that we provide continues to improve, and we are always looking for other specialty care areas we can personalize using the flexibility of the platform."
Priscilla Frase, MD, CMIO
Ozarks Healthcare
Interoperability
Holland Bloorview Kids Rehabilitation Hospital Connects MEDITECH EHR With Epic, Advancing Interoperability
Children with complex medical conditions are often treated at more than one hospital, so it's imperative for clinicians to have access to a summary of care their patients receive from other healthcare organizations. That's why Holland Bloorview Kids Rehabilitation Hospital elected to implement a point-to-point interface connecting its MEDITECH EHR with the Epic EHR used by The Hospital for Sick Children and Children's Hospital of Eastern Ontario.
The point-to-point connection provides these standalone children's hospitals with a consistent approach to accessing and sharing information, making it easier for patients (and a summary of their records) to move freely between settings.
"By establishing interoperable workflows, we're able to prepare for the future, when we'll be able to access data from more sources digitally and with more uniformity, allowing everyone to share the same comprehensive patient information."
Peter Rumney, MD
Clinical Team Investigator and Physician Director
Holland Bloorview Kids Rehabilitation Hospital
Queensway Carleton Hospital Exchanges Patient Records with The Ottawa Hospital's Epic System via MEDITECH's Interoperability Solutions
As an interoperability leader, Queensway Carleton Hospital is at the forefront of making patient information more accessible. The organization recently implemented a point-to-point model that enables it to exchange patient records with The Ottawa Hospital, an Epic customer.
Before Queensway Carleton Hospital established this connection, patient information was available in view-only formats from multiple provincial sources. Now patient summaries are pushed to providers within the MEDITECH native solution, with an option to select problems, allergies, medications, and immunizations to consume into patients' charts.
"We are just at the beginning of what's to come. What we've accomplished shows there's an opportunity to do so much more in the interoperability space, and we're excited about what is the very real future of patient information exchange."
Douglas Cochen, MD, CMIO
Queensway Carleton Hospital
Improved outcomes
Kingman Regional Medical Center Aims for Hepatitis C Elimination With Support From MEDITECH
Mohave County in Arizona is among the top 5% of counties nationwide considered most susceptible to an outbreak of the hepatitis C virus. But this rural county – the state's second largest in area – lacked a specialized clinic for patients who test positive. Leaders at Kingman Regional Medical Center knew that to improve the health of the community, it was time to establish a new initiative for HCV treatment and elimination.
They decided to engage MEDITECH for guidance on extending workflows in its Expanse EHR to more effectively screen for, monitor, and treat patients with hepatitis C. To track outcomes, MEDITECH also collaborated with KRMC to personalize Business and Clinical Analytics dashboards to the program's needs.
The initiative has paid off, as approximately 165 patients per month have been screened for HCV, with a 6.5% positivity rate. Listen to this This Week Health podcast to learn more about creating an award-winning hepatitis C program in a rural community
"We now average 7.5 HCV referrals per month. And as of May 2023, 75 patients have been cured of hepatitis C through confirmatory labs drawn 12 weeks after finishing antiviral therapy."
Linda Williams, PharmD
Ambulatory Care Pharmacy Clinical Manager
Kingman Regional Medical Center
Golden Valley Memorial Healthcare Reduces Maternal Complications With Support From MEDITECH
When The Joint Commission introduced 13 new performance measures to address obstetric hemorrhages and severe hypertension/preeclampsia in 2020, the Birthing Center at Golden Valley Memorial Healthcare saw an opportunity to test its new predictive analytics solution, MEDITECH Surveillance.
Since going LIVE with Surveillance, Golden Valley has seen a substantial improvement in complying with The Joint Commission's elements of performance for managing these maternal complications, with monthly audits often reporting 100% compliance.
"Because of Surveillance, we're able to track and treat maternal complications. If a patient meets the criteria we specified in the profile, nurses and physicians are notified on their status boards and trackers. From there, clinicians have immediate access to processes and protocols for timely treatment."
Wendy Bolinger, MBA, BSN, RNC-ONQS
Birthing Center Director
Golden Valley Memorial Healthcare
---
Join our community of innovative healthcare leaders and share your organization's story!