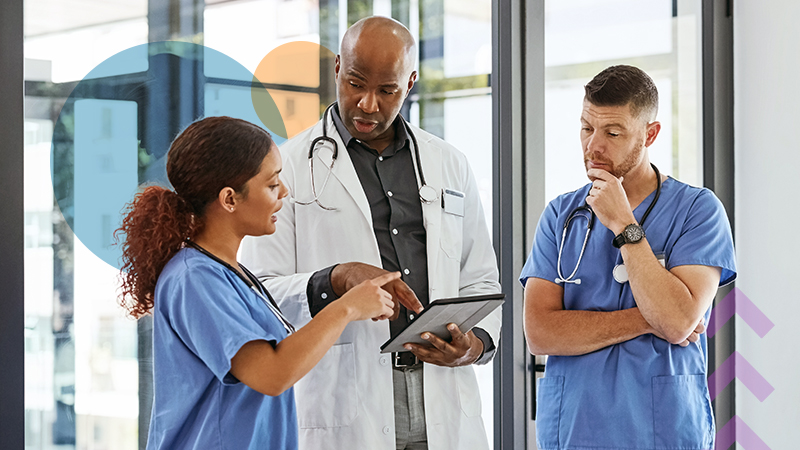 As much as EHRs have evolved over the last few decades, providers still face the challenge of sifting through information to make the correct clinical decisions.
We can store so much more data than we ever could have in paper charts — and with all that information comes the burden of reviewing and synthesizing the data that is so overwhelming for doctors.
It is also important to consider the assortment of federal rules aimed at making more of the chart available to patients, which can be a double-edged sword: patients typically want to see more of the data that their doctors are working with, but without proper context, such access could lead to misunderstandings and a loss of trust between patients and their providers.
While EHRs have gotten better at opening lines of communication between providers and patients, a recent Harris Poll survey found that more than half (54 percent) of participants reported that "technology has diminished their ability to make an emotional connection with patients."
It's this convergence of two major challenges facing clinicians — burnout and patient access to their records — that was the focus of the 2022 EHRA & HIMSS Physician Committee Summit, which brought together EHR vendors and clinicians to discuss potential solutions.
Our respective roles in the summit -- Tammy as vice-chair of the user experience workgroup and Bryan as physician facilitator -- gave us the rewarding experience of organizing and contributing to the conversation about how medical records are documented and shared.
Vendors agree on the importance of meaningful documentation
The summit was a joint effort of the Electronic Health Record Association (EHRA) User Experience Committee and the Healthcare Information and Management Systems Society (HIMSS) Physician Committee, focusing on the concept of meaningful documentation and developed a series of blogs that explore the topic.
Among the participants were EHRA Chairs Hans Buitendijk (Oracle Cerner) and Dani Nordin (athenahealth), and Dr. Brian R. Jacobs from eClinicalWorks.
In much the same way that EHR vendors have acknowledged the value and importance of interoperability, the EHRA summit proved that meaningful documentation is a pressing concern for every company that develops healthcare solutions.
Working toward 'the ideal note'
Representing the clinical side of the equation were doctors, nurses, specialists, and health IT developers, who delved into the concept of "the ideal note" and how providers can work toward more effective documentation — not only for themselves, but for everyone on the care team, including patients.
Dr. Rakhal M. Reddy, Lead Physician Executive at Oracle Health and EHRA liaison to the HIMSS Physician Committee, reported that the clinician team held several breakout sessions and proposed a number of recommendations that can shape the next developments in how EHRs support providers:
Notes should be concise and include information that is valuable for all stakeholders
EHRs should provide various ways to view and share clinical data, while prioritizing narrative elements
Health systems should encourage providers to document by exception, meaning they focus on only the most clinically relevant information
As Rakhal explained, the team concluded that EHR vendors can improve the provider experience with their solutions by "helping clinicians meet payer and regulatory demands without leaving their workflow, and eliminating duplicative or conflicting documentation needs from influential parties."
We are proud to represent MEDITECH in the effort to improve how clinicians interact with technology and to make EHRs work better for them and their patients.
Read more about the 2022 EHRA & HIMSS Physician Committee Summit:
Dr. Bagdasian served as one of three facilitators on the HIMSS physician committee, and Tammy Coutts served as an organizer and vice-chair of the EHRA User Experience workgroup, at the EHRA & HIMSS Physician 2022 Summit.
---
Read our case studies to learn how hospitals are improving outcomes with MEDITECH Expanse.