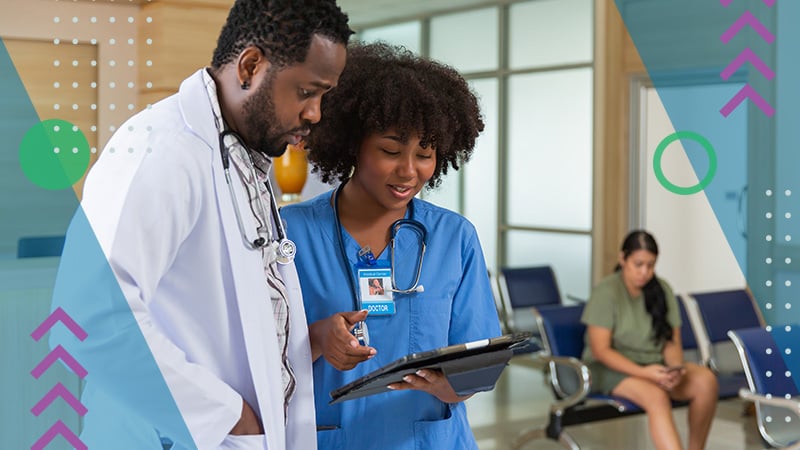 An EHR that brings all patient data to the forefront improves both the patient and the provider experience. At Lawrence General, we have worked hard to optimize MEDITECH Expanse for our emergency department, empowering staff with all the information they need to provide patients with prompt and targeted treatment.
While emergency room processes may differ depending on the facility, there are several areas we've optimized that have increased staff efficiency and improved the user experience across our organization.
Save time and increase efficiency with an ED tracker
Data tracking is one of the most important areas to continuously optimize based on how your ED functions. It is helpful to have an EHR that offers customization to ensure tracking can be transformed according to your needs.
Our ED Tracker communicates critical data to physicians in real-time, such as how long a patient has spent in a particular status (i.e. with a nurse or in discharge) compared to their overall time spent in the ED. This informs treatment plans since clinicians can easily view how long patients have been in their current status in order to help expedite their care.
Having a free text option within the tracker can also be leveraged as a time saving tool. We use "sticky notes" within the tracker as a way for staff to record patient care updates, enhancing communication between physicians and nurses and alerting them when notations are entered.
There are several other capabilities to consider implementing into an ED tracker, including:
Collaborative care management tools and services that help identify patients who have a significant number of ED visits across multiple facilities. This information can auto-populate and show physicians if a patient already has a care plan in place from previous visits
Tracker 'tabs' and 'buckets' that separate different types of results and patients for easier access
Pronoun and preferred name sections that can enable a more comfortable patient experience.
Streamline workflows with order sets
One of the best ways to train new ED staff is with order sets because they help promote safe, efficient, and evidence-based care. We have been successful using three order sets (ED common meds, ED common orders, and ED common radiological studies) since everything our physicians need can be accessed within those criteria. We also employ order sets based on symptoms or patient presentations to make it easier for clinicians to find appropriate orders. This approach has made our ED more streamlined since order sets help guide every step of the patient care process.
In addition to MEDITECH's standard content, we've also collaborated with our infectious disease team to create customized sepsis order sets. This ensures that all antibiotics and sepsis measures are available, eliminating the need for staff to use external resources. Our pharmacy team tracks usage of the sepsis order sets vs. common order sets, showcasing how physicians are benefitting from flexibility and automation when prescribing medications.
Improve accuracy with documentation templates
Our documentation efforts in the ED are focused on ensuring data accuracy and relevancy. Documentation templates help ensure quick input and smooth output for clinicians, and can be customized based on clinician workflows or patient type. For example, our HPI Exam Narrative template is utilized by physicians who rely on voice dictation, and we have also created specific templates for our Behavioral Health patients or ED Observation patients.
When evaluating ED performance, it is important to identify areas for improvement as well as workflows you want to maintain. At Lawrence General, we previously used sticky notes and made sure it would work for us within Expanse because our ED relies on it. Working with other facilities can also be a mutually beneficial experience as we consistently learn from others to inform ED optimization strategies.
Optimizing our ED tracker, order sets, and documentation has made life easier for our physicians and nurses, helping them deliver quality patient care. Using similar strategies that align with your organization's structure can help give your clinicians a personalized view of ED tasks, empowering them to work quickly and efficiently.
---
Want to make sure you don't miss anything from industry thought leaders? Click below to subscribe to the MEDITECH Podcast.