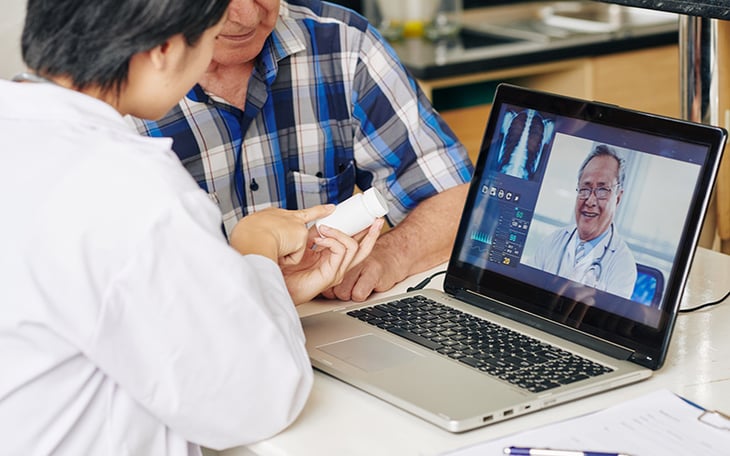 Recently Leah Farina, MEDITECH vice president of client services, had an opportunity to discuss the impact of virtual visits and telemedicine on patients and providers at Citizens Memorial Healthcare in Bolivar, Missouri. She spoke with Louis Harris, MD, a family medicine physician and Chief Medical Information Officer at CMH, a small, level III Trauma Center in southwest Missouri with 86 licensed beds, 32 primary and speciality services, and seven long-term care facilities serving seven counties.
Leah: Thanks so much for taking a little time to share your experiences in the midst of this crisis, when I know you and your colleagues are stretched thin. I should ask first how are things going in Bolivar, and Missouri generally.
Dr. Harris: At this point there are a couple of thousand reported cases of COVID-19 in Missouri, and as you'd expect, most are concentrated around our larger cities —St. Louis and Kansas City. However, we are definitely seeing cases in our more rural areas around Bolivar. In fact, Greene County, just south of us, has had over 40 reported cases and 6 deaths, which is actually more deaths than in any other county in the state, so the impact is already being felt throughout our state, even in our more rural areas.
Leah: I think this goes to show that healthcare organizations everywhere need to be taking the kind of steps you have at Citizens to prepare for the significant increase we're expecting. Let's talk a little about that. Last December, just as COVID-19 was being discovered, you went live with MEDITECH's Virtual Visit software, and you've quickly ramped up your use. Can you tell us about this and how it's helping?
Dr. Harris: Sure. We're using virtual visits in several different ways. First, they allow us to do some of our coronavirus screening remotely, so we're not bringing potentially infected patients into our waiting rooms and exam rooms where they could expose healthy patients and providers to the virus. Patients can request a virtual visit right from their MEDITECH patient portal. They can choose a time for the visit, complete pre-registration, update their medications and allergies, and fill out a simple COVID-19 pre-screening questionnaire. On the date and time of their visit, they join the visit right from the portal, and wait in a virtual waiting room until their provider joins and begins the visit.
Second, we're able to convert regular office appointments unrelated to the virus into virtual visits, which allows healthy patients to stay home but still keep their appointments. Many patients were beginning to cancel or defer their appointments until we were able to provide them the option of keeping the appointment and making it a virtual visit. This is great for our patients and for our organization. As you've probably heard, many healthcare organizations are already experiencing financial difficulties due to decreased revenue from the cancelation of all sorts of elective services, and reimbursement for COVID-19 services is still a bit murky. And most importantly we need to maintain continuity of care for their chronic illnesses, to prevent complications or worsening of their current conditions.
Leah: That's an excellent point. Many smaller hospitals like yours were already facing big financial challenges before COVID-19, so it's good to hear that our solution is helping you avoid lost revenue during this time of uncertainty. I also know you have several long-term care facilities, which serve a population at very high risk for COVID-19 complications. Can you tell us about how you're using virtual visits in these settings?
Dr. Harris: Certainly. Yes, we have seven long-term care facilities in and around Bolivar, and the last thing we want to do is expose our elderly patients in these facilities to the virus. What's great about using virtual visits for this population is that it doesn't just prevent these patients from having to come into our hospital or ambulatory facilities, but it allows us to avoid sending our providers to them and potentially bringing the virus into our long-term care centers. Obviously we have nurses and other providers who work in these facilities, but when these patients need to see a specialist we can conduct a virtual visit. This means they're still getting the care they need but in the safest possible way. It's been so successful that we're even extending our services to outside facilities, like group homes in the area, and other long-term care facilities outside of the Citizens network. As a result, our "virtual" volume is beginning to increase dramatically, allowing us to keep pace and provide safe care to even more members of our community.
Leah: That's great. How have these older patients responded to the use of virtual visit technology and seeing their providers remotely?
Dr. Harris: Well, I recently saw a 68-year-old male patient for his Medicare Annual Wellness visit. Although he wasn't particularly tech savvy, his wife accompanied him during the encounter and was able to facilitate the visit. The patient has diabetes as well as coronary disease, depression, and lung disease, so the thought of coming into the office was creating increased anxiety and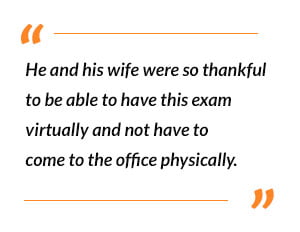 worsening his depression, as well as putting him at risk with his multiple comorbidities. He and his wife were so thankful to be able to have this exam virtually and not have to come to the office physically.
Leah: What a great example. So, as a practicing physician yourself, have you found the technology and the new workflows pretty easy to pick up?
Dr. Harris: Yes. In my very first virtual visit as a provider, I saw a patient for a routine follow-up regarding his anxiety. His mother has severe interstitial lung disease, which is complicated by the immunosuppressive medications she's taking, so he really didn't want to come to the office to be seen because he wanted to avoid putting himself or his mother at risk. The encounter went very smoothly on both ends, and he was very pleased to have been able to do it like this. It was a positive experience for both of us. That was my first virtual visit as a physician, and it's only gotten easier. Both patients and providers are really having positive experiences.
Leah: That's great to hear. How about your colleagues? How have your other providers adapted to the new software and processes?
Dr. Harris: As CMIO, it was initially a little daunting to have to ramp it up so quickly, but it's really gone well and more smoothly than anyone expected. We have a fantastic clinical support staff and group of IS ambulatory specialists that allowed us to have such agility. When we started teaching other providers the new process, the plan was to roll it out by sending emails with basic overviews and links to a few short training videos I helped create using screen recordings. Then we set up web conference meetings for providers to join and ask questions. Over 50 providers joined our first one. Since then, attendance has been surprisingly sparse, we believe because the software and process of using it is so intuitive. We've had very few questions and I've heard nothing but positive feedback.
Leah: I'll certainly share that with our development staff, and our usability team as well. Do you have any metrics you can share around the increase in usage of virtual visits at Citizens? I know you really fast-tracked the rollout as we all became aware of coronavirus, but do you have any data you're comfortable sharing?
Dr. Harris: Sure. To date we've conducted over 1500 virtual visits. About 1100 of those were scheduled by our own staff for non-coronavirus related reasons, or the first category I mentioned earlier. Another 80 or so were requested by patients themselves via the portal — some by patients who thought they might have the virus but many who just wanted to see a physician without having to come into the office. We've also handled roughly 300 mental health appointments remotely using the software, and I just completed our trial run for long-term care virtual visits of 5 patients yesterday. We're going to roll it out to all the long-term care providers this week. This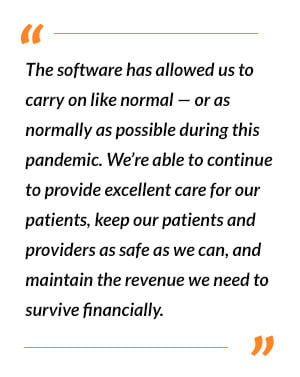 presents an additional challenge of needing a facilitator on the long-term care facility side to provide these visits.
Leah: It seems like you've pretty smoothly scaled up and transitioned from in-person to remote care where necessary and possible, without burdening your providers or patients.
Dr. Harris: Yes, I think what it shows is that the software has allowed us to carry on like normal — or as normally as possible during this pandemic. We're able to continue to provide excellent care for our patients, keep our patients and providers as safe as we can, and maintain the revenue we need to survive financially.
Leah: That's certainly what we'd hoped the software would enable our customers to do, and it's why we've tried to help our other sites roll out virtual visits as quickly as possible. Perhaps we can end on this: What advice would you give to your peers? CMIOs at other organizations looking into using virtual visits to manage the COVID-19 pandemic at their organizations?
Dr. Harris: I encourage all organizations using MEDITECH to seriously consider implementing virtual visits. It's easier than you think. Our providers picked it up very quickly and patients really appreciate it. Of course, it still takes work, but MEDITECH has made it as easy as possible, and it will benefit your patients, your providers, and the organization as a whole. One additional benefit is portal engagement, allowing more efficient continuity of care to continue long after the pandemic has resolved.
Leah: Thank you so much, Dr. Harris, and best of luck over the next several months. Our thoughts are with you and healthcare providers everywhere as we navigate these extraordinary times.
Dr. Harris: Thank you.
---
A Note to MEDITECH Customers
We encourage you to learn more about our Virtual Visit software.
We are currently waiving all fees related to the implementation and use of Virtual Visits for the next 6 months, and are offering free remote training. Please contact your Patient Engagement/Patient Portal Specialist today.
---
Learn how MEDITECH is supporting healthcare organizations during the COVID-19 outbreak.