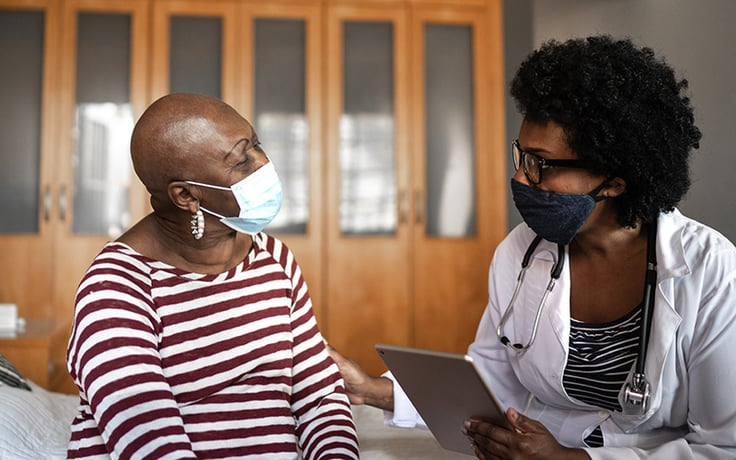 Imagine being able to offer patients the sophistication of a modern hospital, coupled with the convenience of a house call. This scenario has become a reality for some, especially as rising patient volumes during the pandemic and recent CMS regulations have been accelerating the industry's trend toward treating acute patients in their homes.
Consider a case where a patient presents at the local Emergency Room with troubling COVID-19 symptoms. The patient would undergo appropriate tests and evaluation, as well as receive immediate acute care; but, instead of being admitted (if necessary), the care team may determine this is a candidate to receive acute care at home especially if the organization is running out of physical space to handle patient influxes.
An integrated EHR fits naturally into this model, because it is inherently designed to support a patient's entire journey. Furthermore, a solution featuring the latest innovations like cloud, patient engagement, and mobile solutions, can help make this transition seamless for patients and clinicians alike.
To illustrate the acute care from home concept, I have provided a case study of a fictitious patient named Bob. Follow his journey beginning at the ER, to his hospital discharge, to experiencing acute care from the comfort of home.
Registration and Triage
Bob arrives at his local Emergency Department, where care teams register and triage him.
Eligibility Screening
Bob's condition has defined treatment protocols, which make him a natural fit for receiving acute care in his home. After additional screening based on industry best practices, his care team determines Bob should receive acute care at home, and they document it in their Expanse EHR.
Case Management
MEDITECH's integrated solution supports a healthcare organization's care coordination efforts. Case Management gives clinicians the tools they need to evaluate Bob for the hospital at home program and set him up for monitoring at home with the proper equipment and staff. Bob's transition to home is a smooth one.
Modern Day House Calls
Nurses and clinicians can routinely perform home visits for Bob with Expanse Patient Care, which gives nurses the mobility and flexibility to document care and administer medications right in Bob's home.
Remote Monitoring and Virtual Visits
When they are not in his home, Bob's wearable smart devices allow his care team to remotely monitor his vital signs in real time, and video visits via MEDITECH's Virtual Care make it easy and convenient to stay on top of Bob's care and keep everyone connected.
Discharge
Just like acute care, organizations can take advantage of their multidisciplinary discharge routines and case management tools.
Ongoing Health Management
Bob remains engaged and informed, with questionnaires, and virtual visits--which he accesses from the mobile MHealth app. Bob can also upload data into the Patient and Consumer Health Portal from personal fitness trackers. The data gets pushed to his care providers who in turn, can better manage his remote care.
Care teams can effectively analyze trends and risks in their community, engage patients like Bob to actively participate in their care, and capitalize on patient data even beyond the EHR. Bob's clinicians assess risk with confidence by identifying any care gaps, deploying more complete and cost effective care, and tracking patients as they cross care settings--all while optimizing revenue and achieving financial goals.
What's Next?
While the popularity of the acute care at home model may have mostly been precipitated by the COVID-19 pandemic, there may be other long-term advantages, especially for patients who wish to recover at home. Whether the trend continues or declines beyond the pandemic remains to be seen. Certainly, regulatory support and financial viability will always be important factors to consider. But overall, acute care at home is a compelling model and has proven to be a much needed approach for some organizations. And with MEDITECH's web-based Expanse platform — fully mobile, secure, and leveraging cloud-based solutions — the technology backbone to power this model is available and ready.
---
Sign up for the 2021 Virtual Home Care Symposium featuring educational sessions on optimizing agency workflows, new system functionality, and best practices