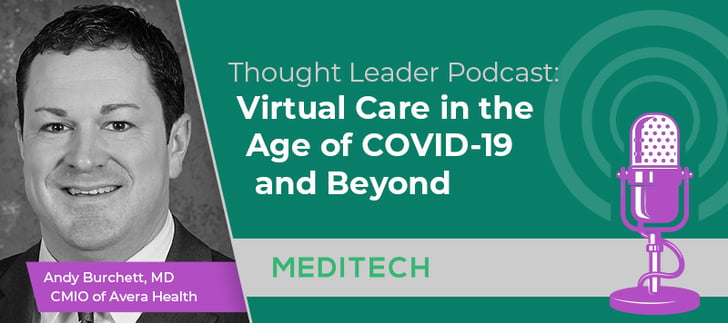 For our latest Thought Leader podcast, I spoke with Dr. Andy Burchett, CMIO of Avera Health, about his organization's rapid response to the COVID-19 pandemic.

Avera has been at the forefront of virtual care, offering e-consults as far back as the mid-1990s. To maintain social distancing in recent months, Avera expanded their virtual visit functionality via AveraChart - which is accessible through MEDITECH's MHealth app, as well as their free mobile app, AveraNow. The organization also offers a comprehensive COVID-19 virtual care program through Avera@Home, as well as a 24/7 COVID-19 hotline.

We discuss the benefits of implementing virtual care solutions as well as what platforms are available for providers. This podcast also delves into the future of virtual care, antibody testing, and home monitoring for positive and presumed-positive COVID-19 patients.

Specific topics covered:

01:15 Avera's history of virtual care offerings
03:42 An integrated workflow using MEDITECH Expanse
05:40 Patient and provider response to virtual care
07:20 Patient education, Avera virtual COVID-19 care, and hotline
11:17 Positive outcomes from virtual care
13:51 Encouraging providers to become proficient with virtual visit platforms
16:42 The future of virtual care
17:55 Monitoring COVID-19 patients with virtual care and home monitoring devices
20:30 Antibody testing strategy and plasma treatment
23:44 Possible changes to testing COVID-19 cases with the re-opening of facilities
25:37 Advice for a successful virtual visit implementation strategy
---
Here more from MEDITECH customers as they share their experiences with Virtual Care.