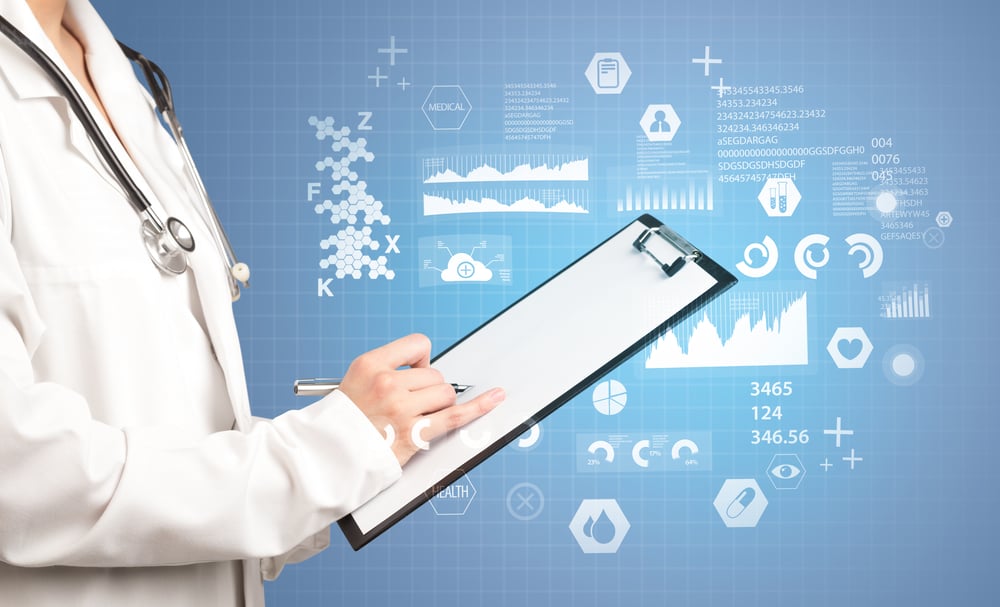 A few months back, I attended a panel on big data at an industry conference, and the moderator asked, "What are some of the benefits of using big data and analytics?"
A panelist replied, "There is enormous value in knowing how many appointments and visits my providers have — we couldn't answer that question a year ago." And the whole time I'm thinking, haven't we moved beyond something so basic? Most analytics articles I read cite the importance of big data along with its difficulties and challenges, but they don't give concrete, practical examples of how it can be leveraged on a daily basis.

And the reason is that this stuff is really difficult to navigate. We have all of these different systems that don't communicate. We have to reconcile the data integrity of each system. About 80% of the the data is unstructured, and it's hard to measure data that isn't discrete if you're not using optical character recognition or natural language processing. And it's not just EHR data. It's claims data. It's pulling patient-generated health data from wearables like Fitbits and bluetooth-enabled scales and blood pressure cuffs. It's looking at the social determinants of healthcare; factors like credit scores, employment status, or if a patient lives alone.
These things have an enormous impact on a patient's health and well being. And it's this data that is needed to get an accurate picture of my patient population; who's at risk to be admitted, where the high cost patients in my population are, and where the hotspots of chronic disease in my community are. It's that insight that allows me to figure out how I should allocate organizational resources and where I'll want to open new clinics in my community to improve access and help people get healthier. This data is not optional — it's necessary.
I recently read an article which argued that we are in the era of little data. I agree wholeheartedly with that sentiment; we have yet to really unleash the power of big data. Most of what we see in the field are descriptive analytics that tell someone what's already happening. Meanwhile, MEDITECH is providing tools that tell you why it's happening, and how you can prevent it. Moving from a mindset of hindsight to foresight will drive change and improvement in an organization, and lead to the development of new programs and the optimization of processes. Without that insight, you're pretty much flying blind.
The most significant thing I continue to find is that there exists a real need and desire for analytics and data — but for what, exactly? And this is where the whole use case conversation comes into play. Say you've just entered into an ACO; you know who gets your claims file from CMS, and you build a care management program to work with these patients and manage their chronic conditions and address gaps in care. You would expect that with this group of patients, your ambulatory utilization would increase and your avoidable emergency department visits and inpatient visits would decline. So you have a 500 bed hospital, and now a large portion is not being used because you're seeing patients in the practice and clinics more.
At MEDITECH, we're seeing many of our customers creatively navigate this situation — they're reducing or repurposing beds, and some are even building virtual hospitals and using new technology like video visits, where patients never even step foot in hospital. Without analytics that tell them how they're trending operationally, they are left with a number of questions. Is their inpatient census declining? Are their ED visits declining? Is their care management program reducing costs because they're treating chronic disease more proactively and avoiding complications? Are they improving quality outcomes for those patients in their ACO? How can they make informed, strategic decisions to move forward?
Here's another instance of creative problem-solving with the help of analytics: one of our customers discovered lost revenue opportunities due to beds that were occupied with patients who were waiting for rides. The staff then opted to call an Uber for any patients who were ready to be discharged, and the Uber driver would even take them to a pharmacy to fill their prescription. After all, when you consider penalties for 30-day readmissions, medication compliance is a major factor.
We've also seen folks use analytics to pinpoint bottlenecks or inefficiencies within the revenue cycle process, and use Lean improvement processes to reduce waste and optimize their revenue cycle. As we continue to shift from fee-for-service to fee-for-value, an optimized revenue cycle is going to be an absolute necessity to thrive in this changing healthcare paradigm.
Finally, we've seen organizations look at analytics from within their community and from where services are being provided within their health ecosystem. Are there vulnerabilities for their patients to go out of network? What is their inpatient/outpatient leakage? With this information, they can look at how and where they are delivering services, and consider whether new service lines need to be created. When HCAHPS, patient satisfaction, and consumerism are all part of the analytics picture, that data allows you to address the patient experience.
So sure, we have a ways to go when it comes to accessing the full power of big data. But with our industry's growing investment in analytics, there are a multitude of opportunities to address the core aims: driving down costs, increasing the overall health of our patient populations, and improving both the patient and provider experience. We can get there — and when we do, it's gonna be big.
---
Want to hear more? Listen to Ken's podcast interview with Raphael Jaffrezic, CIO of Galway Clinic (Galway, Ireland) on the importance of big data in today's healthcare landscape.