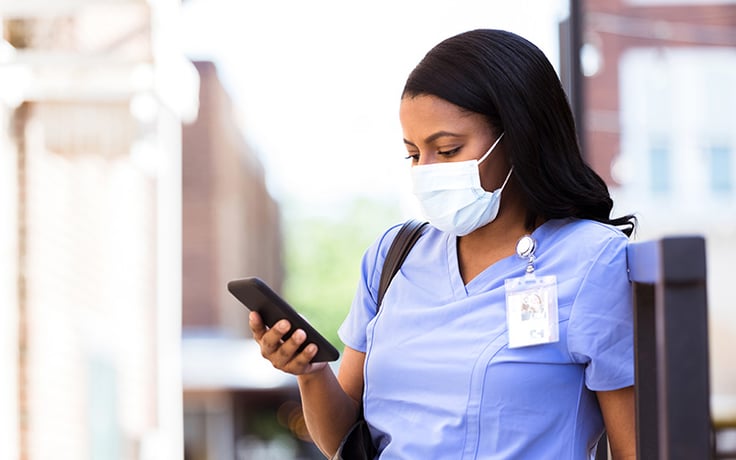 If you've ever rolled a nursing WOW into a patient's room (and if you're reading this, odds are you have or know someone who has), you know how noisy, bulky, and obtrusive they are. And good luck navigating tight spaces or a room packed during visiting hours. Nurses and patients deserve a better care experience, one that's genuinely mobile and unencumbered by peripherals that rattle and bump through every face-to-face interaction.
That's why, after seeing the success of King's Daughters Medical Center, we decided to move forward with Expanse Point of Care - a handheld solution to support nurses as they administer medications, track vitals, discuss discharge, and complete patient hand-offs.
Of course, we had a lot to consider. How do we train staff with varying levels of comfort and familiarity with new technology? Where should we begin rollout? How do we keep track of small mobile devices? Here are 4 things you should consider if your organization decides to pursue Expanse Point of Care.
Tackling Training
The straightforward approach to educating staff always seemed best to us: mandatory training, handouts, cheat sheets, and finally, a skills fair with both a cognitive component and hands-on competency demonstration. For those who weren't as confident on the devices we offered additional one-on-one training, and instituted an open-door policy where anyone could stop by the IT department with questions at any time.
Rollout Approach
We rolled out our Point of Care (POC) devices to the ER Fast Track first. Nurses have a Pyxis station in that area so they're able to just grab a POC device, scan a wrist band, and chart live. As we continued implementing throughout the hospital we began to see a welcome increase in our scanning percentage. This meant fewer late entry overrides happening outside of the patient's room and more happening right at their bedside, thereby decreasing the chance of errors and increasing patient safety.
Care and Maintenance of Devices
Nurses must disinfect their POC device upon undocking and docking, and document that this has been completed. We keep literature by the docking cradle to outline acceptable disinfection procedures. Also, clinicians are assigned a single device for the duration of their shift to avoid cross-contamination.
Our devices get signed in and out at the beginning and end of each shift and are tracked through our Teletech department. At this point, it's become a routine part of the workday. We've had no instances of clinicians accidentally leaving the hospital with a device.
Benefits for Clinicians and Patients
Today, scanning is no longer a hassle and our patients' chart data is always up-to-date. With the increased mobility of a handheld device, nurses can slip into a room and administer medication in under a minute, saving time and barely interrupting a recovering patient. An unexpected side benefit is that some nurses have taken to using the POC devices as time management tools, using their screens as a mobile "to-do" list.
Our patients have responded positively to POC devices as well. As part of our protocol, we explain what a Point of Care device is and how we're using it. Once they see how it's being used and how it increases facetime with their clinicians, we find that they're as on-board as we are.
There are a lot of misconceptions about what healthcare looks like in rural communities like Del Rio, especially concerning our commitment to technology and our readiness to adapt. But with technologies like Expanse Point of Care, Val Verde is as prepared as any hospital to deliver appropriate, safe care even in these hectic early days of 2021.
---
See how MEDITECH is keeping healthcare moving with MEDITECH mobile solutions and apps.