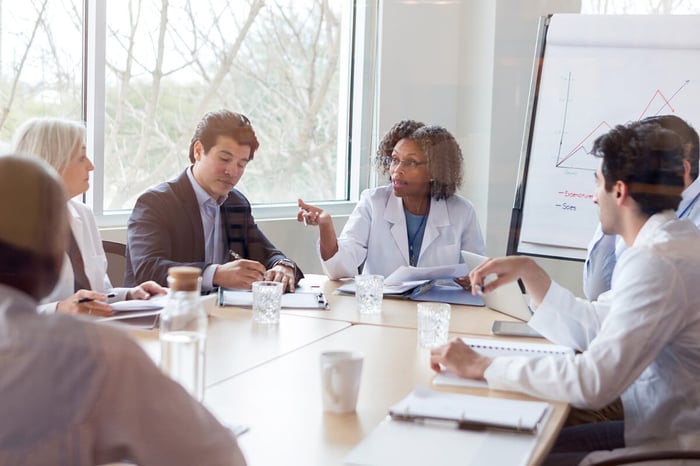 No matter the size or location of your organization, cost certainly is an important factor in your success, both now and in the future.
At MEDITECH, we believe that health systems deserve a straightforward EHR contract that delivers a financially sustainable support model without nickel-and-diming the organization.
We're committed to making sure the contract process is comprehensive and transparent, so your organization can evolve with the needs of your providers, your patients, and your community.
And let's be honest: The EHR market is a very competitive environment, with companies trying to differentiate themselves by offering platforms that are faster, more efficient, and better for your bottom line.
But we also hear from customers all the time about contract proposals that don't include everything, or have hidden costs that the organization didn't realize until after they signed the contract and tried to add new users, or saw an increase in transactions.
That's why we've developed the following list of nine questions for you to ask prospective EHR vendors — including us — so that you can avoid unexpected costs and higher fees that could result in a negative experience for your providers and patients.
Question #1: Does your contract provide a fully transparent and predictable cost model?
Vendors should provide you with plain and simple financial projections that show the up-front costs to obtain their EHR platform and the potential future changes to those costs.
Your executive team shouldn't have to guess what the EHR will cost down the road.
Question #2: How does organizational growth impact the pricing of your EHR?
With the ongoing consolidation of healthcare systems, many organizations are forecasting growth in their number of beds, service lines, and specialties.
EHR vendors should tell you how those factors affect the price of their platforms — they shouldn't dismiss or dodge this question.
Question #3: Are transaction fees included in the EHR contract, or will there be additional charges for transactions?
In the days before all-inclusive cellular plans, phone bills used to itemize charges for calls, especially if they were long distance. That's an outdated model by today's standards — and so is an EHR contract that charges for increased transactions.
Vendors should include transaction fees in their contracts, or tell you in clear, unambiguous terms whether your organization will face increased costs for transactions.
Question #4: Is a non-disclosure agreement (NDA) required before the organization receives the contract?
Non-disclosure agreements can be helpful in certain situations, especially when talking about proprietary technical information.
But there's no reason for an EHR vendor to require an NDA before providing the contract to a healthcare organization — unless they're trying to keep something secret.
Vendors should provide your organization with the contract with no strings attached.
Question #5: Are there penalties for early termination?
Organizations terminate their EHR contracts for a variety of reasons — maybe they've been consolidated into a larger system, or they're the larger system acquiring new facilities.
But they shouldn't be penalized for ending an EHR contract early — and vendors should tell you whether they agree.
Question #6: Do you charge extra to access your solution on mobile devices?
A hospital CIO recently asked a member of our staff what we charge for nurses to use Expanse via mobile devices, and was "shocked" to learn that we don't charge extra for mobile access, nor do we charge on a per-user basis.
Vendors should tell you if it will cost extra to allow your providers to use cell phones and tablets to access their EHR — they shouldn't make it difficult to budget for increased mobility for your providers.
Question #7: What is the cost to add another interface, such as ADT interface, lab instrument interface, etc.?
EHR vendors may not like to admit it, but our platforms often require additional interfaces to work with different systems, like payroll and lab devices.
If your health system needs any of these, vendors should tell you whether they will charge you to install and update them, and should quote you specific prices.
Question #8: Are the costs of necessary third-party software and subscription fees included in the contract?
This is another area for potential financial pitfalls, since EHR platforms often include third-party functionalities that come with their own costs.
EHR vendors should tell you whether third-party agreements and fees are included in the contract (as MEDITECH does with the MaaS subscription model), or will result in higher charges for your organization.
Question #9: What are the charges for platform software upgrades, such as creative and regulatory enhancements?
Ultimately, an EHR is a software platform, and like every other platform, it requires regular maintenance and updates.
EHR vendors should disclose what they charge for routine upgrades, and why — whether it's to improve how providers use the system or how the organization reports to CMS.
MEDITECH believes that health systems should find the most appropriate and sustainable EHR for their needs, so I hope you use these questions to determine which EHR will work best for your organization.
---
Want to make sure you don't miss anything from industry thought leaders? Click below to subscribe to the MEDITECH Podcast.