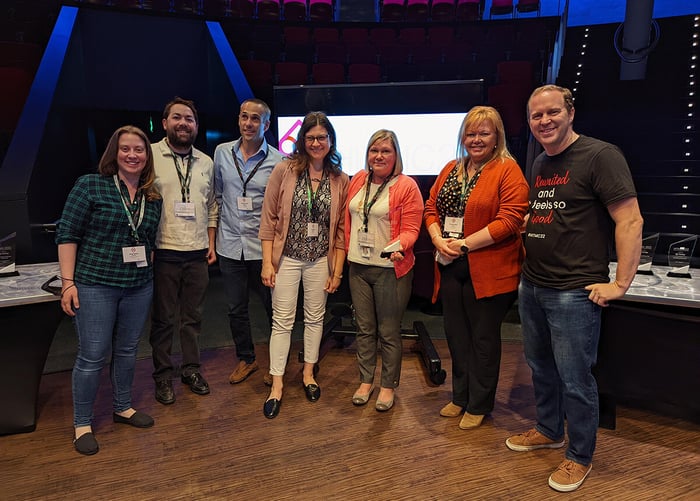 In person events? Networking? Vendor booths? For many of us, it's been awhile since we were able to experience these things up close and in person. Last week, MEDITECH hosted the Healthcare and IT Marketing Community (HITMC) Conference, at our office in Foxborough, MA. This community is tight knit and we were more than ready to share ideas about trends that we've all seen since the last time we were able to gather together.
1. A language of inclusion and equity
Many sessions touched on themes of how to reach broad audiences and make sure everyone feels represented in the healthcare space. Social determinants of health (SDOH) and using inclusive language were just a few of the topics involved in health equity. Healthcare organizations are trying to reach their most vulnerable patients, at a time when it can be difficult to connect. From rural healthcare organizations struggling with staffing, to large urban institutions facing the challenges of the pandemic, it's clear that organizations need technology that supports all of their patients.


2. A focus on healthcare workers and health IT employees
One of the opening sessions of the conference was Dan Dunlop's session, Healthcare Communication and the Language of Love. Dunlop focused on how to include love as a theme in healthcare, both for employees and for patients. Many healthcare organizations are struggling with staffing shortages and employee burnout. In order for organizations to promote a positive external message, their staff must feel that the messaging is sincere. At the end of the day, we can all agree that what we ultimately want is to help provide the best patient care possible, and staff need to know that their organization is there to support that goal.


3. Creating valuable relationships—both virtually and in person
Over the past two years, we've become accustomed to virtual events, particularly for learning opportunities or webinars. But virtual events struggle to recreate the networking and meaningful connections that healthcare IT professionals can achieve at an in person event. Events where people are making the effort to come together in person need to be distinctive and meaningful. With creative "unconference" sessions, group outings, and an awards ceremony, the HITMC conference offered a number of benefits and unique moments that would be difficult (if not impossible) to recreate virtually.


4. At the end of the day, we're here to serve healthcare organizations and their patients
During many sessions, one thing was clear: vendors want to do anything they can to support healthcare organizations in providing the best care possible. This has never been more important than now, at a time where healthcare workers have stepped up to face seemingly endless challenges. We were lucky to hear from a panel of healthcare professionals including Lorraine McGrath from Signature Healthcare, Dhrumil Shah from Compass Medical, and Naomi Lenane from Dana Farber. The panel emphasized the importance of trust and support from vendors. With a strong partnership, EHR vendors and healthcare providers can work together to face challenges head on.
Congratulations to Colin Hung and John Lynn for organizing an energized and heartfelt event. And a special congratulations to the marketing staff at MEDITECH, who were recognized as Best Marketing Team of the Year at the HITMC awards ceremony! We were thrilled to see many of our friends and colleagues recognized, including customer leader Julia Hanigsberg, the President & CEO of Holland Bloorview Kids Rehabilitation Hospital (Toronto, Ontario), and winner of the Healthcare IT Trailblazer of the Year award. All of us left the HITMC Conference inspired and excited for what comes next in the world of healthcare IT.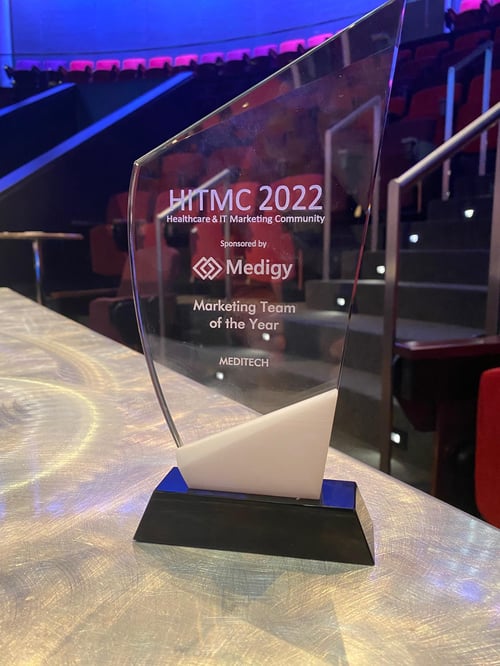 Are you ready for another new and exciting in person event? We are calling all changemakers to join us at our first ever MEDITECH LIVE September 20-22 at our Foxborough office. Register today to experience our new, cross-disciplinary, immersive learning opportunity. Connect with innovative disruptors, have authentic discussions on the challenges we face as a community, and set a plan in motion for your organization to renew and recommit to its vision for the future.
---
Want to make sure you don't miss anything from industry thought leaders? Click below to subscribe to the MEDITECH Podcast.