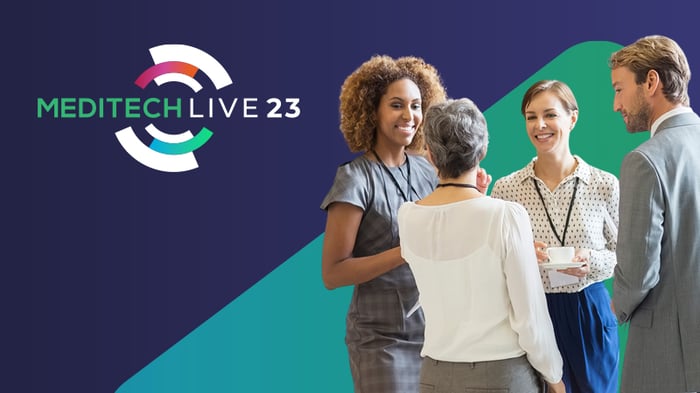 Working in a dynamic field means that healthcare professionals are always trying to keep up. Continued workforce shortages, declining reimbursement, sicker patients, and the rise in costs for drugs and medical supplies plague the industry and put endless pressure on healthcare leaders to always find solutions. But these are not burdens that individual industry leaders should carry alone.
Collaboration and connection among healthcare professionals makes room for the learning and support necessary for the solutions that need to be discovered together. That's why MEDITECH creates opportunities for thought leaders to come together.
After the previous year's success, we are excited to welcome back a diverse and multifaceted group of innovative thinkers to MEDITECH LIVE 2023. The spotlight will be on both industry trends and shared strategies with the intention that every healthcare professional in attendance can discover the right path to secure the future success of their organization.
This in-person event will take place from the 20th-22nd of September at the Foxborough Conference Center. We invite you to join us at informative panel discussions and interactive breakout sessions to explore the greatest challenges facing the healthcare industry today. We will provide an opportunity for healthcare leaders to learn from their peers and share important lessons learned to help others take proactive steps toward achieving transformative, person-centered care.
Financial pressures are putting a tremendous strain on healthcare organizations. Keynote speaker, Paul Keckley, PhD, Healthcare Policy Analyst, is a leading expert when it comes to healthcare industry trends and policy, and will speak to this growing financial stress.
Keckley is the Managing Editor of The Keckley Report, which provides a weekly analysis of key industry trends. He is also Managing Partner of The Keckley Group, which offers advisory services to a multitude of healthcare professionals, from health systems to healthcare investors. At MEDITECH LIVE, he will share his perspective on the evolving healthcare landscape and discuss how healthcare organizations can respond to inevitable financial pressures.
Another keynote speaker at this year's event will be Amer Kaissi, PhD, Executive Coach, and National Speaker. Not only did Kaissi recently release his newest book: Humbitious: The Power of Low-Ego, High-Drive Leadership, but he is also the author of the 2019 ACHE Book of the Year Intangibles: The Unexpected Traits of High-Performing Healthcare Leaders. Kaissi will be speaking on the second day of the event, discussing what drives successful leadership.
This cross-disciplinary, in-person event will allow leaders to engage in a collaborative learning experience with other industry professionals. Join us at MEDITECH LIVE this September for the opportunity to connect with leaders in healthcare and partake in meaningful conversations.
---
Stay up to date about upcoming MEDITECH events.