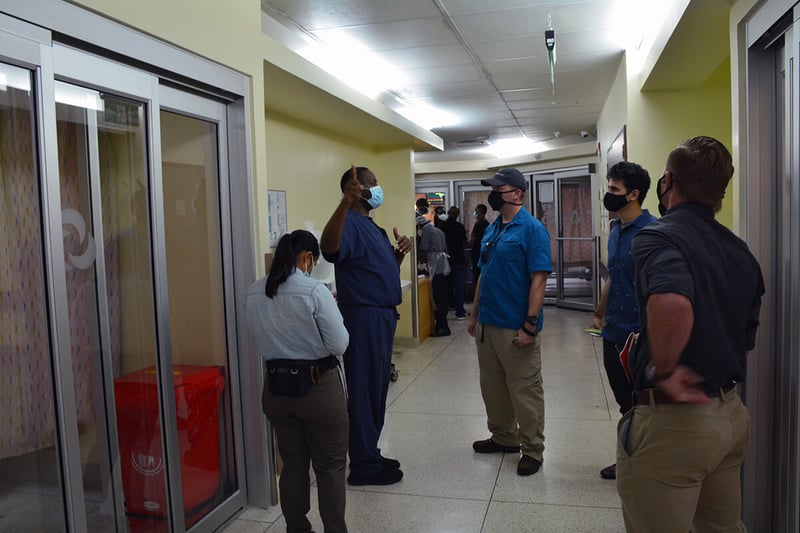 Making quality healthcare accessible to everyone is a challenge and a priority in every country. It can be particularly difficult to meet the needs of underserved populations who live in remote areas.
The Aga Khan University Hospital, Nairobi and its 50 outreach centers, including primary and specialty clinics in Kenya, Uganda, and Tanzania, are part of the Aga Khan University Health Services. The goal of AKU is to be a premiere academic healthcare system that offers integrated care across East Africa and beyond. To help meet this goal, our guiding principles are quality, impact, access, and relevance.
Creating a standard of quality care
Improving healthcare delivery begins with making sure that research based on quality data drives clinical decisions. By utilizing electronic care documentation and evidence-based best practices, we can reduce unnecessary variations in care delivery and improve patient outcomes. This is where implementing an electronic health record (EHR) aligns with our commitment to quality.
The EHR is fundamental for several reasons. It will allow us to provide our clinicians with a single source of information for improving coordination of patient care regardless of the patient's point of entry, gain valuable insights into patient data to develop clinical pathways for disease burden, contribute to better patient outcomes in our healthcare institutions and improve population health in our regions.
The impact of a comprehensive EHR
Moving from a hybrid system, made up of both paper and electronic processes, to a fully digital solution brings benefits to both providers and patients.
For example, we currently scan patient records, however, scanned copies don't allow you to compile discrete data that is considered actionable. This type of unstructured data is valuable, but it's difficult to search, analyze, and share.
With our EHR system, clinicians will have access to timely information at the point of care, so they can quickly start a patient on the most appropriate treatment. The EHR eliminates the risk of paper notes getting lost or buried within the patient's chart, and reduces unnecessary actions like repeating information and tests, especially as patients move between settings.
Patients do not need to carry paper copies of their records to their next appointment since everything will be digitally integrated.
Telehealth, which is a component of the EHR, will help AKU reach patients who cannot travel for care on a regular basis. It will also enable people from surrounding countries to access quality care and follow-up with their doctors. It will make specialty care accessible in regions experiencing population growth while also facing physician and nurse shortages.
Access to the EHR can help to review the patient's chart, whether it be from the hospital or in a health center hundreds of kilometers away, to identify the best course of treatment. Creating uniformity across our health system will help us to improve care coordination and ensure that patients receive high quality service across the care continuum.
The relevance of gaining new insights from data
Aga Khan University's mission also includes conducting research and educating future clinicians. Therefore, the new EHR will expand our research capabilities by improving data collection and being able to unite discrete data into a single record.
Comparative analysis of data will help us to better understand our patients' needs and improve population health, since data are not homogeneous as they range from Pakistan in South Asia to countries in East Africa. We will be able to examine disease prevalence in different countries and in certain communities and identify the best course of action to address these issues at both individual and systemic levels.
We can look at the data and identify potential outbreaks of infectious diseases and share that data with relevant stakeholders. This is especially valuable for those regions of the world where access to data is not widely available. By centralizing information, we can help fill the gaps in much-needed research for care providers looking to improve care delivery in their communities.
In our health system, each year we see over 8 million patients, run 28 million lab tests, fill 6 million prescriptions, and process more than a million diagnostic images. By bringing our university hospitals together on one integrated electronic health record, we will be able to create internal benchmarks and further develop best practices — this will also enable us to be proactive about population health in many areas.
I believe innovative technologies such as Artificial Intelligence (AI) and implementation of the EHR can help propel AKU into a patient-centric healthcare system that is at par with health systems in developed economies. This is especially true in how we choose to move forward with digital health strategies. The result of implementing these new technologies will be better outcomes for our patients and our communities, and demonstrating the value of sharing information globally.
---
Hear how Aga Khan University and Hospitals supports equitable access to care on our latest podcast series.