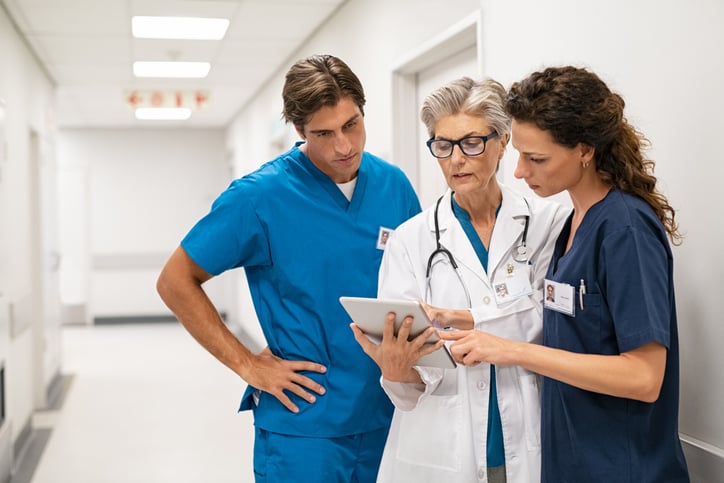 When we decided to switch our EHR vendor at our rural 25-bed hospital, our executives and clinical staff sought value, sophistication, and flexibility, knowing that those qualities would improve care and enhance the patient experience.
Nearly two years into our Expanse implementation, Henry County Hospital is well on our way to achieving those objectives.
Our decision to select MEDITECH Expanse was based primarily on the following principles:
We sought to ensure our long-term financial health and IT sustainability while also maintaining our autonomy as an independent organization. The MEDITECH as a Service (MaaS) subscription model allowed us to do both.
We needed an integrated solution that would improve care coordination and documentation processes for staff across a number of disciplines, including case management. Expanse has delivered on this goal with marked improvements.
We wanted a vendor whose priorities and values align with ours. With MEDITECH, we've been able to move confidently into this new era for Henry County knowing that we've established a true partnership between our organizations.
Sustainability and flexibility
When a provider or patient interacts with the EHR, they need to know that they can depend on the system to work. And for that to happen, the healthcare organization needs a trained and experienced IT staff who are backed up with robust support from the EHR vendor.
As a rural hospital, Henry County doesn't have the same resources as larger organizations to purchase and maintain on-premise servers.
MaaS has allowed us to shrink our server inventory, since the bulk of our patient data is now stored in the cloud, protected by MEDITECH and Google security measures.
By implementing MaaS, we've also relieved the burden of managing platform and software updates from our small IT staff, which has given them more time to work directly with clinicians and staff to address technical issues and get them back to treating patients.
From the long term perspective, probably the most profound benefit to selecting MEDITECH MaaS over other options is the autonomy the solution provides us. We can now make our own decisions about workflows, documentation, dictionaries, and security access.
We don't have to ask anyone's permission to refine the EHR to better fit the needs of our providers and patients — we just talk to MEDITECH.
This adds significant flexibility in how we respond to future changes in our patient population and develop the clinical responses to address them.
Integration across the enterprise
Quality care for patients doesn't start when they enter our clinic — and it doesn't end when they're discharged, which makes care coordination an important part of our organization's work.
With the Expanse platform, our case managers can track patients and add daily notes directly into the same record that nurses and doctors see, helping clinicians find the information they need without having to dig for it.
Our CNO Tiffany Kennerk calls this integration with case management "a huge win" because it centralizes documentation (including billing) and lets providers manage the next steps in the patient's care journey without delay.
As part of our implementation, we also deployed the Expanse Patient and Consumer Health Portal, which has yielded impressive results in engaging patients in their care plans — beginning with how easy it's been to promote and market the portal.
Where previously our staff would need to create email accounts for patients to access a portal, now we simply have posters with a QR code that patients can scan to use the portal app.
The Expanse portal is a night-and-day difference from what we had before, and it's already proven its worth in how quickly and easily patients can enroll, pay bills, and complete pre-appointment questionnaires.
Partnership with MEDITECH
Switching EHR vendors for Henry County was not a decision that we took lightly, and before we took that step, we needed to know that we weren't just hiring a company to install software.
We knew MEDITECH's reputation for developing long-term partnerships with its customers, and we saw it in action with our Expanse deployment.
When we asked for support, we got it, during and after the implementation — we could just pick up the phone and get someone to assist. MEDITECH also helped us by visiting our site and working directly with staff to optimize the Expanse build.
And when issues needed to be escalated, we didn't feel like we were being added to a weeks-long queue; MEDITECH responded quickly and decisively to address any problems.
The best proof that I can offer about MEDITECH's help through the implementation process is that we did not have any long-term reduction in patient volumes while deploying Expanse. I don't think there are many healthcare organizations who can say that about their EHR.
Envisioning future success
If I could summarize all of the benefits that we've realized by implementing Expanse at Henry County, I'd say that it has helped us fundamentally improve how we interact with the technology that helps us deliver high-quality patient care while equipping our providers with digital tools that support them in their day-to-day work.
As we say in our vision statement, our goal is to "improve the health of the community by being the best place for patients to receive care, for employees to work, and for physicians to practice medicine."
This includes improving how we recruit new staff — MEDITECH is respected within the healthcare community, and we've heard from applicants that they know the company's well-known reputation for partnership and quality.
And as a not-for-profit organization, it's vitally important that we remain a core part of the community, striving to further improve the quality of life for the individuals and families in our care.
By partnering with MEDITECH and implementing Expanse across our organization, Henry County can determine our own future, uphold our mission, and continue to provide excellent care close to home.
---
See how a shared mission and trust in your EHR vendor can lead to great results.