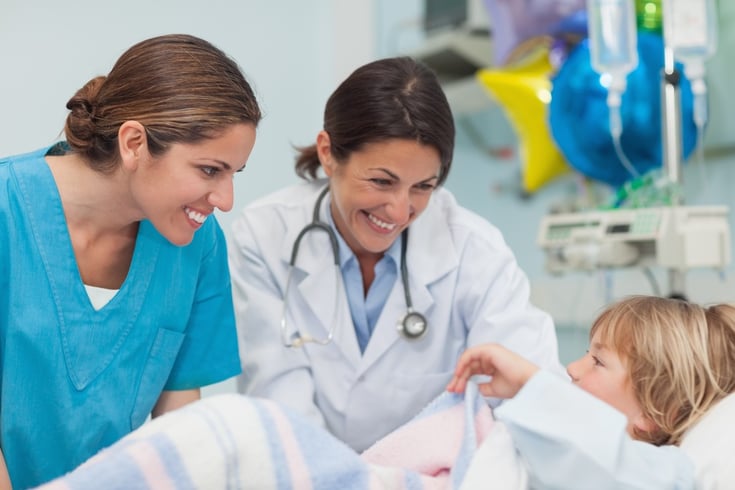 I was rounding with a colleague in the pediatric area of The Valley Hospital, in Ridgewood, New Jersey, when we entered the room of a young boy with his mother sitting by his bed. As we entered, we explained that we were visiting pediatric patients to see if they were interacting with the newly-installed GetWell Inpatient™ solution, GetWellNetwork's interactive software that uses a bedside TV to get patients and their families more involved in the care process.
Without missing a beat, this precocious young boy told us not to worry - he had it all figured out. He went on to inform us that he not only had played a couple games, but he saw where the health education videos were listed and searched for the appropriate videos to watch based on why he was in the hospital.
And just like that, it seemed as though our ultimate goal of increasing patient engagement was well in sight.
Using the TV for engagement and education
The Valley Hospital has always made the patient experience one of its highest priorities. With that in mind, we recently installed the GetWellNetwork to help empower our patients throughout their hospital stay. It gives the patient knowledge and information, it allows them to reach out and request a visit from a pharmacist, or the nurse manager, or a case manager, or other members of their care team. It gives the patient a little more control at a time when they may feel helpless and vulnerable. We certainly know that having a more engaged, educated patient is going to translate into better outcomes and a better patient experience.
We also use the system to solicit feedback from the patients by automatically pushing questions out to them via the GetWellNetwork interface. They can let us know how they slept, or how quiet the hospital is at night, or if we're meeting their expectations from a communication perspective.
When patients need to share something negative, or simply want to talk, they can connect with us immediately. The ability to converse in real-time is key to quickly understanding the scope and urgency of a concern, and addressing it promptly for maximum service recovery.
From a consumer engagement perspective, in addition to watching regular TV, patients have access to movies, the internet, video games, and music - whatever helps them get through their stay.
From a workflow perspective, the GetWellNetwork solution is compatible with our MEDITECH EHR, and allows our nurses to order the appropriate videos right from their workstations. This gives the nurses the ability to do the work in the background without disrupting the patient in their room. We can also monitor the patient's progress to see which videos they're watching and when and if they understood the content or have follow-up questions.
Measuring success
When I started at Valley three years ago, the decision to implement this technology had already been made and a time frame had been set. Once we were able to successfully prepare the infrastructure, including the technical and hardware requirements, the content build and work flow of implementing the software was the easy part.
Once we were off and running, we were able to go live in all of our inpatient locations. From there, it was about measuring the success of the GetWellNetwork solution. The two areas that we would measure was our order to completion ratio and the number of medication education teaching events that occur unit by unit.
The reason we looked at the order to completion ratio as one of our deciding factors was that we wanted to see what percentage of orders placed in the system for health education videos had been completed by patients. We wanted to make sure that when staff ordered videos for patients, that patients actually interacted with the software to watch them.
We were hoping that the nurses would order the videos for the appropriate patients and afterwards we'd follow up to see if patients completed the videos and understood the contents.
To determine the unit by unit success, we had someone send out the unit metrics on a weekly basis. On a monthly basis we recognize the best performing unit with a trophy stocked with candy for the staff.
As far as our results through the end of November, hospital wide on a year-to-date basis, we have exceeded our order to completion ratio goal of 40 percent and are currently 43 percent. Believe it or not, we have one unit that was last reported at 92 percent.
But looking beyond the numbers, we're seeing our staff incorporating GetWellNetwork seamlessly into their workflow. We have scripting going on to onboard the patients to the solution, why we're using it, as well as all the solution's features and benefits.
Adapting to patient feedback
Prior to launching GetWellNetwork, we made a decision that every patient would be required to complete a mandatory set of videos before getting access to the television and other components of the software.
We created three custom videos: one featured our CEO and CNO, information on Valley Hospital, a welcome message, and an introduction to the GetWellNetwork solution. The second video was on safety and falls precautions and the third was on patient safety and infection control related to hand washing. Within the system, we have an established group of over 800 videos. We can also make custom videos that the GetWellNetwork would upload to our library.
We received some feedback from patients after our initial launch of the introduction videos. When we combined the feedback with the bypass rate of the videos, we could tell a change was needed. Of course, the bypass rate could be for a number of reasons ranging from the patient being too agitated, to their anxiety levels, to an important baseball game airing. So, based on all of that, plus the feedback from our staff, we changed the approach from the three separate videos that took over 15 minutes total to one eight-minute video, and the response was very positive.
Improving the patient experience requires more than a smile and pleasant conversation. It means giving patients the opportunity to feel a sense of autonomy and control at a time when they feel most vulnerable.
---
Discover additional ways to focus on the patient while building a foundation for population health.