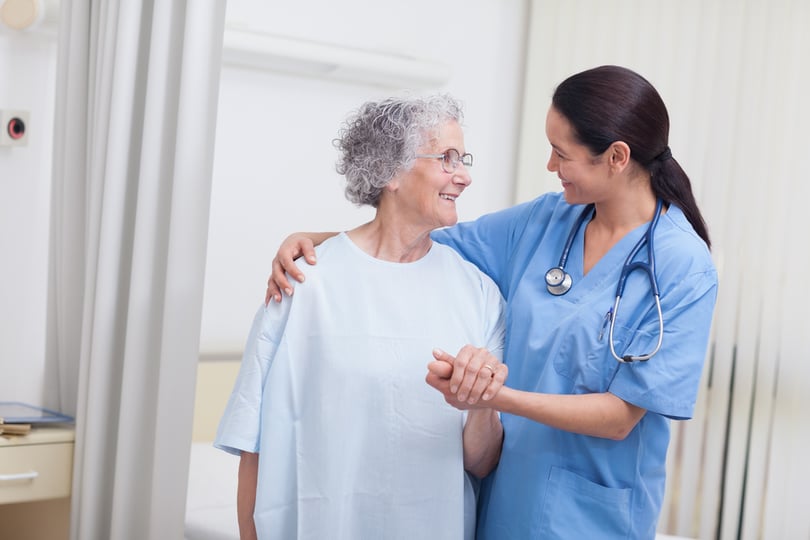 When it comes to ensuring patient safety, everyone has a role to play. Patient Safety Awareness Week presents a valuable opportunity for healthcare organizations to promote safety awareness in their communities, and to continue to think of ways in which they might make patient safety part of their workplace culture.
To close out the week, I asked MEDITECH clinical staff to share personal experiences that inspired their commitment to ensuring patient safety, and the direction in which they see healthcare heading. As they show us, it's real people with real stories who are driving change in healthcare.
Adam Ryan, RN
Patient Safety/Priority Event Management Analyst
Early in my career as a nurse, an elderly man was transported to the ED after falling. His wife arrived shortly after, and the man asked if she could stay by his side. After her husband was admitted, she became angry and confused and her husband revealed she suffered from dementia. With her primary caretaker in the hospital, the ED charge nurse made accommodations to have her stay overnight until family could be contacted. She was not registered as a patient — her overnight stay was offered as a courtesy. As I walked by her room while making rounds, I noticed she was walking around and asked the observation assistant to escort her back to bed since I was worried about her stability. No sooner than I finished asking, there was a thud, and the woman was lying on the floor, bleeding from her head.
I thought about what we could have done better to ensure this patient's safety. I believe if we did not remove the infrastructure we created (registering her as a patient via the EHR and following standardized processes for patients) to maintain patient safety, this patient would have been deemed a high fall risk and the appropriate interventions would have been put into place while she boarded overnight.
When I think about the future of healthcare, I'm most excited about the increasing interoperability among individuals, patients, providers, and the systems involved in healthcare. This increased transparency and exchange of information should make processes more efficient and ultimately improve patient safety.
Alana Commendatore, RN
Supervisor, EHR Programs and Toolkits
Seeing a patient suffering due to a healthcare-related event or condition that could have been prevented is heartbreaking, and is enough on its own to inspire a passion for patient safety.
I am excited to see ongoing advancements in clinical decision support and remote monitoring capabilities. These efforts will allow us to alert providers more rapidly to patient safety events in the hopes of either preventing them or intervening earlier. We'll also be able to continuously improve the quality of care by ensuring the right information is presented to the right end user at the right time. Remote monitoring capabilities in particular will help us to engage patients outside of hospitals or physician's offices, allowing us to deliver a high quality of care, even when they are at home or out in their communities.
Jessica Weaver, RN
Client Services Analyst
Every person deserves the best care possible, but errors in processes, poor communication, or technical difficulties can compromise patient safety. We don't always have control over human error, but we can make a difference with the EHR by improving functionality and ease-of-use — providing appropriate, beneficial clinical decision support and encouraging evidence-based improvements to workflows. I'm passionate about providing the very best quality products to our customers, because these differences can save lives.
Healthcare is always transforming. As we continue to take advantage of the rapidly evolving technology in the field, I'm excited to see how the impossible is made possible in disease prevention, management of chronic conditions, and reducing physician burnout.
---
See how the MEDITECH Opioid Stewardship Toolkit promotes patient safety by helping organizations to identify high-risk patients, reduce overprescribing, and improve stewardship.