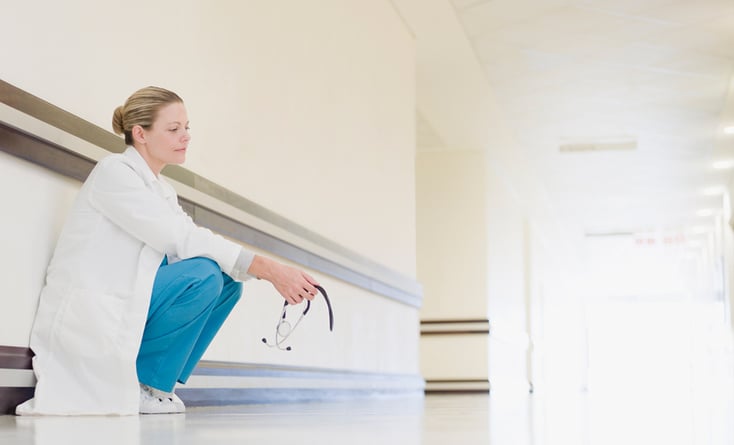 Like most of you, I'm breathing a cautious sigh of relief as the rollout of COVID-19 vaccines continues. It's been quite a year for all of us, and healthcare workers in particular. Today, on National Doctors' Day, I can't help but reflect on the wide range of experiences my physician colleagues and I have had since the pandemic began — and the lessons we've learned as a result.
Of course, just like people in other professions, physicians have not responded to the pandemic in a uniform way. Providers' experiences over the past year have varied widely based on specialty, geographic location, community response, level of institutional support, and access to resources. Still, there are some common responses. Here are a few I've observed, whether within myself or in my peers. If you're a physician reading this, did you find yourself in any of these categories at one time or another this past year?
THE EXHAUSTED
Many of my colleagues were feeling overburdened long before COVID-19 emerged, and the pandemic has only amplified their feelings. According to a Medscape survey last fall, nearly a quarter of physicians in the United States were considering early retirement. Another study earlier this year suggested that, while overall rates of burnout have remained steady during the pandemic, the specialties most affected have changed, with rheumatologists and infectious disease specialists now topping the list. However, with 42% of physicians across all specialities reporting symptoms of burnout, we will still have serious issues to reckon with long after the pandemic subsides.

THE INSPIRED
Some of my colleagues have experienced a burst of energy and a renewed sense of calling — feeling more connected, inspired, and motivated than ever before. My genetics colleagues have said they can't recall a time when the entire scientific community was focused on solving the genome of a single problem at once. On smaller levels, I've heard dozens of inspiring stories. One of my favorites is about a colleague who commandeered an old school bus to make a "temperature check and pre-vaccination station on wheels." Almost all of my peers felt that their hospitals rose to the challenge and pulled together in amazing ways.

THE RELIEVED
Quite a few of my colleagues, particularly those in elective procedure-based specialties, were initially worried about the falloff in patient visits near the beginning of the pandemic. While there's been a gradual return of patient encounters, the reality is that many practices are still 10% below their volumes early last year. Meanwhile, their expenses have increased with the need for additional PPE and technology, on top of the staffing and workflow changes required to deliver care during a pandemic. Fortunately, preventive and routine care is beginning to normalize again, and we can begin to contemplate focusing on "whole patient" health, not just SARS-CoV2.

THE EXASPERATED
Fellow physicians in many parts of the country grew exasperated by the misinformation being spread online and via social media over the course of the past year. Many found it challenging to treat patients who downplayed or even denied the existence of the virus — some even after they became seriously ill or had family members die as a result of COVID-related complications. Closer to home, a good friend from residency who now oversees a fellowship training program decided not to require her fellows to see patients during a PPE shortage, but was overruled by a supervisor who enforced the redundant additional visit. My friend was brought to tears recounting the experience and the obvious danger to which her trainees were exposed. Feeling her rage and frustration and not knowing what else to do, I sent extra N95 masks from our hospital to hers, located in a different state. I couldn't help but think to myself, "how is this happening in our country?" She was expected to round on COVID patients every day without a medical-grade mask. It still boggles my mind to this day.

THE DIGITALLY DIVIDED
One common thread for most of us is that virtual visits really saved the day. It made routine care possible again, saving many organizations from a total loss of access to their patients for an extended period. That said, I've heard friends and colleagues muse about virtual care both positively and negatively. A common challenge is that the logistics around these visits can really tax the administrative support staff, especially if the patient has limited technical capabilities. Some liked it because they saw the patient in their "home environment" and could often get a more complete picture of what was actually going on in their recovery. But others felt it merely accentuated the divide and the health disparities between the "haves" and the "have-nots." Nearly all of my colleagues are grateful that the technology was there to bridge the gap, but most everyone missed actually touching the patient. That essential element of touch is what makes us physicians — both literally and figuratively.
That last point — the loss of touch, which is one of the most fundamental aspects of caring for the patient — is what I think has been one of the biggest losses of this pandemic. I applaud my colleagues who have found a way to bridge that loss, and still do the things necessary to help their patients.
True superheros don't wear capes and make grand gestures. Sometimes they do the truly heroic act of merely showing up when they are needed.
So, thank you to all of my physician friends and colleagues on National Doctors' Day, for your heroic efforts, big and small, in a year we will never forget.
POSTSCRIPT


I personally felt proud of MEDITECH for allowing clinical staff like me to take paid leave for as long as necessary last year to volunteer at health care sites where our skills were needed. Additionally the company rapidly rolled out virtual visits to all hospitals that needed it, under an extended period of free use, to keep both providers and patients safe during a truly chaotic time. Moments like those made me proud and grateful of where I have found myself as a working physician.
Sign up for the 2021 Nurse Forum, featuring three outstanding keynote speakers and a host of valuable educational sessions.