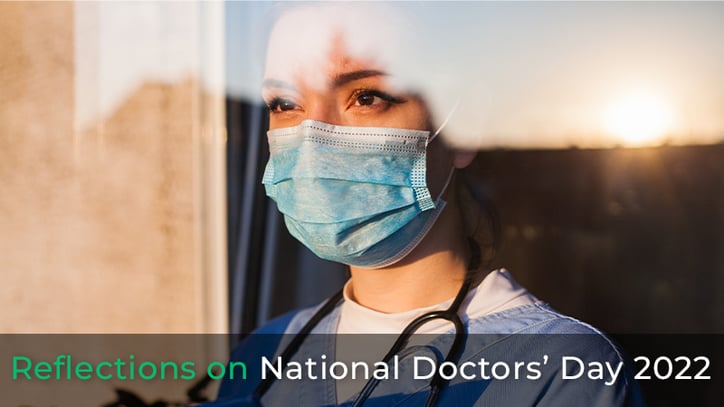 I'm writing this on my flight back from Orlando following the 2022 HIMSS Conference. It's been a whirlwind of a week and I'm finally getting a chance to take a breath and reflect on the experience.
We've come a long way in the year since I wrote my last piece for the MEDITECH Blog for National Doctors' Day 2021. But while much has changed, much has remained the same, too. Let's take a quick inventory:
WHAT'S REMAINED

WHAT'S CHANGED

Many of my colleagues are still overwhelmed (myself included)

Nursing shortages persist and have even worsened in many places

There's still too much skepticism and polarization around the virus and vaccines

Variants are still developing and threatening our progress

Patients and providers are still confused as schedules for vaccinations and quarantine requirements seem ever-changing

There's a lack of clarity regarding how to manage the long-term effects of COVID-19

Our vaccines have brought the rate of serious illness and death down dramatically

We are gradually and cautiously returning to 'normal'


We have developed tools that can be rapidly adapted to the changing variants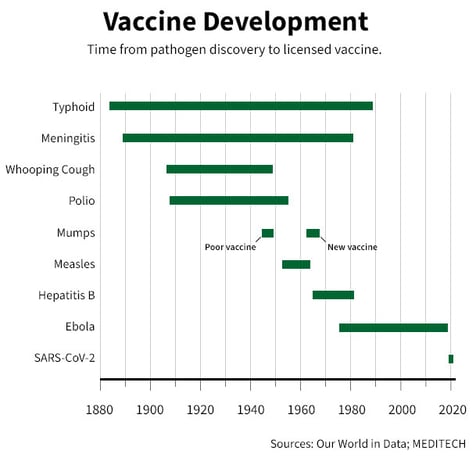 The mere fact that HIMSS could bring tens of thousands of people together for an in-person conference is a sign of great progress. But what I'd like to pay particular attention to is that last bullet: The new tools in our arsenal for fighting future variants, as well as entirely new viruses — because they will indeed keep coming.
Our initial response to the SARS-CoV-2 virus was nothing short of miraculous. The speed at which vaccines were developed is mind blowing. It was so fast, in fact, that many people were initially dubious that they could have been developed safely so quickly. But they've proven both safe and highly effective. What made this possible? Simply put, genomics!
The genetic sequencing of this new virus occurred at incredible speed, and the ensuing development and testing of vaccines was just as impressive. In less than a year we had not just one but two highly effective options. By comparison, the mumps vaccine developed in the 1960s is now the second fastest vaccine ever developed. It took four years, which once seemed unsurpassable. Just imagine where we would be as a civilization right now if vaccines were still two years away. Countless millions more would have died and we'd still be in lockdown.
Until recently genomics seemed like something constantly on the horizon, always just a few years away. But when COVID-19 struck, the future arrived — and just in time! The power of genomic medicine is now finally being realized. But what's most exciting to me is that it's not just impacting the usual suspects — those fields that have always used genetic data, like oncology, neurology, and cardiology. It's on the verge of impacting every area of medicine and every specialty. Soon any primary physician will be able to order genetic tests to help their patients find the right therapy based on their unique genetic makeup. Psychotherapists will identify the most effective antidepressant for their patients the first time, saving them months or years of agonizing trial and error. Adverse drug-gene combinations will be as easily detected as adverse drug-drug interactions are now, reducing harm and saving lives.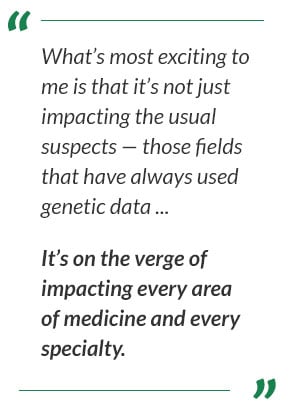 This was the nature of my session at HIMSS this year, Helping Physicians Prepare for the Genomics Revolution. It was exciting to see a full room on the final day of the conference, and even more exciting to field questions from the dozens of people who stuck around after the session. As a doctor and clinical medical geneticist myself, I knew this day would come, but it's been difficult to explain to other physicians who aren't genetics experts just how they will use genomics in their own practices. Now they're starting to see it. And it looks like Expanse Genomics.
It's less about our software and more about what it means for healthcare generally but I'm so proud to be associated with the first company to bring genomic medicine fully into the EHR. Now any physician from any specialty in any community can use precision medicine to find the best therapies for their patients the first time. Without leaving their EHR, physicians can order genetic tests (as easily as any other lab test), receive and store genetics results in their patient's record (as discrete data, not auxiliary text-based reports), have results displayed in meaningful and actionable ways, and get the interpretation and guidance they need to steer their patients toward the most effective treatment options.
I'm seeing my career come full circle. Following my pediatrics residency I performed my fellowship in clinical medical genetics and directed a CLIA-certified genetics lab. I could see the power of genomics at the time but couldn't quite see how we could bring it into the medical practice and workflows of general physicians. Now I can, and it gives me great hope that we will conquer both the population-level challenges we're facing with new viruses and variants, and the patient-level challenges we face finding the most effective therapies more quickly.
It's truly the dawn of a new era in medicine. I just hope my colleagues still struggling under the weight of the pandemic can hang in there long enough to experience the benefits.
POSTSCRIPT
Hat tip to my colleague
Jennifer Ford
who helped shuttle this groundbreaking software into the real world at three sites and growing!
---
Sign up to receive updates on new blog posts and other news from MEDITECH.