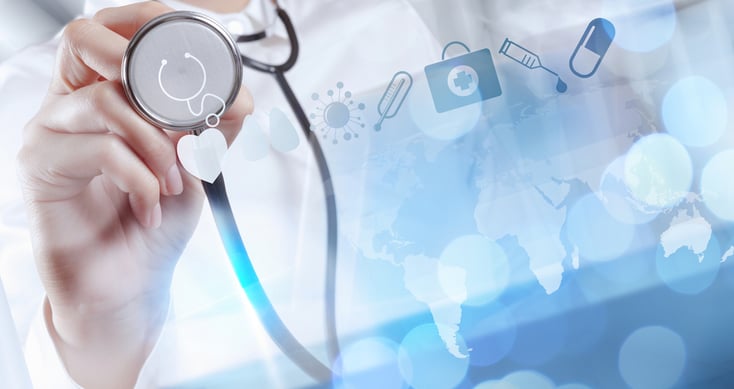 Every year, the CHIME CIO Forum is a great opportunity to delve into the hot topics surrounding healthcare IT. From face-to-face networking with colleagues and peers to valuable education sessions geared toward meeting the needs of healthcare IT professionals, it's always a pleasure to connect with industry thought leaders.
After a full week of knowledge sharing and exchanging of best practices, there were a few common talking points from CHIME19 that prevailed as key themes heading toward the next decade of healthcare IT innovation and technology.
Bringing 'care' back to healthcare
One of the highlights of CHIME19 was listening to keynote speaker Eric Topol, MD and author of Deep Medicine: How Artificial Intelligence Can Make Healthcare Human Again. Dr. Topol's presentation focused on technologies such as AI, deep learning, voice, and virtual medical assistants. His insights were powerful not only because of how he spelled out the future of healthcare IT, but rather the idea that all these solutions steer toward solving the industry's biggest need; improving the human side of healthcare.
@erictopol innovator and physician addresses #chime19 on meeting the challenges of modern medicine and enhancing the humanity of medicine through deep learning. pic.twitter.com/7UaTX0HWiG

— Christine Parent (@cparent44) November 6, 2019
By focusing on issues such as physician burnout and giving clinicians the right tools that shift their focus to the patient rather than a screen or keyboard, Dr. Topol made a convincing case for how emerging technologies can revolutionize the patient experience. As he put it, "Everyone should own and have all of their medical data from womb to current time. There are many reasons for this, including that it may make the difference between life and death." After hearing these statements, it was hard not to come away with a renewed perspective on how deep data and smart, practical technologies will innovate the practice of individualized medicine.
CHIME's Most Wired Program
As part of their Most Wired program, CHIME conducts an annual survey to assess how effectively healthcare organizations apply core and advanced technologies into their clinical and business program. CHIME advanced the program this year by adding an excellence certification system, using a Level 1-10 scale to accurately classify health system performance.
We were proud to see several MEDITECH customers recognized at CHIME19 for their use of information technology innovation to improve patient safety and outcomes. Avera Health (Sioux Falls, SD), was one of three healthcare organizations to achieve the highest level 10 status. In order to achieve level 9 or 10 status, organizations must showcase innovative ways they are leveraging advanced technologies to deliver meaningful outcomes, such as improved quality of care and patient experience. This is an impressive accomplishment considering 1% of healthcare organizations who participated in the hospital survey fall into this category.
Congrats to the three organizations designated Level 10 by HealthCare's #MostWired: @MEDITECH #Expanse customer @AveraHealth joins Cedars-Sinai Medical and UCHealth in earning the highest recognition during this week's #CHIME19 Award Ceremony! @CIOCHIME https://t.co/JrkIeqcb9S pic.twitter.com/d0kbZVYGYK

— MEDITECH (@MEDITECH) November 7, 2019
The Most Wired program will continue to inspire healthcare organizations to meet standards of excellence in patient care and safety, showing the importance that people process and an advanced EHR system can drive change in the industry.
Driving genomics through the power of innovation
A highlight for the vendor community at CHIME is the well-attended focus groups offering insights into healthcare and emerging technologies. Bringing customers together from across the country, representing care settings from universities to rural community hospitals, these sessions are meant for open discussion and provide opportunities to learn about what is happening in their market. This year, MEDITECH focused on genomics and, more importantly, pharmacogenomics and what EHR vendors can be doing to aid in clinical decision support during medication ordering.
Physicians need the right tools and information within their process to utilize evidence-based data to help guide medication orders and ensure the best possible outcome for their patients. With the introduction by the FDA of standard biomarkers and drug interactions, EHRs now for the first time have a set of standard content that can be utilized to move this effort forward. Pharmacogenomic biomarkers are now included on drug labeling as of 2019 and pharmacy majors will be graduating knowing the latest studies around genetics and medication administration.
As the science of genetic testing and precision medicine grows, MEDITECH believes putting valuable genetic information in front of providers when it makes sense is a game changer and genomics will continue to be a disruptor to healthcare over the next five to ten years. Thank you to all those that attended and provided their feedback.