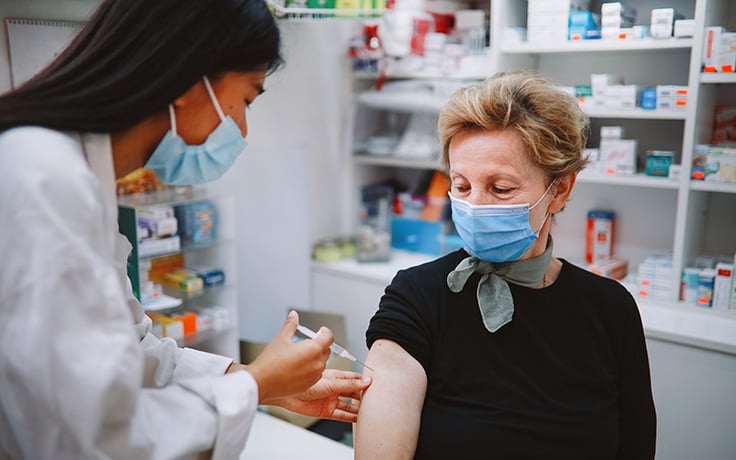 As COVID-19 vaccines have started rolling out across the United States, healthcare organizations are developing their own strategies for efficiently managing immunization efforts - beginning with their own staffs. One hospital system undertook a unique approach to documenting and reporting vaccinations administered to internal employees, using their MEDITECH EHR.
MEDITECH Vice President Leah Farina recently had a conversation with Jeff Goad, IT Director at Williamson Medical Center (Franklin, TN), to find out how they did it.
Leah Farina (LF): To start, could you talk a little bit about how your health system has been dealing with COVID-19, and what some of your concerns were going into the vaccination phase?
Jeff Goad (JG): Sure. We did see a big surge of COVID-19 cases in December. Our primary concern at that time was our staff - how to keep them from getting sick and being unavailable to work. So we were very glad to receive our first shipment of almost 1,000 vaccines before the end of the year.
LF: When you were preparing your COVID-19 clinic for staff, what was involved in terms of set-up?
JG: Our IT team completed a months long project in 2020 to create a separate facility within our MEDITECH EHR (with a shared Master Patient Index) for our employee health records. That was one of the most important things we did. It included info on our staff's pre-hire health screenings and general immunization records like flu shots. And this system would also contain all of the data for our COVID-19 vaccination clinic.
For administering the shots, we set up in a vacant office that is attached to the hospital, so employees could access it easily. We did not have to do a ton of new infrastructure - just had to bring WoWs over from the hospital. We used handhelds to capture employee information at the time of vaccination, and then the data went through the WoW into the EHR. MEDITECH worked with us to ensure that with their immunization interface, all scheduling, registration, and administration information would be automatically transmitted to the state after each dose is given. I believe we were one of the earlier hospitals in Tennessee to transmit COVID-19 vaccine information directly from the EHR to the state immunization database.
LF: When did your clinic open, and how quickly were you able to get staff vaccinated?
JG: We first started giving the vaccines on December 18 to our employees and volunteers with direct patient contact, as well as community providers. EMS personnel and nurses, techs on inpatient floors, ER, and surgery were among the first groups offered the vaccine. In a month's time, we administered over 1,871 doses, covering over 62% of our total staff. The most we ever completed in a day was over 200, but most days we saw at least 100 people come in.
LF: How did your system help with scheduling vaccine appointments?
JG: Department directors were allowed to do the scheduling for their staff right in the system. They were able to schedule both doses (of the Pfizer and Moderna vaccines) at the same time, using an appointment set to ensure that there was an appropriate number of days between them. We made sure the process was very easy and convenient for them.
LF: Was anything done to advertise the clinic to staff, to help get the word out?
JG: Yes, we sent out tons of information via our staff newsletter and social media. We are also sending out automated email vaccine appointment reminders - which MEDITECH also helped us to set up.
LF: What are the biggest lessons learned that you took from organizing the COVID clinic?
JG: I think to be the most efficient and least error prone, it's very important for healthcare leaders to use the EHR for these processes. Technology eliminates so much duplication of effort, and contains the automation and built-in reminders that people need to stay on top of everything. And not just where COVID-19 is concerned. Going forward, we are planning to use this system for our flu shot clinics as well.
---
See how MEDITECH is supporting healthcare organizations and guiding customers through the COVID-19 pandemic.