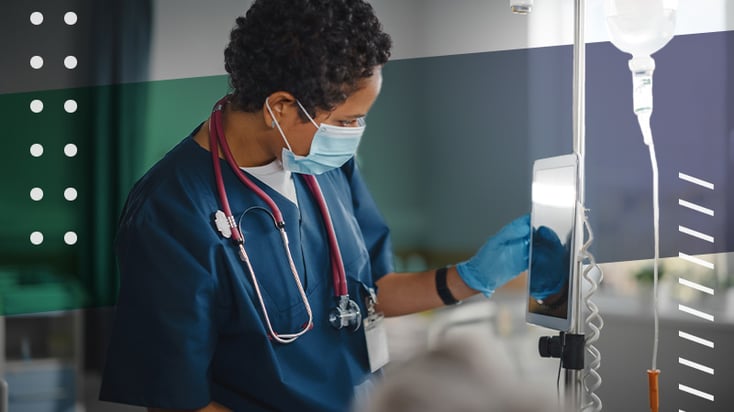 As an independent, non-profit organization, The ECRI Institute informs healthcare leaders by providing them evidence-based guidance and solutions to help deliver safe, effective, and efficient care. In March 2022, the ECRI Institute promoted their 2022 Top 10 Patient Safety Concerns. This year they highlighted staffing shortages across the industry, clinician mental health after the pandemic, and bias in the provision of care, as top concerns among other industry issues.

ECRI's annual report is awaited each year as it serves to shine a spotlight on top safety issues in healthcare. To recall ECRI's history, in 2019 they became affiliated with the Institute for Safe Medication Practices (ISMP). The ISMP's Medication Safety newsletters, combined with ECRI's Top 10 report, are useful for understanding current patient safety and medication management concerns in the industry and for MEDITECH customers.

ECRI's affiliated organization, the ISMP, is the only 501c (3) nonprofit organization devoted entirely to preventing medication errors. ISMP receives medication error data not only from the federally-certified ECRI Patient Safety Organization (PSO), but also the Health and Human Services (HHS) Food and Drug Administration (FDA), the National Coordinating Council for Medication Error Reporting and Prevention, and other organizations to generate alerts and recommendations promoting safe medication use and error prevention.

MEDITECH subscribes to ISMP's Acute Care, Nursing, and Ambulatory Medication Alert newsletters and monitors the ISMP Canada Safety Bulletin newsletter. Regulatory Affairs and various Regulatory representatives check these newsletters for recommendations and create new or supplement projects to promote medication safety in our software and tools.

ECRI's 2022 Top 10 Patient Safety Concerns
The ECRI Top 10 Patient Safety Concerns this year are noted below.

1. Staffing Shortages
The COVID-19 pandemic amplified the shortage of healthcare workers across the country, and staffing issues continue to persist. With a high proportion of nurses reaching retirement, nursing assistants being a top staffing need in long-term care, and a physician shortage projected to worsen over the next few years, it is essential for healthcare organizations to implement flexible recruitment and retention strategies. Addressing reasons for burnout remains a top concern so that able staff can be retained.

Related Resources

2. COVID-19 Effects on Healthcare Workers' Mental Health
It is no secret that the COVID-19 pandemic has taken a toll on the mental health of healthcare workers. Even before COVID-19, physicians and nurses were at a risk of burnout, physical/mental exhaustion, and depression. It's more important now than ever for healthcare organizations to implement programs that support clinician resilience and wellness.

Related Resources

Research shows that discrepant health and quality-of-life are tied to social determinants, as patients who are subject to racial and ethnic disparities perpetually demonstrate worse health outcomes. These disparities can affect how adverse events are reported and responded to in regards to patient safety. Recognizing that implicit biases may be present in your organization is the first step in eliminating discrimination that negatively impacts patient care.

Related Resources

The success of any vaccine relies on accurate, widespread administration to appropriate populations. Vaccine gaps and errors can harm patients or provide inadequate protection against serious diseases. Healthcare organizations can take several steps to improve vaccine coverage and safety, such as vaccine promotional efforts and analyzing vaccine administration protocols.

Related Resources:

Cognitive biases can skew how clinicians gather and interpret evidence, take action, and evaluate decisions, resulting in misdiagnosis. Since cognitive biases can be difficult to identify in practice, developing an organizational understanding of how these biases impact patient outcomes can help overcome the issue and ensure patient safety.

Related Resources

Pneumonia is one of the most common infections in the United States and is linked to high levels of morbidity and mortality. Despite the attention placed on ventilator-associated pneumonia, non-ventilator healthcare-associated pneumonia (NV- HAP) diagnoses makeup over 50% of the cases. Proactive prevention of NV-HAP requires patient care intervention bundles, staff education, infection surveillance, and performance improvement initiatives targeting NV-HAP risks.

Related Resources

Focusing on human factors in effectively leveraging telehealth can help avoid issues for both providers and patients, including fractured adoption, interrupted workflows, and user dissatisfaction. Since patients expect the ability to stay connected to their care providers via video visits, accountability from all stakeholders is key to achieving long-term telehealth optimization and sustainability.

Related Resources

Throughout the COVID-19 pandemic, supply chain disruption has become a challenge as manufacturers struggle to access materials and delivery delays result in shortages of healthcare supplies. Proper planning and cooperation with external collaborators is essential to navigating these disruptions and preserving care quality.

Related Resources

When the FDA issues emergency use authorization (EUA) for drugs, devices, etc., it is important to manage those EUA products that have had less rigorous testing in order to ensure patient safety and minimize risks.

Related Resources

According to the Society of Hospital Medicine, inappropriate use of telemetry monitoring is likely to increase the cost of care and produce false positives. Using tools that promote advanced clinical decision support and real-time surveillance can help improve telemetry monitoring processes.

Related Resources


Designed To Reduce Risk


MEDITECH's software and clinical decision support tools align with our goals to ensure patient safety is the priority:


To address non-ventilator healthcare-associated pneumonia, MEDITECH provides Surveillance functionality, which analyzes data in real time and automatically identifies patients who need attention.
MEDITECH's Telemetry Appropriateness Toolkit consists of clinical indication-based order entry and actionable reassessment indicators. The electrocardiogram (ECG) monitoring orders are built as orderable interventions, allowing them to automatically populate to the Nursing Worklist to ensure streamlined care.
To mitigate Cognitive Biases and Diagnostic Error, MEDITECH's fully integrated EHR system assists clinicians with information gathering, order planning/order entry, and documentation. MEDITECH recognizes the importance of connecting patient safety and healthcare workers. Employing user-centered design principles reduces the stress of clinical workers and assists in the reduction of medical errors.
Ensuring Patient Safety
MEDITECH's EHR Patient Safety Review Board provides guidelines, education and action plans to reduce patient safety events and improve customer satisfaction. To further this initiative, the Customer EHR Patient Safety Advisory Board was formed. Sponsored by the EHR Patient Safety Review Board, the customer board consists of nurses, pharmacists, physicians, and quality experts. These key players work with MEDITECH's Implementation, Client Services, and Development Divisions to ensure a timely resolution of priority patient safety issues.

The CEPSAB provides guidance to all who develop, implement, and service the MEDITECH EHR. This interdisciplinary team is dedicated to creating the safest possible use of our EHR solutions across all applications and from all healthcare stakeholder perspectives.
---
Improve outcomes and enhance customer loyalty with tools that keep your healthcare organization connected to consumers and patients alike.