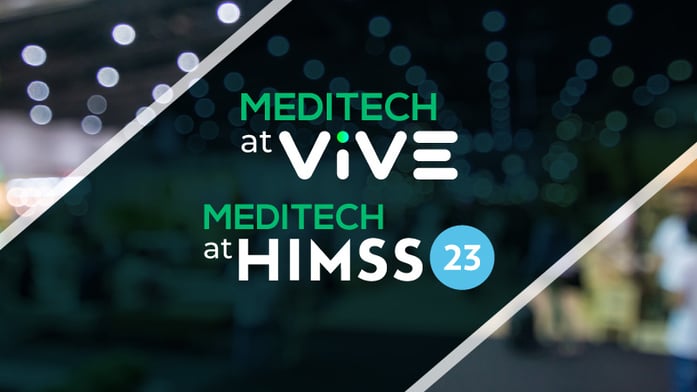 After a highly successful year, MEDITECH returns to the exhibit floors of ViVE and HIMSS, showcasing advancements that earned Expanse the title of "a pioneering technology" by Frost & Sullivan, when presented with the 2022 North America Enabling Technology Leadership Award. These events give us the opportunity to share how we are supporting clinicians with intuitive workflows and real-time data, and backing up that commitment with dependable results.
Our innovative pursuit does not just embrace cloud-technology but elevates its potential through solutions like our interoperability ecosystem, Traverse, and in-app search functions, built through our collaboration with Google. We also introduced Expanse Genomics last year, a first-of-its-kind solution that brings discrete genetic data right into a patient's chart, saving the clinician time and empowering their decision-making.
Mobility, interoperability, data management, streamlined workflow; we've set a solid foundation and continue to build a digital platform that not only supports our customers but inspires future transformation. Attending these industry events opens up new possibilities for us to share ideas and prove solutions, and we welcome all to stop by our booths to connect with us.
Embracing innovation at ViVE 2023
From March 26-29, ViVE 2023 takes place in Nashville, TN. ViVE invites health IT leaders to come together with the goal of accelerating the business and innovation of healthcare.
During the four-day conference, attendees will have the opportunity to visit the MEDITECH booth and experience the boundless capabilities of our cloud-based EHR. Our extensive solutions can be tailored to your organization's needs and enhance both the clinician and patient experience. But the innovation doesn't stop there: organizations can also join our collaborative environments, MEDITECH Alliance and Greenfield Workspace, open to third-party partnerships and API testing respectively.
Stop by booth #1120 to learn more and see our latest cutting-edge solutions such as Search and Summarization, powered by Google Health, and Expanse Genomics first-hand.
On March 28, Helen Waters, Executive Vice President & COO at MEDITECH, will be moderating a Fireside Chat with Sam Hazen, CEO of HCA Healthcare, on the ViVE main stage. MEDITECH and HCA Healthcare signed a new agreement in 2022, extending our long-term partnership. Wielding Expanse to its full potential, we're working together to usher in an era of digital transformation for the largest health system in the nation. Our exclusive session will dive deeper into those initiatives and HCA's sustainability tactics around technology. Make sure to add this can't-miss conversation to your agenda.
Earlier this year, we had the opportunity to speak with another HCA Healthcare executive, Dr. Jim Jirjis, CHIO, at MEDITECH's Winter Showcase. This candid discussion explored the industry's leading topics including data science, machine learning, interoperability, labor shortages, and more.
Connecting with healthcare leaders at HIMSS 2023
Next month, HIMSS 2023 takes place in Chicago, IL from April 17-21. HIMSS focuses on the information and management aspects of healthcare, driving digital transformation through a dedicated community of thought leaders.
Attendees can experience MEDITECH's fully digital platform through our in-booth presentations and the Interoperability Showcase.
Featuring three use case studies, the Interoperability Showcase demonstrates real-world scenarios on how interoperability elevates care standards for both the clinician and patient. Investing in new technology requires a healthy mix of research and innovative curiosity, and we're excited to illustrate the value of our interoperability solution through direct, tangible results. These demonstrations will be open to all at booth #7946-55, booth #7946-56, and booth #7946-40, and you can use #InteropShowcase when sharing on social media.
At booth #2848, our team is available to answer your pressing questions. Our fully interoperable EHR harnesses data to address the industry challenges preventing organizations from reaching their full potential.
MEDITECH customers are also making their mark on the industry by sharing their expertise at HIMSS. Dr. Jirjis will be moderating a panel titled "Real Talk: TEFCA, Evolution or Revolution in Healthcare Interoperability?" on April 18, where Hoda Sayed-Friel, MEDITECH's Senior Vice President, will be a participant. Dr. Jirjis shared insightful takes on interoperability during the Winter Showcase chat, and we look forward to seeing how his knowledge leads this discussion.
Presenting on topics from precision medicine to population health, MEDITECH customers are adding a wealth of thought leadership to the HIMSS agenda. We've outlined their sessions for your convenience so you don't miss out on these informative presentations.
Follow our social media for more updates on our participation at ViVE and HIMSS. If you stop by our booths or attend one of our customer's sessions, stay connected by tagging us or use #Expanse. We look forward to another year of collaborating with industry leaders, attending educational sessions, and inspiring digital innovation. See you there!
---
Subscribe to the MEDITECH blog to learn more MEDITECH's presence at events like HIMSS and ViVE.