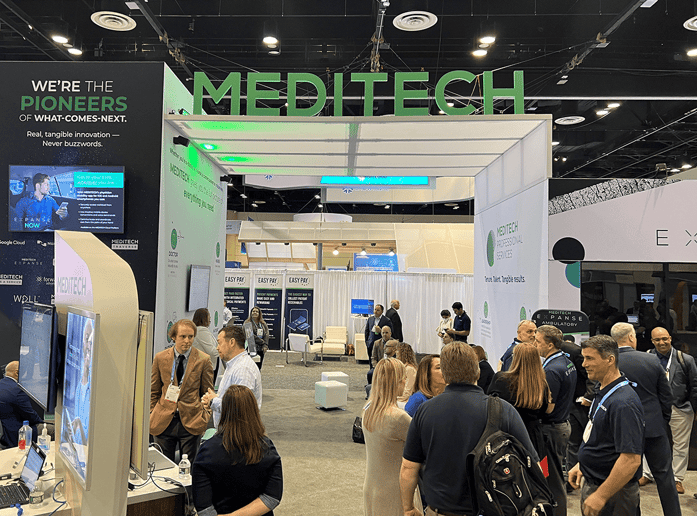 Wear comfortable shoes. That's the advice everyone gave me before attending my first HIMSS conference. But what I didn't hear was "make sure you know the bus stop of your hotel." After a roundtrip ride from the conference center, past my hotel and back, and a 20 minute wait for that next bus, I certainly learned a valuable lesson.
Lacking a sense of direction at HIMSS that first day, I realized that I probably wasn't that much different than many of the attendees. We're all looking for some direction as we seek the right path in this new COVID world: where the industry is heading and how the past two years will influence its course. Here are some key takeaways I walked away with:
We're all in the same boat
I had the opportunity to attend the CMIO Roundtable, where attendees shared strategies on how to improve mobility and communication with staff and patients to drive meaningful change. Panelists and audience members used a range of EHRs, yet they were all looking to address the same challenges. They wanted to make it easier for clinicians to communicate, without the data overload or alert fatigue. I was particularly intrigued by Avera Health's "No Thank Yous" campaign. CMIO Andy Burchett, DO, asked staff to stop replying to messages with "thank you" or "you're welcome"; each response was another message a busy clinician would need to unlock their phones to check.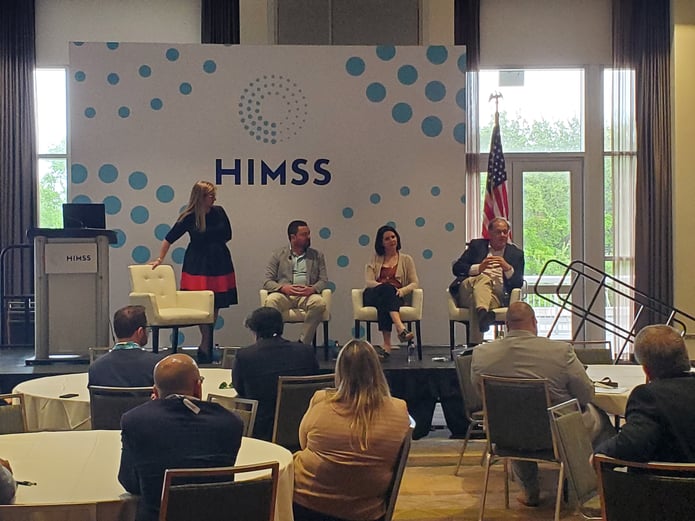 CMIO Roundtable: Christine Silva, MEDITECH Director of Product Management; Dr. Andy Burchett, CMIO of Avera Health; Dr. Eve Cunningham, CMO Strategic Partnerships at Providence Health; Dr. Jim Jirjis, Chief Health Information Officer, HCA Healthcare.
Our clinicians are passionate about what they do
Triaging visitors in our booth gave me the chance to meet several physicians who helped us demonstrate Expanse, including Dr. Pricilla Frase, CMIO and hospitalist at Ozarks Medical Center, and Dr. John Pelzel, family practice physician at Sleepy Eye Medical Center. Both Ozarks and Sleepy Eye are relatively smaller organizations by today's standards, but they make up for it in ambition and sophistication. To hear the passion in the way these physicians described Expanse and their personal experiences using it in their own hospitals and practices was inspiring. Many organizations spent considerable time talking with them, and walked away amazed by all that their clinicians were able to accomplish. It goes to show that the right technology and leadership can level the playing field.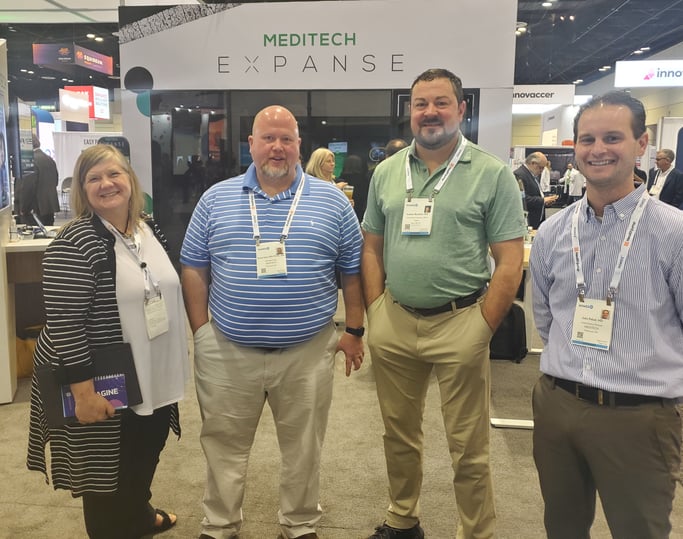 Priscilla Frase, MD, Hospitalist / CMIO at Ozarks Healthcare; Donnie Dykes, RN Manager, Inpatient Applications at Woman's Hospital; Andy Burchett, DO, CMIO of Avera Health; and John Pelzel, MD, Family Practice Physician at Sleepy Eye Medical Center.
Genomics is shaping up to be the next big thing
Leading into HIMSS, we were most excited to showcase our Expanse Genomics solution. While we knew there was a great deal of interest in this technology, we didn't expect MEDITECH's ability to leverage discrete genetic data for clinical decision support would make our Genomics experts HIMSS rockstars. "No other vendor has been able to accomplish this," was a comment we kept hearing. A 1 p.m. session on the last day of HIMSS, which under normal circumstances would be largely empty, was filled with participants eager to hear about the Genomics Revolution from Harvard-trained geneticist, Dr. Marsha Fearing. Healthcare organizations, technology and biomedical giants, and the press had the same questions. "How did you do it, and how can we do the same?" It's an exciting time to be in healthcare, and by leveraging genetics for precision medicine, we are truly going to change the way we deliver targeted patient care.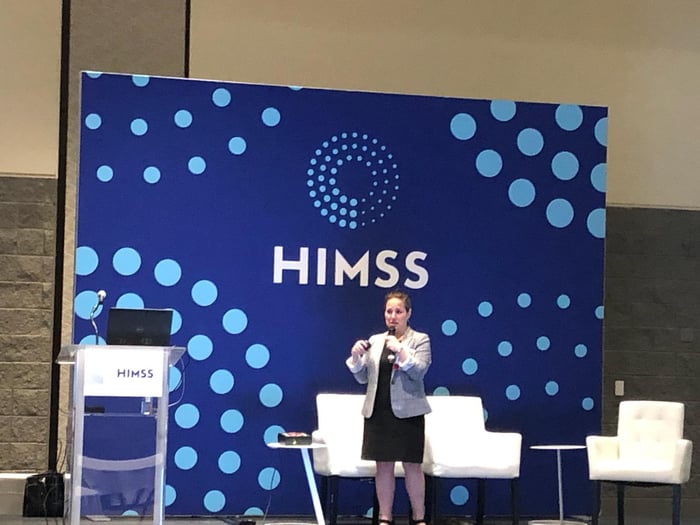 Marsha Fearing, MD, MPH, MMSc, Clinical Medical and Biochemical Genetics Physician Consultant, Harvard Medical School.
Innovations like virtual care and remote monitoring continue to grow
While many of us turned to technologies like remote monitoring and virtual visits during the pandemic, deployment of these technologies, along with other health apps, will have a lasting effect on how we deliver care.
Avera Health remotely monitored patients through their

Hospital at Home Program

, helping them keep 8,500 patients out of the hospital. Virtual visits are now standard in their specialty-care clinics, with no-show rates cut in half on the virtual side.
Frederick Health tripled the number of patients monitored remotely during the pandemic, helping to prevent ED visits. They will now be incorporating remote monitoring into their patient registries for Population Health and are analyzing data to determine which patients would most benefit from telemedicine moving forward.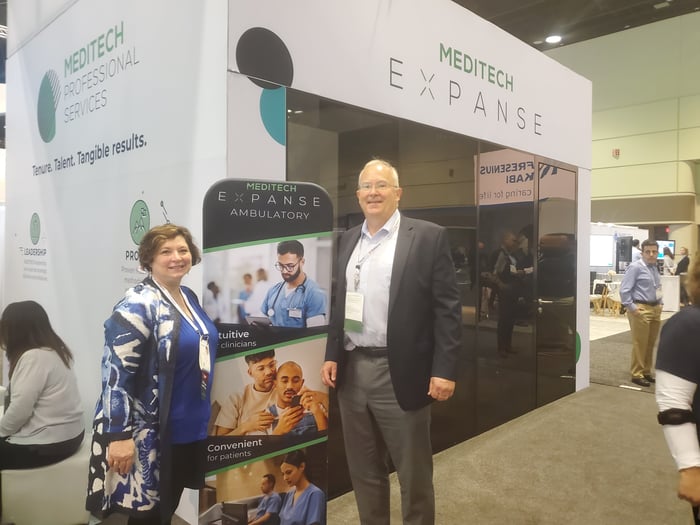 Jackie Rice, BSN, RN, VP and CIO and Robert Wack, MD, CMIO of Frederick Health.
EHRs are no longer self-contained platforms but gateways for providing patients and clinicians with access to their data, while enabling them to contribute their own data from outside sources. You could sense this excitement in our booth as well as in the Interoperability Showcase, where we teamed up with our fellow CommonWell Health Alliance® members once again to demonstrate the power of connected care through HL7 FHIR.
While attendance at HIMSS was lighter than previous years, everyone seemed to appreciate meeting face-to-face, engaging with contacts beyond the video screen, and celebrating how far we've come as an industry. And at the end of the conference I could confidently say that I had a lot more insight than I had started with, including how to find the way back to my hotel.
---
Catch MEDITECH Associate Vice President Christine Parent's interview with CommonWell TV, which highlights the benefits of FHIR and where we see Interoperability progressing in the years to come.