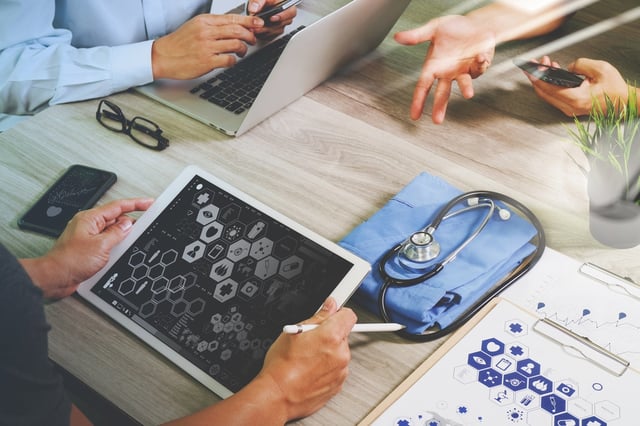 A hot topic of conversation in the last few months has been the Annals of Family Medicine study observing that primary care physicians spend an average of 86 minutes of "pajama time" each night catching up on work from the day.

This study was co-written by researchers from the AMA, which brought to mind their 8 EHR Usability Principles that were published in 2014. At the time these principles were published, MEDITECH was delivering Expanse to our first early adopters, having had the foresight to see what was coming and redesign our software at a time when others were continuing to just add functionality on top of existing workflows.
I thought I'd go back and see how we measure up against the 8 Usability Principles:
Enhance Physicians' Ability to Provide High Quality Patient Care
Ultimately, the number-one goal of an EHR is to ensure that patients get the highest-quality care possible, whenever and wherever they see their providers, and supply dependable, predictable, and adaptable information.
As the AMA explains, "The EHR should fit seamlessly into the practice and not distract physicians from patients."
Many of our customers have already attested to the improved "face time" that they experience with patients when they use mobile devices instead of a keyboard and mouse, and to the closer view of x-rays and other diagnostic results that they can easily display and explain to their patients.
Support Team-Based Care
In addressing the AMA's principle that EHRs should support team-based care, MEDITECH has built its solutions so that doctors can work to the top of their license, and can delegate further treatment decisions to other care team members based on the specific policies of their practice or institution.
Promote Care Coordination
As the use of EHRs has grown, so has the variety of care settings and systems used by medical practices, a challenge that the AMA calls on EHR vendors to address by promoting care coordination.
Our solution tracks referrals, consultations, orders, lab results, and other data based on the care setting, providing real-time updates to the patient's story that clinicians can access across the continuum of care.
Offer Product Modularity and Configurability
As a leader in shaping and driving initiatives aimed at improving modularity and configurability, we are actively involved in a number of organizations, policy meetings, committees, and workgroups.
MEDITECH has created its solution to exchange information through C-CDAs, APIs, FHIR, HL7, and Direct Messaging, supporting industry standards and complying with ONC and CMS for Meaningful Use, and is a leading provider of standards-based features for data and document exchange.
Reduce Cognitive Workload
"Doctors shouldn't be archaeologists."
This quote from William Gustin, MD, one of MEDITECH's physician consultants, strikes at the heart of how we approach the goal of ensuring that providers have what the AMA terms "concise, context sensitive and real-time data uncluttered by extraneous information."
Ultimately, doctors need the clearest possible view of the patient story at their fingertips to reduce cognitive workload.
Even more critically, each provider has different needs in terms of the information that they have readily available. MEDITECH has built Expanse so that clinicians of all specialties can have personalized menus, widgets, and workflows.
Promote Data Liquidity
With our commitment to interoperability through the CommonWell Health Alliance services, MEDITECH is working to break down barriers and promote data liquidity so that the patient's story follows them, no matter which EHR their provider uses.
Facilitate Digital and Mobile Patient Engagement
MEDITECH believes that the most important time that a patient spends on their care is the one-on-one time with their provider; we have built our EHR to facilitate digital and mobile patient engagement through a robust patient portal that works on tablets and mobile devices and provides a comprehensive digital interface between patients and providers. We've also built relationships with industry-leading third-party vendors to help manage the flow of patient-generated health data.
MEDITECH has also integrated Virtual Visits into our EHR solution, giving patients the ability to schedule time with a clinician, respond to questionnaires, and launch the visits, all from within their portal.
Our Virtual Visit functionality is engineered into provider workflow so that clinicians can conduct the visit while also interacting with the patient's EHR. This allows the provider to review the latest results with the patient, as well as document the visit in real-time.
When patients are reassured that their doctors have the correct information and can make the most informed decisions, they become more engaged and active participants in their care.
Expedite User Input into Product Design and Post Implementation
Feedback
Informing all of our work at MEDITECH is our commitment to gathering clinician feedback and incorporating that directly into the design of our solutions.
We start with our practicing MEDITECH physicians and leverage customer focus groups and advisory councils, as well as applying knowledge garnered from the industry.
We see every interaction with users as an opportunity to identify possible future improvements for our software through usability testing and incorporate customer feedback.
In describing the goals behind its EHR principles, the AMA states: "[T]he single largest driver of professional satisfaction is the physician's perceived ability to deliver high quality care to patients."
That perception — on the part of both the provider and the patient — is at the very core of how MEDITECH has designed and built Expanse.
And at the center of this team approach is the EHR, providing essential information with a user friendly design so providers can make the most appropriate medical decision first, and patients can feel confident in their doctors' ability to deliver high-quality, personalized care.
As the only vendor to introduce a new, full-scale EHR post-Meaningful Use, MEDITECH has invested time, research, and energy into preparing for the new healthcare paradigm, and we are addressing the fundamental concerns of providers and patients as healthcare continues to evolve.
---
Learn more about how MEDITECH's interoperability efforts can help improve patient care and provide a foundation for your population health strategy.