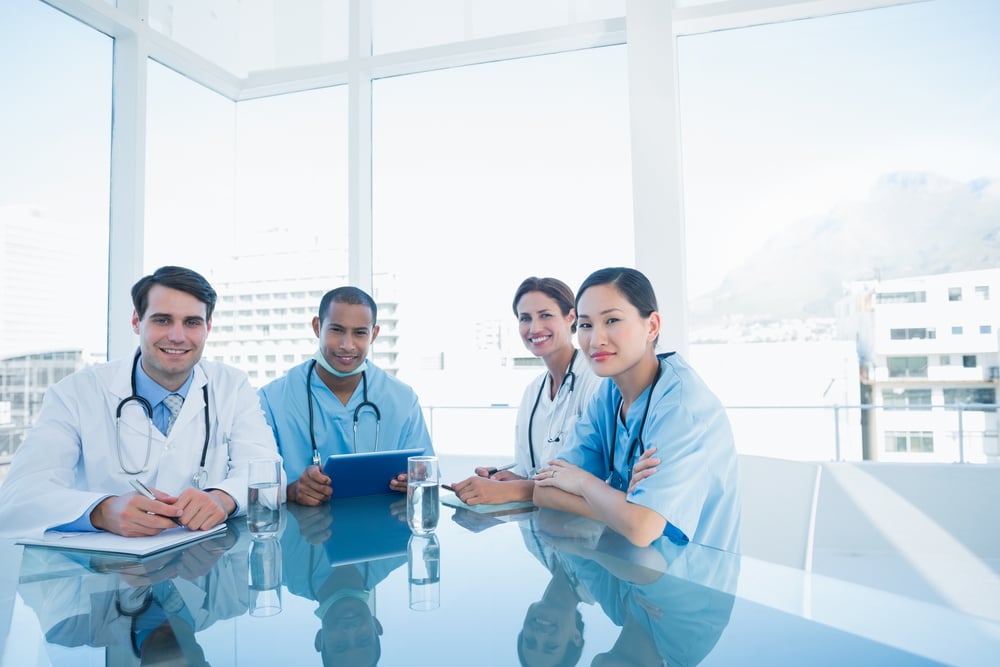 The past year has been incredibly challenging for the entire healthcare community. That includes those of us in healthcare IT. Of course, we have not been subjected to the incredible levels of stress faced by front-line healthcare workers, but we've had to pivot and make changes we couldn't have anticipated in order to support them.
From the very beginning of the COVID-19 pandemic, our challenge as technology solution providers has been to help healthcare organizations rapidly implement digital solutions that benefit both patients and providers. Recently I had the opportunity to participate in a CHIME21 Spring Forum panel and reflect on how we can continue to advance our technologies to support clinicians and foster the necessary evolution of our industry.
COVID-19 and the modernization of public health
COVID-19 accelerated trends that were already playing out in our industry, including the adoption of technology in areas like telehealth and home care. We've had solutions in place at MEDITECH for years, but adoption has skyrocketed across the entire industry.
The swift deployment of virtual visits across the continuum of care demonstrates how we can adapt digitally to meet the needs of patients and providers — and keep them safe at the same time. The use of virtual care will not recede with the pandemic but will become a permanent part of healthcare. Moreover, we can leverage what we've learned rapidly implementing these solutions and adapting care delivery processes to help propel us into a more patient-centric and sustainable healthcare system moving forward. This is true for all types of digital health strategies that are driven by patient expectations and provider needs.
But the crisis has also shown there is room for improvement in the effort to modernize public health. I was recently vaccinated at a card table next to a hot dog stand in Fenway Park without a computer in sight. While I realize that the public health system needs to get shots in arms as rapidly as possible, relying on paper records should no longer be an option as every other part of our lives is digitized. As we prepare for the possibility of vaccine boosters to help patients fend off variants of the virus, I hope my next vaccination will be documented on a mobile device.
Reaching for the "low-hanging fruit"
While there's been considerable focus in healthcare on advanced technologies like artificial intelligence and machine learning, there are many examples of "low-hanging fruit" we can deploy right now. This includes cloud-based solutions that give clinicians and patients a better, more mobile healthcare experience, and interoperability for better data-sharing to bridge the gaps that can happen during care transitions.
If the pandemic has taught us anything, it's that patients need to get care when, where, and however they can get it, and it's up to us to figure out how to record and share their data with the providers who need it. Interoperability is more important now than ever.
Healthcare IT is inherently complex due to the wide variety of data types, formats, and systems of storage, which is why it's critical to prioritize simplicity so that healthcare tools for providers can function more like the technology they use in other parts of their lives. By coordinating efforts with companies like Google and Apple, EHR vendors can develop solutions that meet both providers' and consumers' evolving needs — and integrate innovative consumer technology into those solutions.
The role of the EHR in the future of healthcare
A few years ago, if you'd asked me where I worked I would have answered "a software company." Today I respond with "a healthcare company that develops software." That's truly what we do. Over the past decade, MEDITECH has engaged hundreds of physicians and nurses to help us design and develop our software. Our entire approach is now Agile and user-centered — working with clinicians from the earliest design stages through final delivery of our software. Our staff are expected to understand not just software and technology, but healthcare itself, and the daily lives of those who use the products we develop.
This is important because healthcare data is not just any kind of data. It's data that's necessary for helping providers make the right medical decisions at the right time to provide the best care possible to their patients. The data that passes through our software can literally mean life or death, which is why we need to ensure that it's widely and immediately available, and presented in the most intuitive and understandable ways.
Making it easier to access key data is especially timely considering the Cures Act, which puts greater focus on patient education and facilitating discovery into the problems patients are facing. This will help build consumers' trust in healthcare systems and drive patient engagement, since the ultimate goal of the EHR is to support their care journey.
Finally, while the future of healthcare is promising, it's important to acknowledge that access and affordability remain significant issues for a large portion of our population. At MEDITECH, we think it's a shared responsibility across the industry to keep costs down, and drive the discussion around value and sustainability. We truly believe that all healthcare organizations should have access to technology that is both innovative and affordable, and every part of the healthcare supply chain needs to be evaluated through this lens to ensure high-quality, affordable, accessible care.
This past year has been challenging for all of us, but the lessons we've learned about rapidly responding with the right technology and right kind of process change will make us more nimble and prepared for the challenges we will face in the future. By leveraging different and diverse viewpoints for better decision-making, and working collaboratively with physicians, nurses, and other health leaders, we can begin to imagine the possibilities of tomorrow while designing the solutions we need today.
---
MEDITECH executives and healthcare leaders shared insights on the themes and trends that are driving digital innovation in the industry at the CHIME21 Spring Forum: