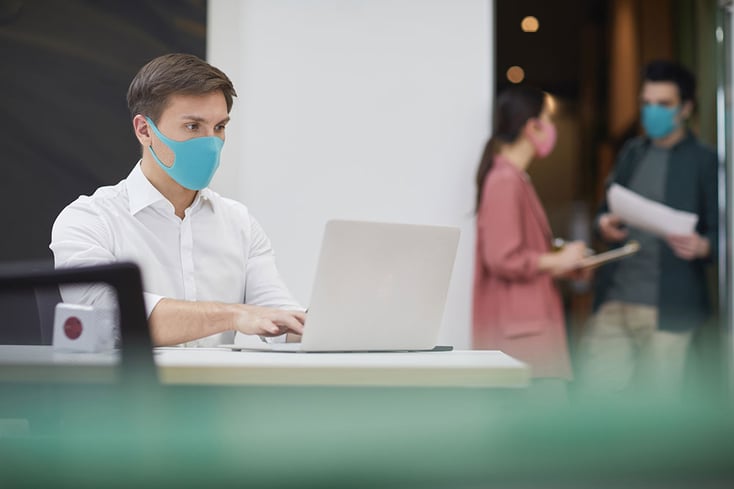 Recently, Interlace Health had the privilege of hosting and presenting with a group of health IT executives from MEDITECH, Salesforce, and CereCore. The exclusive virtual roundtable discussion focused on their experiences leading through the pandemic, strategies for ensuring a safe return to work, and thoughts on what the future of care delivery might look like. It was a remarkable "inside look" into how several leading organizations are responding to the unprecedented challenges we're facing in the healthcare IT industry.
The webinar, Health IT Executive Insight – What's Now and What's Next for a Safe Return to Work, was a unique opportunity for six health IT executives to come together to discuss the powerful role technology has played, and will continue to play, during this pivotal time in history.
The panelists included:
Woodson Martin – EVP & GM, AppExchange, Salesforce
Mike Malone – AVP, Client Services, MEDITECH
Leah Farina – VP, Client Services, MEDITECH
Phil Polimeno – AVP, Information Technology & Facility Operations, MEDITECH
Peyman Zand – VP, Advisory Services, Cerecore
Art Nicholas – Chief Revenue Officer, Interlace Health
In case you were not able to join us, here are some key takeaways from our panelists:



Return to work plans need to remain agile to minimize risk and keep staff healthy.
The webinar opened with the panelists sharing how their own organizations have shifted day-to-day operations to ensure a safe return to work for their own employees. From creating a 100% remote workforce in a matter of days, to implementing contact-tracing technology and employee engagement tools — these organizations' daily operations may look different; but as they shared, they have been finding new ways to stay connected with each other, as well as their customer base.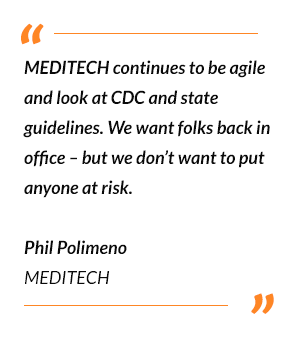 Phil Polimeno, AVP, Information Technology & Facility Operations, MEDITECH, discussed his company's well thought-out strategy for ensuring that employees are supported and safe during this time. He said that MEDITECH's executives initially met daily — sometimes twice daily — to make decisions and get messages out to their employees as the situation evolved. In a matter of days in mid-March, the organization ramped up its corporate systems to support thousands of staff members working from home, and established a committee to help address ongoing needs around remote working. The increased use of video conferencing tools, such as Google Meet and Zoom, continue to help staff stay connected both internally and with customers.

With the help of their vendor partners, the healthcare industry has adopted new technologies with unprecedented speed.
After sharing how their companies quickly responded to support their own staff, panelists discussed how they also pivoted to help their customers adapt.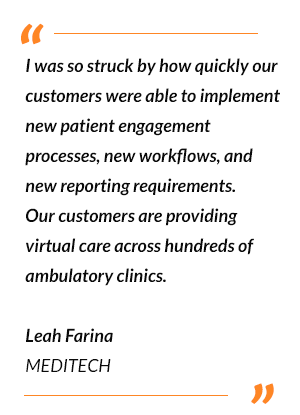 "At the onset of COVID-19, I was so struck by how quickly our customers were able to implement new patient engagement processes, new workflows, and new reporting requirements. Our customers are providing virtual care across hundreds of ambulatory clinics," said Leah Farina, VP Client Services at MEDITECH.
Farina believes in some ways, MEDITECH is connecting to their customer base more than ever before. With seven 100% virtual Go-LIVES since April, and three wrapping up now – MEDITECH has worked closely with their customer base to find new and creative ways to meet the needs of their customers while minding the safety requirements and regulations around the global pandemic.

Telehealth is here to stay but integration will be key to long-term success.
Peyman Zand, VP, Advisory Services at Cerecore cited some eye-opening stats around telehealth. He noted that CMS reported just 11,000 telehealth cases as of March 1, 2020. By June 1, 2020, they were reimbursing 1.3 million telehealth visits per day. He also observed that the Mayo Clinic went from an average of 50 telehealth visits per day to 7,000 per day.
What do these numbers tell us? Peyman believes this indicates that telehealth is not a flash in the pan, but rather a core part of the future of care delivery, noting a predicted 40% telehealth sustainability rate post-pandemic.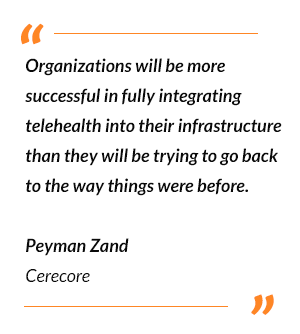 "Telehealth is here to stay. It took a long time to get here, and the pandemic forced us to the shift. Hearing from CMS and payer organizations – they are not going to retract a lot of the exceptions they granted. It is going to stick, and it is going to move forward," said Zand.
Zand stressed that it is no longer acceptable to have telehealth as an item unto itself: "Organizations will be more successful in fully integrating telehealth into their infrastructure than they will be trying to go back to the way things were before."
Organizations that take the time to integrate telehealth into care delivery and normal workflows will be the organizations that are successful long after the pandemic has passed.

Look at the big picture and avoid 'single-task' tools.
Art Nicholas, Chief Revenue Officer at Interlace Health described how several health systems rushed to start using new technologies to quickly meet new demands. Many of these "single-task tools" do not integrate well with existing patient engagement tools and clinical task tools – causing patient and staff frustration.
While patients have been understanding of the need to rapidly deploy new technology during the pandemic, Art believes that over time, pitfalls due to miscommunication among systems will not be accepted by patients or providers.
Nicholas shared a recent personal account of a poor patient experience after a family member was required to take a COVID-19 test prior to a scheduled procedure. Unfortunately, the surgery ended up being postponed at the last minute as they had not yet received the test results. The health system cited the reason for the delayed results being that their testing technology didn't integrate with their EHR system.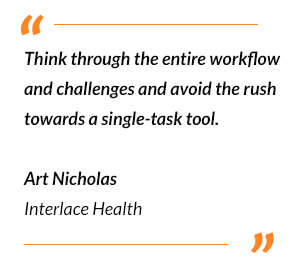 As Nicholas concluded from this frustrating experience, expectations for both in-person and telehealth visits will only continue to rise – making interoperability a key to long-term success.
With the future still unknown, Nicholas cited the importance of scenario planning:
"From months to years, to weeks and days, with the right scenario planning you can be able to better plan for whatever comes our way. This involves determining what you are going to do before starting to buy technology — thinking through the entire workflow and challenges and avoiding the rush towards a single-task tool."

Fix the front end but don't forget about the back end.
As unforeseen challenges multiply, panelists stressed that we need data integrated systems to deliver a holistic patient experience that meets patient expectations, without creating a burden for administrative staff.
Woodson Martin, EVP & GM AppExchange at Salesforce, pointed to the need to think more broadly about patient experience. He highlighted the importance of bringing data together and empowering everyone engaged in the patient experience—patients, staff, and providers.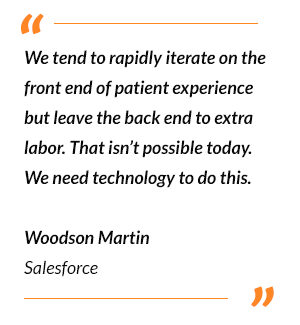 "We tend to rapidly iterate on the front end of patient experience but leave the back end to extra labor. That isn't possible today—we need technology to do this," said Martin.
He gave the example of many patients being reluctant to physically go into a healthcare setting to seek treatment. As a result, Salesforce has seen a need for care providers to surge capacity at contact centers, at a time when they cannot adequately staff them with more employees working from home. The back end experience for employees must be adjusted before the organization can deliver a quality patient experience, Martin said. An organization's ability to scale up, deliver status information, and advise on new routine matters (such as taking preventative steps) is critical.

The Road Ahead: Telehealth, Home Care, and Private Care
Mike Malone, AVP Client Services at MEDITECH, observed that telehealth adoption isn't simply growing from a technology perspective. He's seen a greater willingness on the part of consumers to embrace this healthcare model.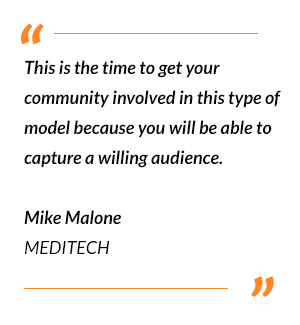 "MEDITECH customers that have moved down the telehealth path have seen rapid adoption. We are using that as a big push to go back to other customers and say, this is the time to get your community involved in this type of model because you will be able to capture a willing audience," said Malone.
Beyond the expansion of telehealth, he predicts that more people will seek home care services or private care out of pocket, as he believes the low cost, high-quality model is underutilized.
Conclusion
While the future is unknown, one thing is certain: The pandemic is a catalyst for change and has already accelerated the digital transformation of health IT. As our panelists brought into focus, this is the moment to innovate, iterate, and devise tools that help our industry and frontline workers meet the demands of what's now, while preparing for what's next.


View panelist organizations' COVID-19 Response & Resource Pages: