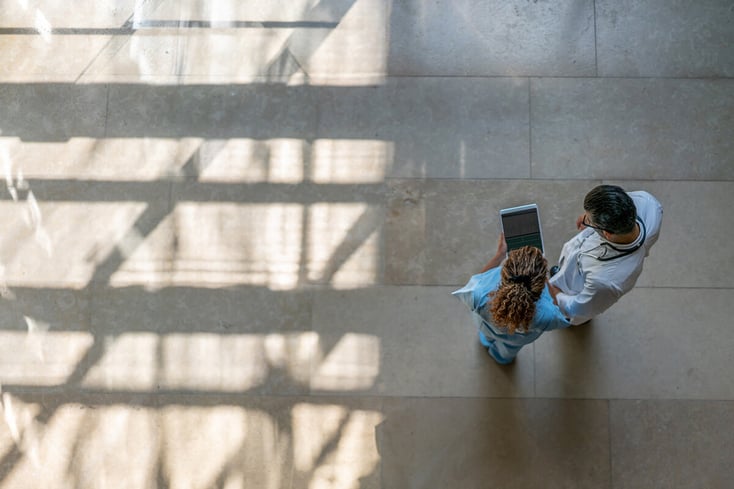 What does success in healthcare look like?
A Google search for "success in healthcare" produces an astounding 735 million results, showing that it's a highly subjective concept.
But with a quick review of the top search results, you'll start to see a number of fundamental ideas come into focus:
Juggling all of these priorities while ensuring a high level of quality is a massive undertaking — and at MEDITECH, we know that organizations need the right tools to help them in this mission.
We also understand that every customer is different, and they each have their own challenges and criteria for what success means to them.
Here are five inspiring stories of MEDITECH customers who determined their vision of success — and are making it a reality.

Anderson Hospital's strategy to remain independent affords better community care
In this blog, Chief of Information Technology Mike Ward explains how Anderson Hospital has succeeded as the region's only independent healthcare provider. He credits investments in three areas that he says "contribute to our success as an independent organization: expansion, community engagement, and the best tools for staff and patients to ensure positive outcomes."
Ward explains that implementing Expanse in all of their affiliated locations was "a key strategic move to control costs" and ensure consistent quality care for all of their patients.
How NMC Health leverages data with BCA dashboards [Infographic]
Amid the COVID-19 outbreak, the leadership at NMC Health knew that they needed timely access to important data so they could respond effectively to the needs of both patients and staff.
By using dashboards in MEDITECH's Business and Clinical Analytics solution and working with MEDITECH Professional Services, NMC Health eliminated time-consuming manual data entry and gave its providers a single source of information about patients, test results, and PPE stocks.
How a modern EHR will help The Aga Khan University Hospitals improve care throughout the developing world
With more than four dozen locations in Kenya, Uganda, and Tanzania, Aga Khan University Health Service is working to offer integrated care in underserved areas of East Africa and beyond, explains Dr. Shawn Bolouki, Vice President of Health Services at Aga Khan University.
Recently, Aga Khan implemented MEDITECH in its primary and specialty clinics, allowing clinicians to coordinate patient care and employ evidence-based best practices based on documentation within the EHR.
Out with the old and in with the new: Lane Regional Medical Center adopts Expanse Patient Care to make ED hand-off safer and simpler
In some cases, health systems measure success simply by what happens on the clinic floor. That's the case with Lane Regional Medical Center, where their providers have recently moved to Expanse Patient Care and have already seen improvements in ED hand-offs, patient transitions into and out of the ED, and staff shift changes.
Jessica Troxclair, Lane's Nurse Clinical Informatics Specialist, explains how Lane's emergency staff once depended on faxes and handwritten notes and now can use the latest documentation tools to avoid adverse events and improve communication among the care team.
Val Verde Regional's patients stay engaged at home through Expanse Remote Patient Monitoring
For older patients and those managing chronic conditions, traveling to and from appointments can be a significant barrier to getting the right care — and with COVID-19 forcing many people to stay home, Val Verde Regional Medical Center decided to take steps to reduce that burden.
By expanding cellular connections to Del Rio households without broadband access and enabling patients to take their own glucose and blood pressure readings through Expanse Remote Monitoring, Val Verde increased patient engagement and made care more accessible, providing what CIO Keith Willey termed "an essential tool for us to strengthen the ties between clinicians and patients."
---
Read how customers are forging ahead with Expanse, our fully interoperable, web-based platform.